Blizzard dropped a weaponized hamster on fans this morning. Nearly everyone's speculating that the hamster is Hammond, an animal that escaped the moon with Winston. Moreover, we've all assumed that the hamster is Overwatch's next hero—hero 28. But there's a possibility it's not.
Some Overwatch fans are speculating that the hamster works in tandem with the Junkertown Queen. Based in Australia, she rules over Junkertown and its battle-mech scene—she's won the city as the Scrapyard's champion. We've only seen posters of her on Junkertown, but the "champion reveal" posted to Twitter actually gives us a better look at the Queen.
Related: Overwatch's next hero could be… a hamster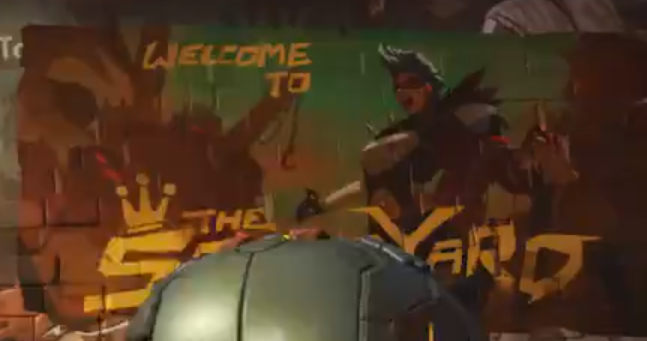 The teaser posted this morning shifted the frame over just a bit, enough to give us a look at the "Scrapyard" poster that's been obscured. It shows a person—likely the Junkertown Queen—donning spiky armor and a blue mohawk.
Blizzard rarely does anything without reason in its Overwatch teasers. Or maybe we're looking too far into it. But a hamster inside a mechanized hamster ball was just revealed in-lore in Overwatch, so it feels like anything could happen. Another thing to consider is the wording Blizzard used in this morning's teaser. "The champion revealed." Overwatch's playable heroes are called heroes, not champions.
The only use of champion thus far in Overwatch is in the Scrapyard. Anything seems possible at this point. If a jetpack cat was considered "too far" by Blizzard, the Junkertown Queen having a pet hamster could be crazy enough.