Matt "coolmatt" Iorio's hair has a fanbase.
The Houston Outlaws player is known not only for his tank abilities, but for his gravity-defying coif. His hair's spawned signs, its own Twitter account, and outranked Houston support player Shane "Rawkus" Flaherty's blonde locks in an internal team vote. Each strand is perfectly placed into his structural bouffant by the Overwatch League makeup and hair stylists, a trio of artists working behind the scenes.
Leading the team is Rosa Menendez, a long-time esports makeup artist who's worked a number of events, including years of BlizzCon. Her team of six hands tousles hair and de-shines faces in the Overwatch League, upping the level of production on the esports broadcast. Outside of Menendez and her team, it's a job that's relatively unheard of in the esports space, despite its importance in professionalizing production.
Related: Home-cooked meals from Chef Heidi keep Philadelphia Fusion ready for the Overwatch League
They aren't only helping the players look good on camera—though they certainly do—the Overwatch League makeup artists are polishing individual brands for each caster, host, and player. There's a game behind the game, one that rests on public image. Overwatch is a cultural product. It's not just an esport. The game's fans span a broad social sphere, and fans want more than just a great player.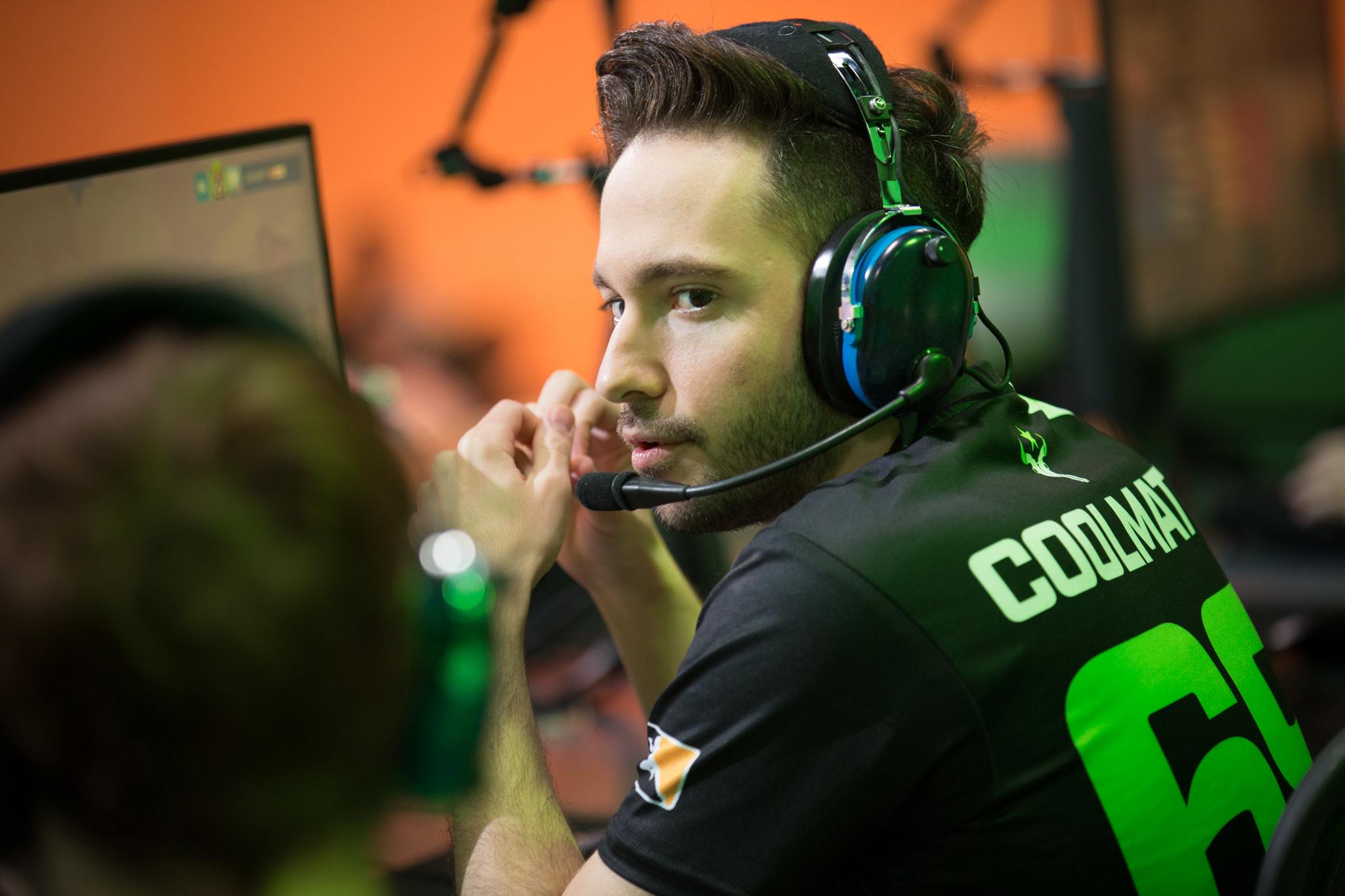 Each player is unique. You can't put coolmatt's hair on every player in the Overwatch League.
It's the first time many of these players, most of whom are in their late teens and early 20s, have put makeup on their face. Most didn't have a "brand" to consider before joining the Overwatch League. They operated behind a computer screen, out of public view, save a Twitch stream here and there.
But the Overwatch League is here now, and players' personal brands matter. The young league doesn't yet have its own Lee "Faker" Sang-hyeok but it one day will. Being good at Overwatch matters—Faker is one of the best League of Legends players of all time—but whoever rises to the top will have a brand to match their skill.
This isn't unique to esports. LeBron James doesn't often have a runway to walk, but he's got his arena arrival. James strolls in wearing Balenciaga and Nike, a mix of streetwear and high fashion. He's risen above his prowess on the court, and it's earned him big bucks. Fans want to ball like James, but look like him, too—his Nikes were the top seller of NBA-affiliated shoes in 2017.
The Overwatch League and its players haven't earned the kind of influence the NBA and its athletes have, but it could learn from it. Personalities drive fandoms. And there's got to be some way for players to express theirs on stage. For coolmatt, that's his hair. The Houston tank player has been doing the voluminous, pushed back style for much of his involvement in Overwatch, but it was Lorena Acevedo who took his hair literally to the next level. Every time coolmatt sits in Acevedo's chair (she's his preferred stylist, the team said), he crafts his brand strand-by-strand with Acevedo's help.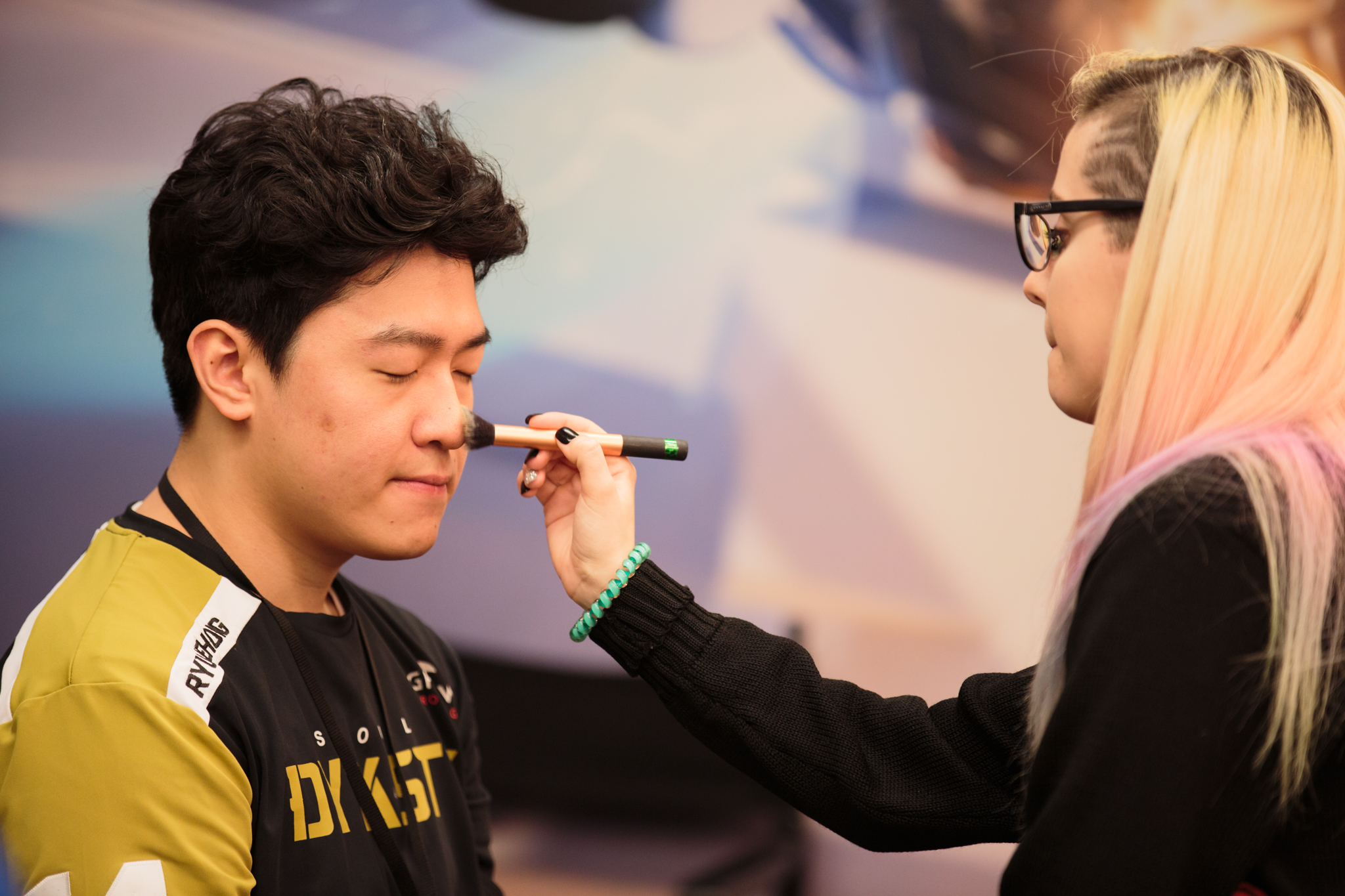 Teams start filing into the Overwatch League makeup room each night according to their scheduled match times, with casters popping in and out before the start of the broadcast. The atmosphere's lively—loud, at times—and engaging. Other Overwatch League staffers stop in to say "hi" to the team. There's a lot going on, and a lot of people packed into a side room just off the main broadcast studio. But the esports makeup team is unfazed when a pool of green jerseys floods the space. There's not nearly enough chairs for everyone to sit on, so the players hover in small crowds while waiting their turn.
Some players have their favorite artists, so players tend to gravitate toward "theirs." San Francisco Shock clusters around Sarah Krasnianski. Coolmatt sticks with Acevedo. Rawkus always waits for Menendez. The artists think some players are just drawn to certain personalities—more reserved players like Krasnianski's quiet approach. Others like Acevedo's goofy jokes or Menendez's playful ribbing. (Menendez described herself with a laugh: "hostile yet loving.")
"We play music and we're kind of loud," Menendez said. "Some [players] are more reserved, but we still get them to crack a smile before leaving the room. Some players, it's like hanging out in the salon or barber shop—we like to make sure the energy is positive and welcoming."
The makeup team is easing players into the routine. Some players rush in for a quick powder before returning to their practice area, while others sit for a bit to relax. New York Excelsior DPS Park "Saebyeolbe" Jong-ryeol is one who likes it quick—he just gets a powder before darting out, he said. "The way they do makeup is different in Korea," Saebyeolbe said. "Here it's quick. They just make us neat."
Esports in Korea are ahead of the curve when it comes to player styling and brand. Makeup and fashion are important parts of broadcasts, with a notable consistency in presentation and quality. Ahead of the Overwatch League, it was Korean organization KongDoo that stood out for its fashion choice. In 2017, the OGN Overwatch Apex team donned sailor uniforms for the entirety of the season, as opposed to the dress shirts and bowties from the season prior.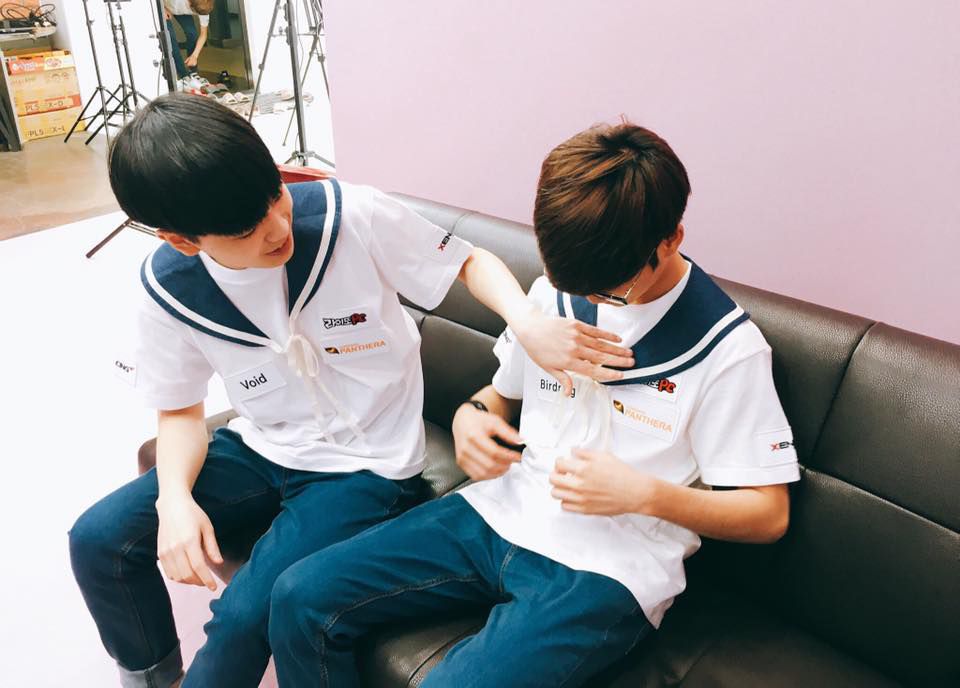 KongDoo stood out for going beyond what's expected with regard to player style, and it's what helped form the brand's identity. (KongDoo is still competing in Overwatch, but many of the sailor boys are now in the Overwatch League.)
"A uniform is more than something that a bunch of nerds wear on a stage—it's an important visual signifier of what esports might stand for," said Joshua Calixto of esports website The Meta. "It points toward team prestige, player persona, regional esports infrastructure, and it can heavily influence not just the perspective toward an individual player, but toward esports as a whole."
The idea of prestige and personality in an esports uniform extends to what goes down in the makeup room, whether it's coolmatt's hair or Philadelphia Fusion player Joona "Fragi" Laine's beard.
"If their look is messy hair, because they just never style their hair, we intentionally style their hair to look messy," Menendez said. "It sounds odd, but it looks more polished than doing nothing."
But as much as polishing a player matters, Menendez worries about makeup being a distraction for the players. That's why it's a process: "My policy has always been [to] talk everyone through what you're doing and ask, 'how do you style your hair?' or 'hey, this is moisturizer, your skin is feeling dry.'"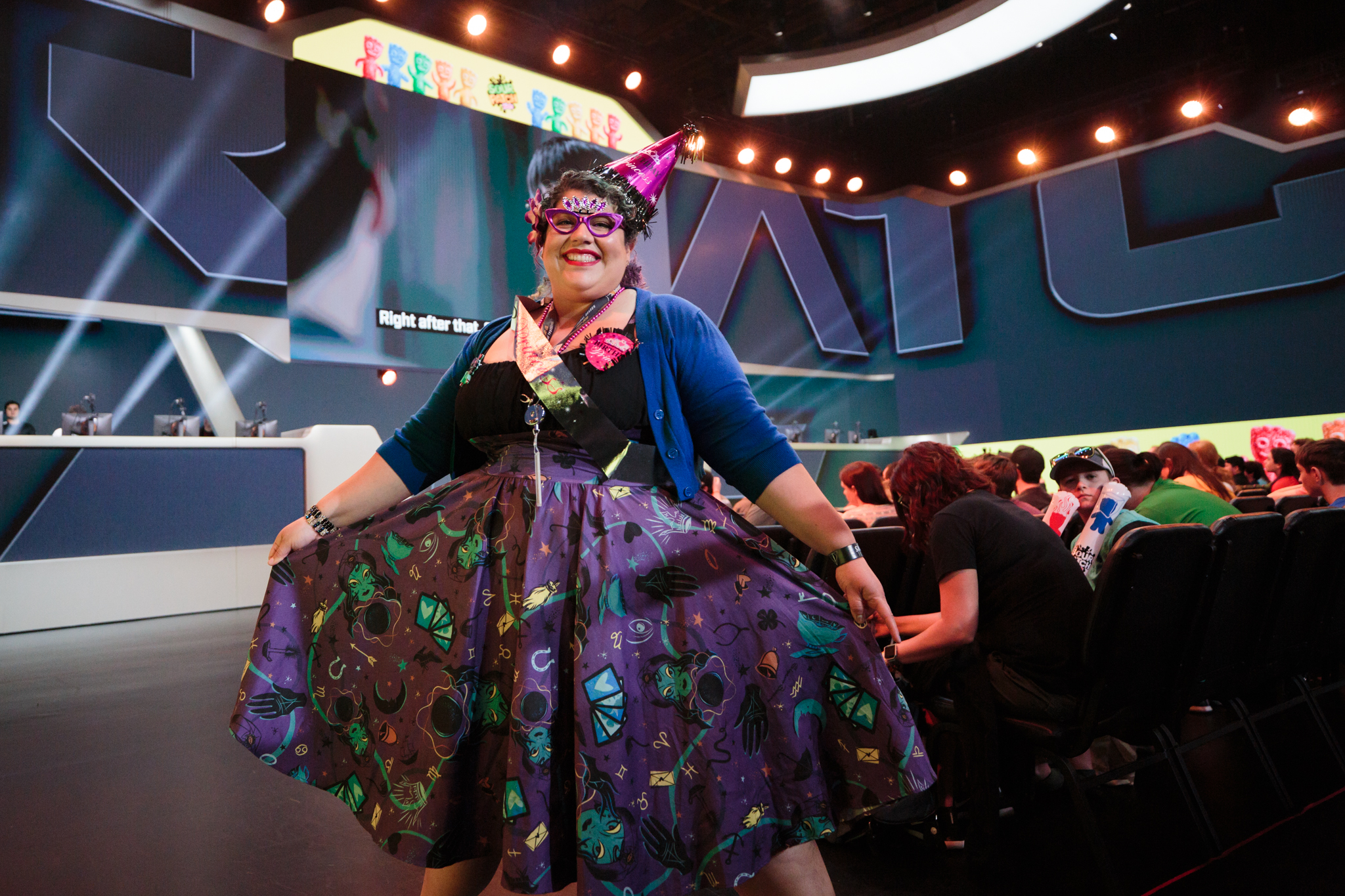 She continued: "I don't ever want players to be distracted by a layer of foundation, or even worse, if they start sweating and it runs into their eye. Most people who wear makeup can relate to that… now imagine you're trying to capture a point and that happens."
Once the first two teams of the Overwatch League's nightly production file out of the makeup room, the ladies relax. (Their job isn't done, by any means—there are four more teams and a rotating cast of hosts to touch up.) There's a momentary lapse before the next round of faces line up. The Overwatch League broadcast is about to begin. The women swivel around in their chairs to face the television right behind them. Acevedo piles her brushes on a table beside her and starts wiping them clean. Krasnianski preps her touch-up tool box. Menendez glares at the screen, eyeing the details of their handiwork.
"We need to bring down Puckett's bronzer a bit," she says. There's a bright pop of white skin flashing under host Chris Puckett's unbuttoned collar in harsh juxtaposition to his perfectly tanned face. Her makeup brushes are down, but the job doesn't stop.
"I want everyone to look perfect," she adds.