This article is brought to you by StatBanana, the best Overwatch strategy tool.
---
Overwatch's lore has long been a look back at the titular organization as it once was. Stories from the game—in its comics and animated shorts—build out the Overwatch world, taking fans into the past. Recent developments suggest that Blizzard's ready to move things along and finally advance the game's story.

A new short story, Bastet, was released today by Blizzard, written by lead writer Michael Chu. In many ways, the story is a glance back at the past, told through a present-day meeting between Ana and Soldier: 76. The story is a continuation of Ana's Old Soldiers comic, according to Chu, and focuses closely on conversations between the two friends—reminiscing on the past while placing Overwatch's heroes in an up-to-date timeline.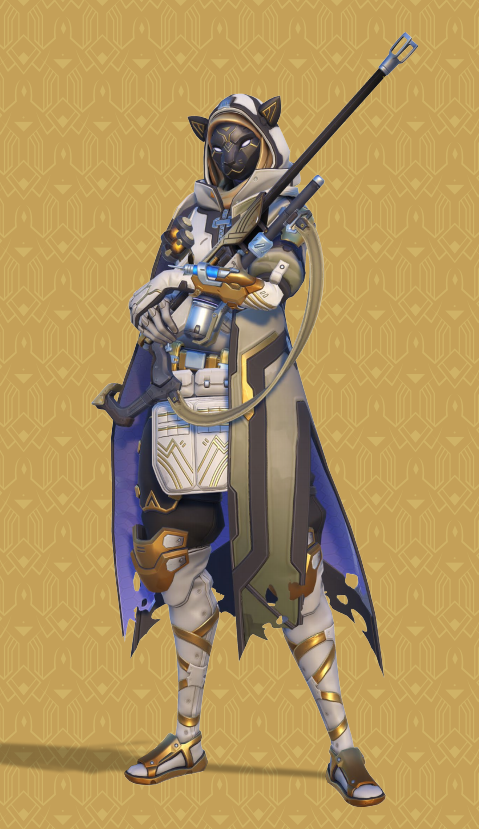 There are plenty of details that round out Overwatch's lore, filling in the cracks left behind from animated shorts and comics. As Ana and Soldier: 76 catch up, we find out that Ana tried to reach out to her daughter, Pharah, but never received a response. Soldier: 76's personal life is touched on, too—Chu's story suggests Soldier: 76 once had a relationship with a man named Vincent. Chu confirmed on Twitter that Soldier: 76 and Vincent both identify as gay and "were in a romantic relationship many years ago." Soldier: 76 is the second confirmed queer character in the Overwatch universe.

Blizzard is also using the short story as a vehicle for revealing what's very likely a new Overwatch skin for Ana. At the end of the story, after Soldier: 76 and Ana embark on a new mission, Blizzard showcased a full look at Bastet Ana. The outfit changes her color scheme to white, purple, green, and gold. She wears a lion mask with cat ears, a clear homage to Bastet, an Egyptian goddess who protected Pharaohs.

Related: Important spectator updates are being added to Overwatch

Overwatch fans have been eager for new lore, something that forces the game's overarching narrative into the future. The last piece of lore was revealed at BlizzCon 2018 in November through a hero introduction for Ashe. That's where we met Echo, a mysterious white robot who's sure to be important in the game's future. (And, of course, Overwatch's 29th hero, Ashe.) Blizzard released only one comic in 2018, Retribution, which was a retelling of an old Overwatch mission. Two animated shorts, Shooting Star and Reunion, the Ashe introduction, were released in 2018.
We still don't know exactly what's up for the world of Overwatch and how it'll change in 2019, but the new short story suggests a developing story this year.
Update, Jan. 7 at 6:47pm CT: Lead writer Michael Chu tweeted today that both Jack Morrison (Soldier: 76) and Vincent identify as gay and "were in a romantic relationship many years ago." The article has been updated to reflect this information.