A new tournament series is set to go live in Fortnite: Battle Royale.
The Share The Love Series will be available from Feb. 14 to 24. This series will feature Solo and Duo gameplay, with players trying to rank up and earn pins.
But what exactly is a pin and how does ranked play in Fortnite work? Here's everything you need to know about the Share The Love Series.
What is a pin?
A pin is a symbol awarded to players for great performances in online Fortnite events. Players can earn multiple pins for different tournaments, and some pins might be more difficult to unlock than others.
Players can get these tournament pins by reaching a certain number of points in a single event session. But in addition to being a cool symbol, Epic Games has also said that pins will be used to allow player to qualify for future tournaments.
Share The Love Series
The latest tournament series begins on Feb. 14 and will be available until Feb. 24. There are four divisions that players will compete in: Open Division, Prospect Division, Contender Division, and Champion Division.
Players who earn a certain number of points to get a pin will advance to the next division. You can get points for acquiring a specific amount of kills, high placings, or Victory Royales.
There will be six sessions for Solo and Duos respectively. If you get enough points to advance to the next division, that will only happen in the next daily session. Your points are also reset daily and won't carry over from one session to another.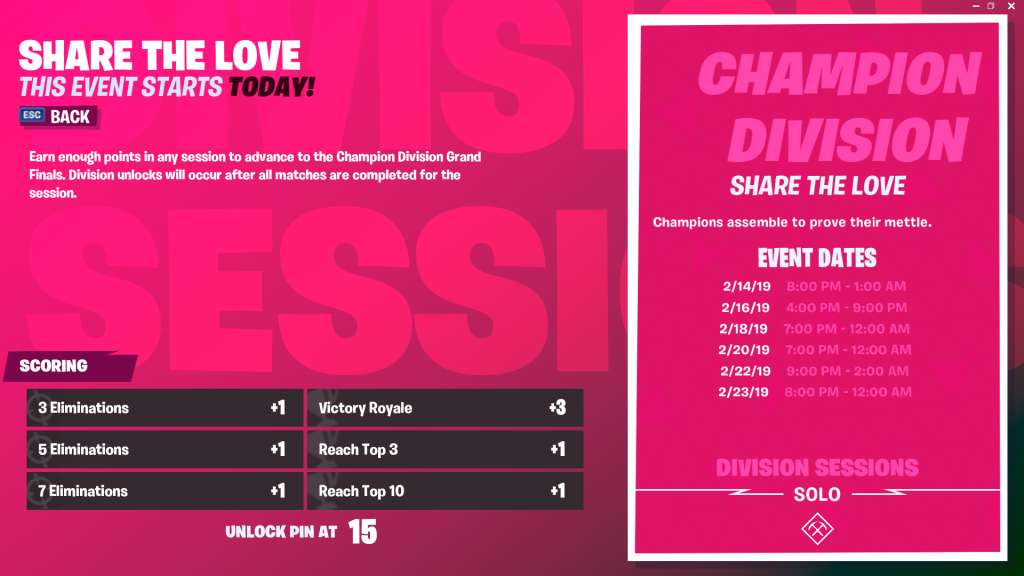 Here are the number of points you'll need to get to unlock a pin in each division.
Open Division: Five points
Prospect Division: 15 points
Contender Division: 25 points
Champion Division: 15 points
If you get 15 points in the Champion Division, you'll advance to the Champion Division Finals on Feb. 23 and 24. Action in all of the divisions will take place at the same time based on your region. You can view the tournament schedule for your region in Fortnite's Events tab.