The Ice Storm challenges event in Fortnite: Battle Royale has finally arrived, giving players unique tasks for the next few days to unlock exclusive, one-of-a-kind items.
These tasks will be added to your Challenge tab when you next load into the game. You should be given a special notification with a book icon once they've been added. If they don't appear, just reload the game.
As with most events in Fortnite, these challenges range from easy to difficult depending on your skill level. To help you out, however, and keep you up to date, we've created this guide to show you what you need to do for each challenge.
Complete all the rewards as they come out and you'll get an exclusive glider. Complete six challenges and you will get a wrap. All challenges rewards 500 XP for completion.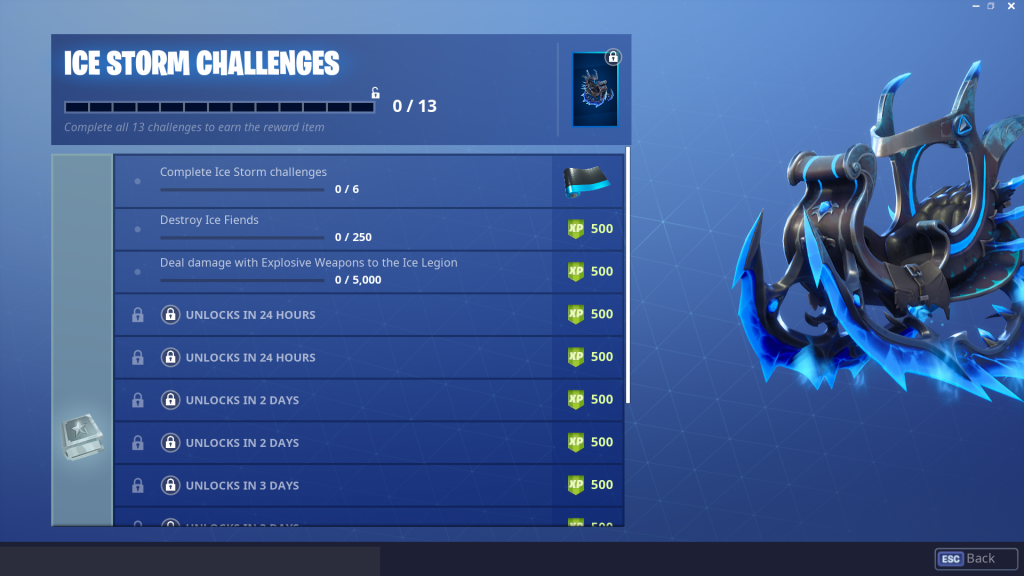 Day one challenges
Destroy Ice Fiends (250)
Deal damage with Explosive Weapons to the Ice Legion (5,000)
Day two challenges
Destroy Ice Brutes (100)
Deal damage with Assault Rifles or Pistols to the Ice Legion (10,000)
Day three challenges
Destroy Ranged Ice Fiends (150)
Destroy Golden Ice Brutes (20)
Day four challenges
Deal damage to the Ice Legion in a single match (2,000)
Destroy an Ice Shard in different matches (10)
Day five challenges
Destroy elite members of the Ice Legion (100)
Deal damage with Shotguns and SMGs to the Ice Legion (10,000)
Day six challenges
Destroy members of the Ice Legion (300)
Deal damage to the Ice Legion (20,000)