April Fool's Day is always a special time in League of Legends, mainly because it's when the game's designers let their goofiest creations loose. This year, we may be getting new skins for Galio and Sivir, according to the latest PBE update.
We've had Meowkai (a hilarious mixup of cat pajamas and a cursed tree), Draven Draven, Moo Cow Alistar, and so many more hilarious joke skins. Not to mention April Fool's Day is the origin of the first URF game mode four years ago in 2014. This year, Riot is bound to stick to tradition with skins, icons, and more.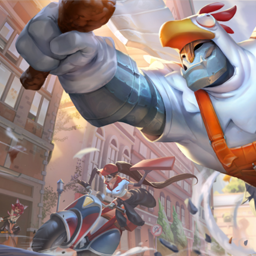 The image that was loaded onto the PBE shows Galio in a chicken suit skin, which has been confirmed in a preview shared on Riot's German Twitter account. Standing in the back of the teaser image's frame near a building is almost definitely Annie, but typically, splash arts for April Fool's Day don't have the featured champions so far out of focus. The pizza delivery driver is definitely Sivir, according to the same preview as Galio.
Rather than a pajama party and toy themes that the last couple years have been, this year is all about food. More specifically—very greasy American food. With Galio's drumstick and apron and Sivir with her pizza, it's hard to imagine this year's theme could be anything different.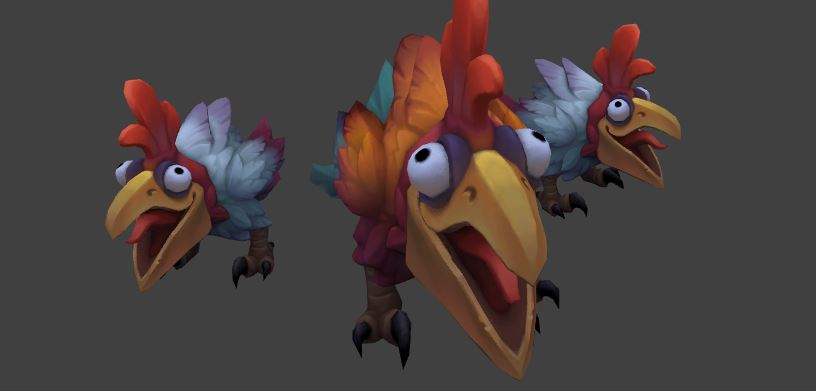 The teaser image wasn't the only thing to hit the PBE yesterday, either. Hilariously-altered Raptors have also appeared that put a dark spin on Galio's holiday skin.
Themed jungle monsters to go with prank skins would be a first for any April Fool's Day on the Rift. Maybe we'll also get a pizza-shaped Brambleback. Is anyone else getting hungry?