One of the biggest splashes of the last offseason was the return of top laner Heo "Huni" Seung-hoon to South Korea.
After stomping all over the LCS leagues in Europe and North America, Huni caught the eye of legendary SK Telecom T1 coach Kim "kkOma" Jung-gyun. Huni had longed to play for SKT before ever leaving Korea, and it was a perfect time to reconnect. The partnership started well, but after a solid finish to the Spring Split and the Mid-Season Invitational, the summer was a slog. SKT, renowned both for signing the right players and for a strong internal development engine, discovered a more stable top laner in Park "Untara" Ui-jin.
Untara took over mid-split and was starter right until the final series, when he was flummoxed by Longzhu's Kim "Khan" Dong-ha. Huni made his triumphant return, saving the series in the third game before getting camped to hell in the fourth as SKT lost in a huge upset. But a debate had started: Which of the two players would be the starter for Worlds?
We seem to have the answer. Based on information on the LoL Esports website, it seems like the team has decided on Huni as the starter. Huni himself hinted at that in an interview with Inven following a recent fan match. If these sources are accurate Huni will be the top laner starter, Untara won't be an eligible player at all, and the team will carry two junglers.
Is this the right call?
Who are SKT afraid of?
When analyzing the Huni vs. Untara question, the first thing that should be done is to throw out the series against Longzhu. That series raised some important question marks for SKT— but Longzhu's determined, dedicated approach to top lane is not something that many others can replicate.
EDG's top laner Chen "Mouse" Yu-Hao has improved significantly this year and the team does give him resources. But for a team that emphasizes playmaking all over the map, he isn't a primary focus. ahq does at times invest in top laner Chen "Ziv" Yi, but as a team, they've never proven to be up to SKT's level.
Across the tournament overall, especially with Song "Smeb" Kyung-ho sitting at home, there may not be another player that can punish Huni like Khan did. In that context, then, what does Huni give SKT that Untara doesn't?
Masking problems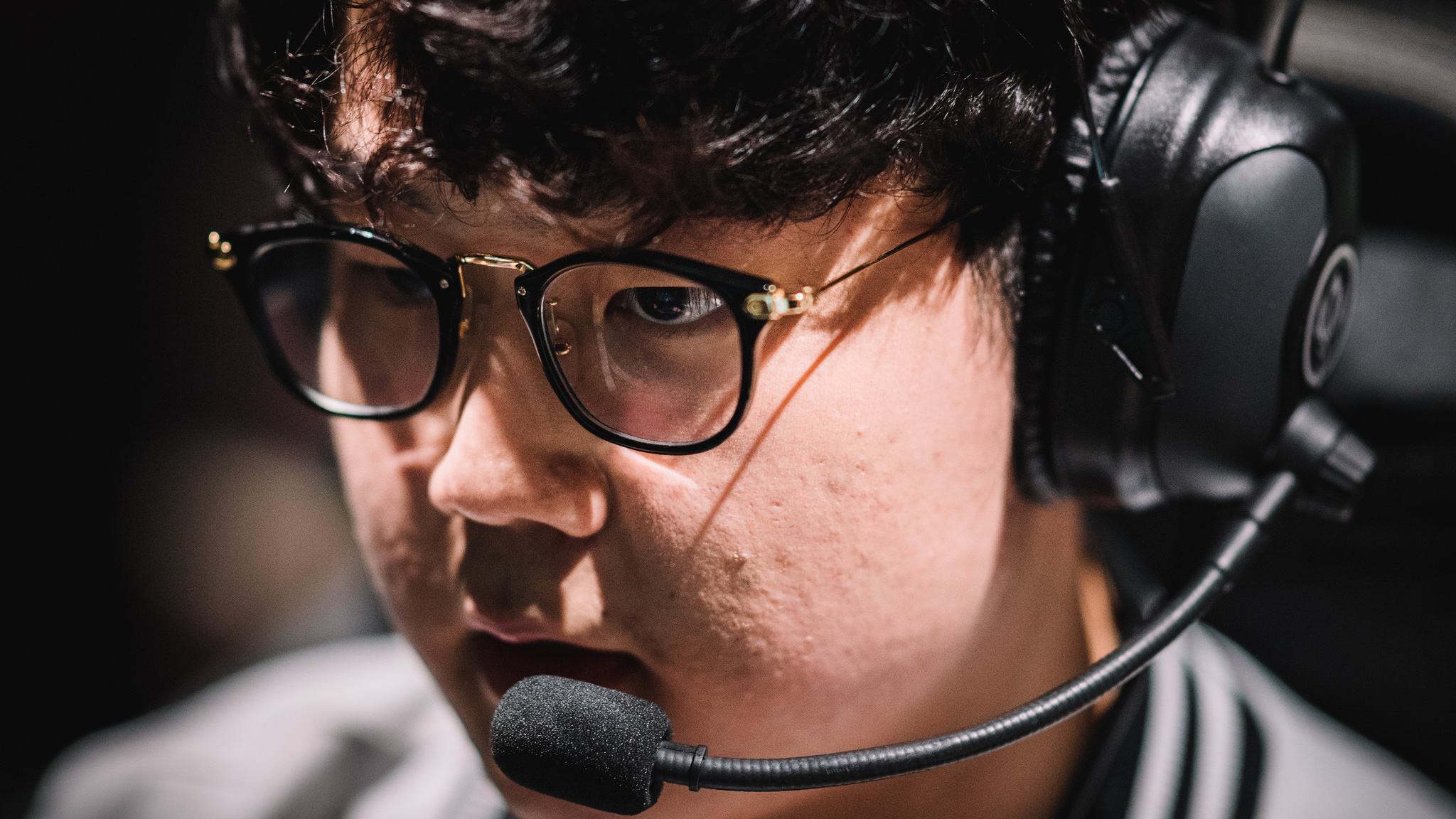 For starts, Huni is just the better player. Even though his tank play has been shaky at times, he has a more varied champion pool than Untara. He's a better teamfighter and more able to teleport to teamfights.
Why then has Untara been the choice so long, even with a lower ceiling? Because this summer, the team has been unwilling, or unable, to send resources topside. Part of that is both players' susceptibility to ganks, which makes top side scary for SKT's junglers. But a lot of it is also related to the bot lane's inability to win consistently, dying in lane against strong competition.
Under those constraints, Untara has served as more effective cannon fodder. When he dies, it still feels like SKT are in the game because they have tempo elsewhere. And with the lower cost of tank items, Untara will still be useful in fights.
By opting into Untara, kkOma seems to signal that his junglers would camp bot side. Longzhu exposed that strategy in the LCK Final. Time after time, LZ came out ahead in bot lane parties, parties that SKT are used to winning.
More flexibility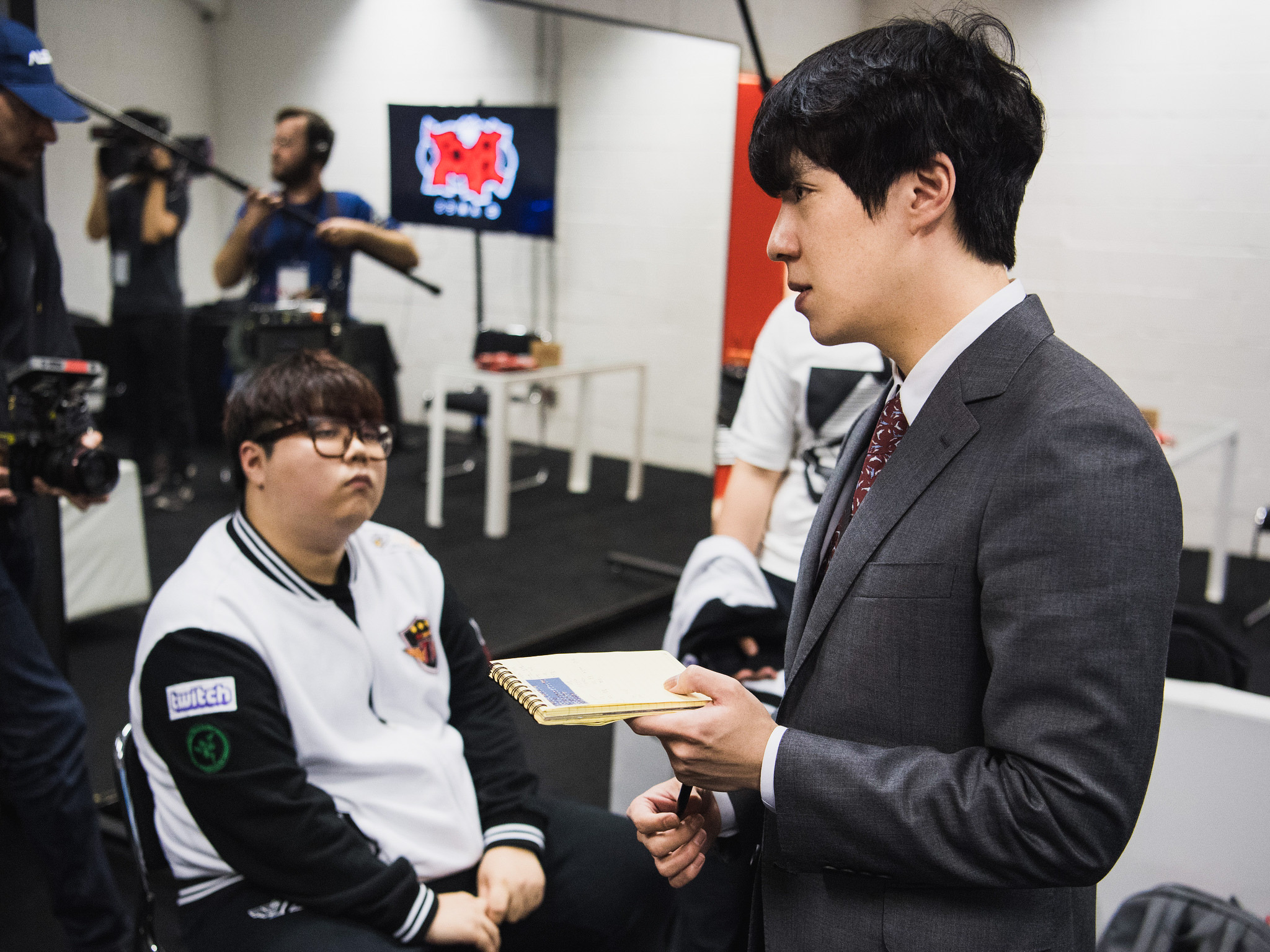 LZ showed that SKT have real weaknesses this year that couldn't continue to be masked by their bot-focused resource allocation. Huni gives them more options. Strong teams know how and when to cross-map and trade objectives. SKT hasn't liked to do, probably because their standard assumption is that they don't need to.
This hearkens back to memories of last year's Worlds, when SKT would sometimes lose lane and go down in kills. But superior objective play, headed by strong teleports from Lee "Duke" Ho-seong—who was derided earlier in the season for his hesitancy to teleport—would often carry the day. In other games, the team would play a patient 4-1 that sought to take advantage of Duke's strong pushing on Trundle and Gnar.
Trundle and Gnar are not two of Huni's champions. Untara has played more of them this year. But the idea, to play around a top laner with pressure who can use teleport to his advantage, is one that SKT has won three World Championships with.
The Khan problem
So far, we've ignored the elephant in the room—that both top laners were taken apart by Khan and Longzhu's dedicated focus on top lane. Longzhu's naked aggression verged near reckless, but at the end of the day, they won.
Maybe that's why kkOma decided to pair Huni with two junglers. In the Longzhu series, we saw Untara with both Han "Peanut" Wang-ho and Kang "Blank" Sun-gu, and Huni playing with Blank. But we never saw Huni and Peanut.
That combination is peak SKT. It is their best five players on the map at the same time. It's the roster they won MSI with. So why haven't we seen it more?
Throughout a long LCK season, Huni and Peanut together proved to be a volatile combination. Both require resources and are super aggressive, which can lead to trouble when the right decision is to stay patient. It's hard to endure that type of inconsistency over a 3 month season.
But Worlds is only a few weeks long, and kkOma needs his best players. He's trusting that his ability to coax championship performances out of his team will allow him to get the most out of Huni and Peanut. Against Longzhu, SKT fell behind early and never caught up. Huni and Peanut give them that opportunity to hit back. It helps that the Worlds patch may lead to a resurgence in early-game junglers like Nidalee and Lee Sin.
By going with Huni and Peanut, with Blank the trusty veteran on the bench, kkOma is opting into higher variance performances. Only time will tell if the variance is on the positive side and SKT stand as champions once again.
All photos via Riot Games