A brand new series called Must Watch Matches is coming to the official Riot esports broadcast channels, according to the company's announcement today.
Twice a day each Tuesday, Riot will stream three of the best matches from the previous week of the LPL, NA LCS, EU LCS, and LCK to both NA and EU audiences.
This new stream will be broadcast on all the usual Riot Games channels, including YouTube, Twitch, and LoLEsports. Each show will begin at 10am PDT (6pm CET) with a second broadcast at 6pm PDT (2am CET).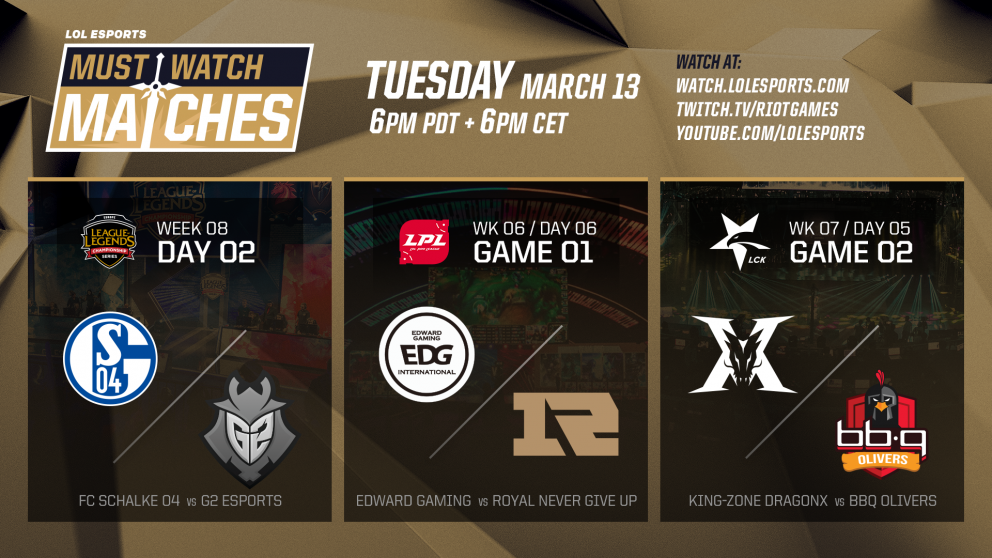 We're not sure what criteria is used to determine what the "best" matches of each week actually are, but Riot has at least revealed which games will be featured to kick off the new project. Today, the show begins with G2 Esports vs. FC Schalke 04, followed by Edward Gaming vs. Royal Never Give Up and King-zone DragonX vs. bbq OLIVERS.
Now, including Thursday's Academy League broadcast, five days of each week will hold some sort of official League of Legends broadcast in North America.
With more money, sponsorships, and, frankly, importance being infused into the newly-franchised LCS this year, we can expect more of these changes and new features to follow.