Tristana is getting a new skin, but this time, Riot Games want League of Legends players to vote for which concept makes the cut.
Players will be able to vote on the following three skin concepts for the Bandle Gunner.
Sugar Rush Tristana
"Armed to the sweet teeth with a mighty gumball gun, Sugar Rush Tristana protects the Candy Kingdom from unsavory forces."

Galactic Gunner Tristana
"Two extremely dangerous Exosuits have gone missing, and the bounty on them is only getting higher. Galactic Gunner Tristana has a solution for that: shoot first, ask questions never, and cash in."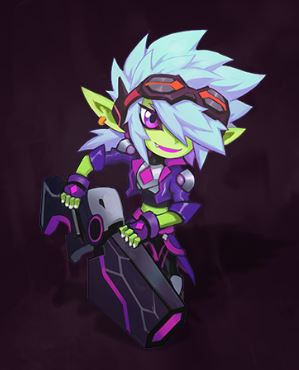 Little Demon Tristana
"Sometimes being mighty requires a little bite. Little Demon Tristana is a master of mischief, ready to jump into any heated situation… or cause one of her own."

Riot said that the current concepts are not final and if the results are particularly close, it will enlist Tristana mains to help make the final call.
After the winner is announced, Riot will be posting regular updates on the skin's developments which will include pictures and videos.

Players have until 1:59pm CT on March 6 to vote on their favorite skin. Everyone who votes will receive an exclusive icon.