Garena, the company behind League of Legends in Southeast Asia and Taiwan, is offering players the chance to win Prestige K/DA Evelynn in gambling boxes.

On the North American and European servers, the skin is purchasable with 100 Prestige Points, which can be acquired in a number of ways. It's a drawn-out task and can take a considerable amount of time (and money), but it's a fair price to pay for some players.

On the Garena server, if players are too lazy and want to get their hands on the skin as fast as possible, they now have two alternative options. They can either buy the skin straight up with 9,090 Riot Points (around $60), or they can opt to gamble 90 RP and have a chance to win the skin.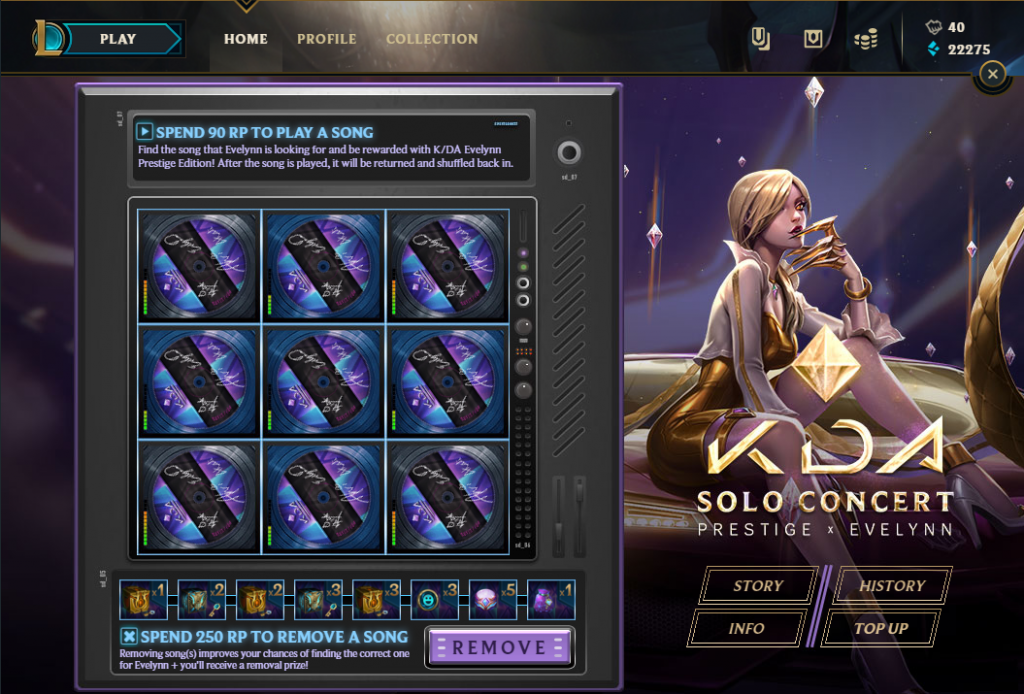 There are nine possible songs that can be played, and if they find the song that K/DA Eveylnn is "looking for," they'll be rewarded with the skin. Once more, they can spend 250 RP to remove a dud song to improve their chance of winning the prize.
The exact chance of winning the skin is unclear, but it will likely cost a fair amount of RP. That being said, Riot Games isn't much better. Acquiring the Prestige Points to legitimately purchase the skin costs a lot in itself. It might even be cheaper to opt for Garena's 9,090 RP deal or to go wild and gamble to your heart's content.
Correction April 25 10:45am CT: This article previously implied that Garena purposely mined cryptocurrency from users. This is incorrect. We apologize for the error.