The wait is almost over—Patch 7.14 will be here tomorrow, and that means Kayn will follow soon after, according to the official patch notes.
Kayn looks to be one of the most absolutely badass champions in League of Legends so far, not to mention he's a total edgelord. It's hard not to be an edgelord when you're a shadow assassin that's constantly fighting off demonic possession, though, so we don't really blame him.
Here's everything we know about Kayn, League's newest champion.
Transformation, but not like a Decepticon
Kayn will be the second champion in League history to have a transformation mechanic, alongside Gnar. It won't be a transformation that he falls in and out of multiple times throughout the game, though. He'll transform one time, and he'll stay that way until the end of the game. When he transforms into one of his two alternate forms, he doesn't get totally new abilities, either, they'll just be altered accordingly.
You can charge up his forms by killing enemies. By taking down ranged targets, you fuel his Shadow Assassin transformation, which specializes in boosted mobility, high priority target damage, and more AoE damage. This form works best against teams with more ranged carries. His other form is his Darkin form, which is when Rhaast, the darkin in the scythe, takes over. It is charged by killing melee targets, and as such, works best against melee champions. It has tons of self-healing and sustain paired with high percent-health damage. It still deals a ton of damage, but it's a little slower, a little tankier, and a lot harder to kill.
Abilities
For the full details on his abilities, check out our in-depth coverage on them. He will work best as a jungler, and he has a lot of mobility tools that will help him move around the jungle and gank unsuspecting laners from weird angles, such as a dashing ability and another that lets him walk through walls.
He also has crowd control in the form of a hard-hitting slow on his W, and an ultimate that lets him hijack the body of an enemy champion, both damaging them and sticking to them wherever they go for a short duration. He can use this to latch onto ulting Shens or teleportations for instant counterganks. Don't forget—these abilities are all augmented depending on which transformation you choose.
Sweet, sweet lore
Kayn was a child soldier for the Noxian army, forced into war only because Noxus knew their enemies would hesitate to strike down children. After Kayn was finished ruining an entire village with nothing but a farmer's sickle, Zed found him and recruited him to fight to restore Ionian supremacy as a member of the Order of Shadow. He was young and impressionable, and Zed is really cool, so he agreed.
Kayn was trained under Zed into one of the best Shadow Assassins ever, and quickly became too proud. He sought new ways to further his strength and one day impress Zed by surpassing him. One day, he heard rumors of a darkin-possessed scythe of untold danger, and figured that was the perfect opportunity. Rather than destroy the scythe to ruin the darkin's plans to take over the world, Kayn wielded it, choosing to overpower the demon and use the scythe's power for his own purposes. Easier said than done, however, and that's why every game has the possibility of the darkin taking full control of its new host.
Skin
Kayn's release skin will be Soulhunter Kayn. There isn't much to say about it other than, "Man, this is pretty cool."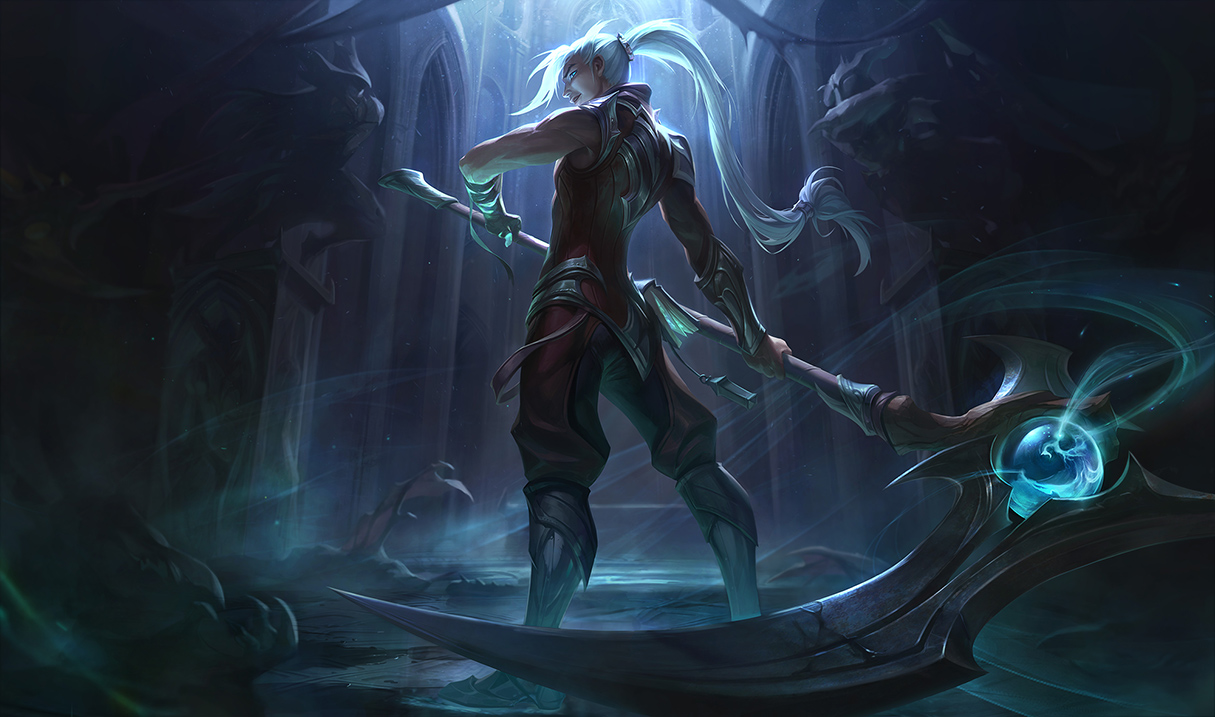 Kayn will be available for purchase soon after the patch goes live tomorrow, so we won't have to wait terribly long to get our edge on.