With the League of Legends World Championship 2015 just around the corner we will see alot of highly skilled players battle for the number 1 spot and try to take home the summoners cup. There are 2 names that throughout Worlds you will keep hearing; Faker and Imp. Both South Korean players who stand above all other players in the world. Faker and Imp started in Champions both having success in the region.
Faker joined SKT T1 K in February 2013. At the time the roster was brand new. Faker was plucked straight out of solo queue and was known not only for his fantastic assassin play, but his insanely big champion pool. Going in to competitive League no one was really 100% sure what to expect. Some said he would be as good as other Korean mid laners, others said he would be better! but I think no one expected him to reach the level of success he's at now and be able to man-handle entire teams by himself. SKT T1 K's first game was against CJ Blaze. Faker managed to solo kill Ambition at level 6 on Nidalee against Ambition's Kha'zix. "And it was very clear, very quickly that this guy is something special" – Monte Cristo (OGN Caster). In this game Faker went on to being 4-0 at 7:30 minute's in and snowball his lead to a perfect game – going 5/0/7. Faker showed us that he wouldn't crumble under the pressure of the big Korean power-house teams.
SKT T1 K managed to come out third place in Champions Spring 2013 as a brand new roster and their first split as a team. Later in Summer the team managed to adapt and create the synergy needed to secure first place in Champions Summer with a reverse sweep against KT Bullets. (It was also in this game that Faker made one of the most historical League plays ever in game 5 blind pick match. Both Faker and Ryu were on Zed).
Faker was awarded the season MVP and had one of his best splits of all time. To be able to qualify for worlds though, SKT would have to compete in the Season 3 Korea Regional Finals. Because they finished 1st they were straight into the finals. KT B would face them yet again after clean sweeping two other teams (CJ Blaze and CJ Frost). This time SKT managed to beat KT B 3-1. Faker, playing Gragas in game 1 although looking a little shakey, managed to show off 3 great games on Ahri and Orianna.
The Season 3 World Championship would be SKT's (and Faker's) first international tournament. SKT dropped 1 game in the group stages to the Chinese team, OMG. Later in the groups SKT would come back and beat them with a convincing and interesting win in which they chained together all their kills with pushing towers through mid lane. The game felt really one-sided when, only 12 minutes in, OMG lost there first inhib. After this, SKT looked completely dominant (and after only dropping 2 games in a best-of-5 against Najin Black Sword in the semi's) went on to 3-0 Royal Club and win the Season 3 World Championship. Then the season after they managed to get a perfect season, 15:0 winning Champions winter.
Their first year revolutionized the way competitive League was played. It was a perfect balance of their stunning mechanics with Faker and Piglet, and their incredible shot calling with Poohmandu being captain of the ship. Faker has achieved so much in his short career and exceeded all expectations. The New SKT seem just as dominant as the previous SKT T1 K, but now there is a lot more competition. The new roster won LCK 2015 summer and will be the number one seed going into Worlds 2015 from Korea. Faker personally won the finals – MVP also. If the new SKT T1 roster can win 2015 World Championship it would be near impossible for any other player to ever meet Faker's standards as the worlds best mid laner.
Imp joined MVP Ozone in May 2012 along with Homme in the Top lane and DanDy in the Jungle. The team, right after forming, entered NLB Summer 2012 under the name MVP White and managed to win and really stand out amongst all of the other teams. MVP later went on to play in OGN Club Masters and came first in early 2013.
By the time MVP Ozone played in Champions Spring 2013 they were looking a lot more solid and ready for the stronger competetion. They were a bit shakey in the group stages but really showed what they could do in the playoffs and managed to beat KT B in the quarterfinals and then went on to the semifinals to upset SKT in game 5. Throughout these series, Imp played Varus and Vayne in pretty much all of the games (and played Caitlyn once). Imp's Vayne was feared by KT B and he even managed to pull a ban from them (they banned Vayne in game 4). In the finals MVP Ozone were to play CJ Blaze. Pretty much everyone expected CJ to take this one with no problems. The exact opposite happened and MVP got one of the smoothest best of 5's ever. A perfect 3-0. CJ picked and banned poorly and didnt adapt to the power that MVP's bot lane brought in Imp and Mata. 
After the victory in Champions Spring 2013, Ozone had another strong victory in a Korean tournament called AMD-Inven GameExperience in which they took first place against Najin White Shield. After this, the competition grew a lot stonger and SKT were at the top of their game, so MVP only made 3rd place in Champions Summer 2013 as opposed to their Spring win. MVP Ozone's name had now been changed to Samsung Galaxy Ozone and that's what they would be known as going into Worlds.
Samsung Galaxy Ozone didnt show up the way they previously had back in spring. They were knocked out from group stages in a tie-breaker against Gambit. The next event after Worlds was Champions Spring 2014. Ozone didnt do as well as they previously had – they crumbled under the pressure of the more skilled teams. One of them was their sister team Samsung Galaxy Blue. Samsung Ozone came third in spring just under Najin White Shield. Going into Champions Summer 2014 Samsung Galaxy Ozone had now changed their name again to Samsung Galaxy White. White had made the playoffs and there was a rivalry starting between Piglet and Imp. Both of them thought of themselves as the better ADC and each regarded the other as a bad player. From this rivalry a bigger rivalry started between the 2 teams (SKT T1 K and SSW).
At this point in the meta, one champion (that Imp is well known for) became strong. Twitch. In this series Twitch and Lulu were highly contested pick's and were often banned against him. SKT took game 1 off SSW and then samsung took game 2 with Imp's Twitch. SKT just seemed to fall under the pressure and tilt more and more each game until SSW took the series.
Unfortunately for SSW they would have to face their sister team, SSB in the semi finals. SSB knocked SSW down to face SKT again for third place spot. In this series Samsung White just dominated SKT T1. It seemed like Faker knew the weight he had on his shoulders to carry his tilted team and tilted in his own play. Imp got Twitch in all 3 games and consistently played well in every one. After this victory SSW were heading into Worlds.
Although Samsung Blue were Korea's number 1 seed going into Worlds there was just something about Samsung White that made people have that feeling that they would be able to do something great. For Imp he looked like he would be the number 1 ADC going into Worlds. The only players who even came slightly close would be NaMei, Uzi and Deft. However, none of these guys showed the same performance that was shown by Imp.  Imp was consistently getting these carry champions in the group stages such as Vayne, Lucian and, of course, Twitch. SSW didnt drop a game in the group stages and they were not too far off going into the bracket stages (only dropping 2 games). The first game dropped was game 3 against TSM. The loss mainly came from a poor draft from White, picking 4 really weak early game champions, thus giving TSM the ability to control the early/mid game. SSW picked up the slack and took the series 3-1. They then went on to face Blue in the Semi's and White absolutely destroyed them. Imp playing consistently well throughout the series – even getting his signature Twitch for 2 of the 3 games.  In the Finals they would move on to face Star Horn Royal Club. They knew this would be tough because SHRC would be the only team that could truly test Imp with their ADC Uzi. SSW took the first 2 games but dropped game 3, the same way they did with TSM. This started to look like a cocky trend for White when they think  they have the series in the bag. Again though White pulled back the last game and finished the series 3-1 becoming the  Season 4 World Champions.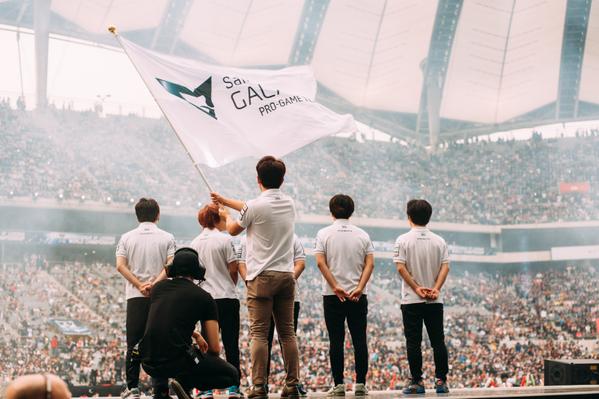 Following the 2014 World Championship the team disbanded and all of them moved to China. The reason for this (and for dropping the Samsung Org) is pretty up for grabs, some say it was money others say it was because the level of competition was too high in Korea. What was for certain though is that they all were going to be having a fresh start on different teams in the LPL League.
Imp landed himself on a solid team in China, LGD and right away looked really strong. A lot of Korean players had moved to China by this point, meaning the competition had followed Imp and he would really have to prove his right as the best ADC. LGD looked pretty good in the regular Spring LPL season but even stronger in the play offs. LGD played solidly in the quarters and semis. Imp playing outstandingly in all of the games, winning lane even though he had the weaker champion and even pulling a lot of bans towards his Kalista that was constantly being taken away from him. In the finals of the LPL Spring season LGD would face EDG who were very much a Chinese super team. The series was ridiculously close LGD shown some beautiful team fighting ability's but EDG played the map so well in all games and managed to take the series 3-2. In all of these games Imp's kalista was banned out against him also.
Going into the LPL Summer Split it became clear that LGD were a very good team in a best of 5 format. They would have to play 4 best of 5's against 4 different teams for a chance to take the LPL Summer Split and go to Worlds. The first best of 5 was against VG. VG has two of Imp's old Samsung team mates. Mata and Dandy. The series as a whole was pretty much one sided with only 1 game that looked quite close (game 2). Imp had started picking up the older champions he was known for, such as Vayne and Twitch again and his Kalista still being very feared. The next series against Snake was quite similar, however Snake battled a lot harder than VG but LGD managed to punish mistakes and keep Imp fed and come out on top 3-1. For LGD's 3rd best of 5 (out of the 4) they faced EDG. EDG is the team who previously knocked LGD down to second place in the LPL Spring Split, so this time LGD really wanted to win. I think for this series a lot of people would of had their money on EDG winning or at least that it would be a very close set of matches. The exact opposite happened and LGD managed to take the rank 1 team in the regular season, 3-0. The pick and ban phase was very centered around the ADC's. In the last game Kalista managed to slip through and LGD could pick it up on red side, giving Imp a perfect game. LGD moved forward to face QG a top Chinese team that would be a struggle for LGD to defeat. In 4 of the 5 games that this series went to, Imp managed to get the carry champions he is known for. This series felt almost similar to the LPL Spring 2015 set LGD against EDG. Very back and forth. The series shown a battle of wave manipulation and vision but in game 5 LGD's Dragon-control and team fighting ability got them the LPL Summer 2015 Championship putting them as the number 1 seed from China for Worlds.
Both Imp and Faker have achieved so much in their career, Imp having won Champions Korea and LPL in China. Both of these players have a World Championship under their belt too and I think this 2015 World Championship will conclude who deserves the title of the best League Of Legends player of all time.
Picture credit: Lol esports
                     Esportspedia