After eight jam-packed weeks of competitive League of Legends action, the LCK Summer Split regular season has reached its conclusion. With the end of the regular season comes the most important part of every seasonal split—playoffs.
With a spot at the World Championship on the line, the LCK Summer Split playoffs is a must-watch for any and all fans of Korean League of Legends. For those new to watching the LCK playoffs, or fans who need a quick refresher, Dot Esports has you covered. Here's everything you need to know.
Stream
Both OnGameNet and SPOTV's English broadcasts of the LCK Summer Split playoffs will continue to be streamed on Riot Games' LCK-focused Twitch channel, in addition to the League Esports YouTube channel. For those that want to watch OGN and SPOTV's native Korean LCK broadcasts, Riot has created a separate Twitch channel that runs concurrently with the English stream.
Teams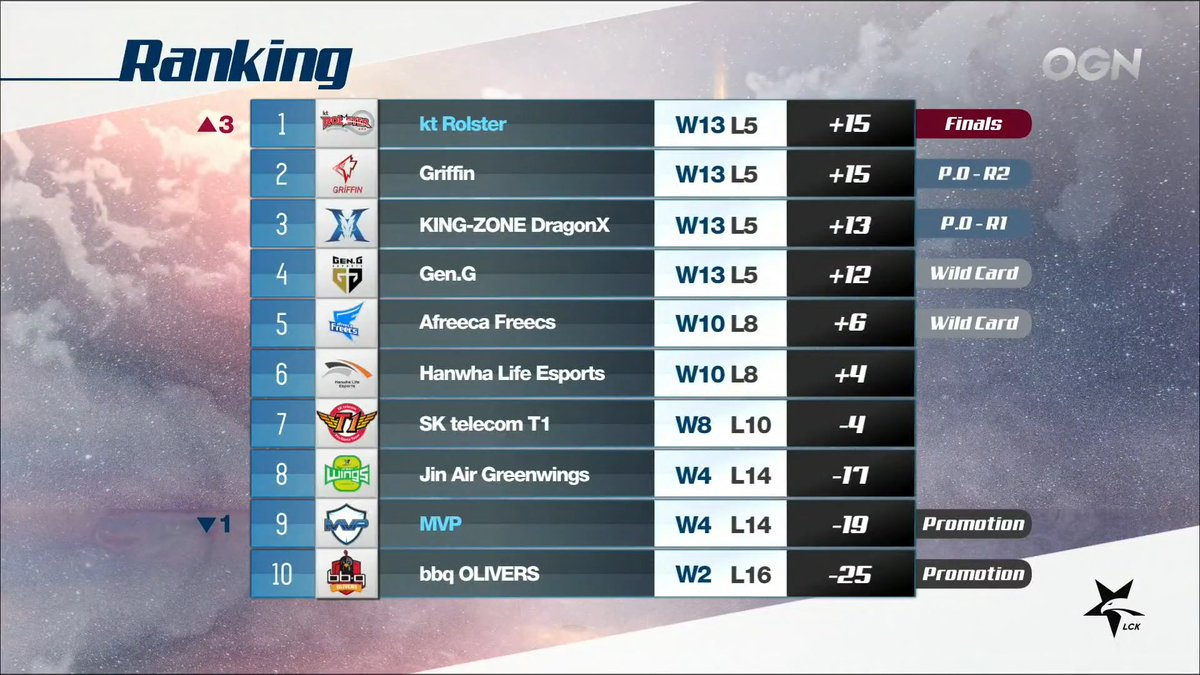 Composed of four rounds, the LCK Summer Split playoffs will feature the region's top five LCK teams in the regular season. The five teams to qualify for the upcoming playoffs, in order of where they finished the regular season, include:
KT Rolster
Griffin
KINGZONE DragonX
Gen.G
Afreeca Freecs
Schedule
The LCK Summer Split playoffs will run across four days, where each day of play will feature one playoff round. The first three rounds of playoffs will be played in three-day intervals, with the first round being broadcast on Aug. 12.
In order to allow players to participate in the 2018 Asian Games, the final round of playoffs will be pushed back 18 days. The date of the LCK finals has been set for Sept. 8, 10 days after the Asian Games conclude.
OGN and SPOTV will split the four LCK broadcast days. SPOTV will produce the first two rounds of playoffs, while OGN gets the final two rounds.
Every round of playoffs will begin at 5pm KST or 3am CT.
System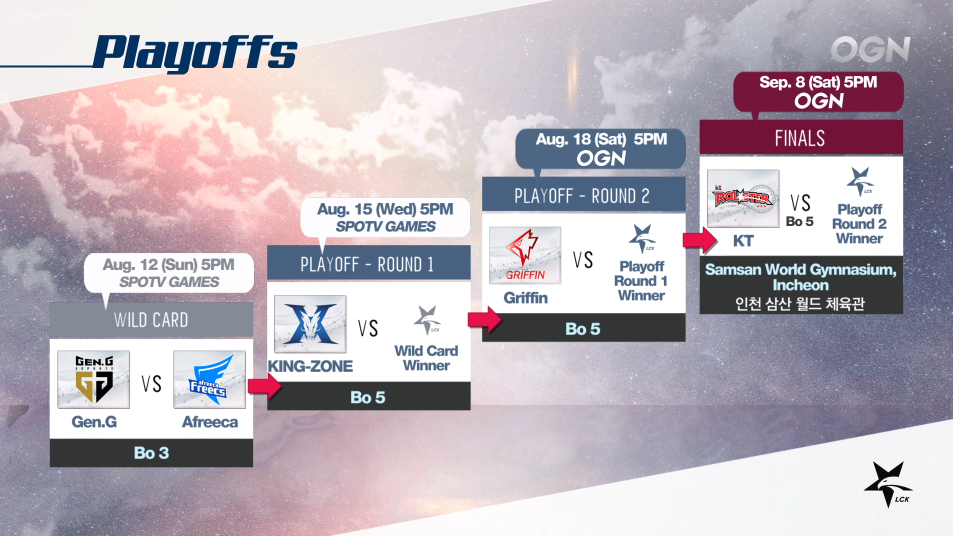 The LCK playoffs feature a gauntlet system, where teams are seeded based on where they finish the regular season. The fourth and fifth place teams enter the first round of playoffs, called the "wildcard match." The winner of the wildcard match moves on to face off against the the league's third placed team in the second round, with the winner advancing to the third round and playing the second place team. Finally, the winner of the third round qualifies for the LCK finals, where they play the team ranked first in the regular season standings.
Although the wildcard match is a best-of-three, the following playoff rounds are played in a best-of-five series.
The team to win the LCK Summer Split finals qualifies for the upcoming World Championship as Korea's first seed.
Gen.G will take on Afreeca Freecs in the first round of playoffs, set for Aug. 12, at 5pm KST or 3am CT.