Fnatic came into the 2018 League of Legends World Champions as the great Western hope. By now, we've long since become wary of teams from North America falling apart under the bright lights of Worlds. European teams, however, seem to impress every year. And this year, Fnatic looked like one of the strongest squads we've seen since, well, Fnatic in 2015.
But then something curious happened. The other European teams—G2 and Vitality—started winning too. Vitality shocked the world by upsetting defending world champs Gen.G, while G2 had a shot to get out Group A in first place. So far, EU LCS teams are 7-6, with Fnatic still yet to play their last three games.
It's no coincidence that Fnatic's rise to the top of Europe has brought the overall level of play in the region higher. Through their innovations, Fnatic have pushed other EU LCS teams to improve on their own rosters and strategies. In a sense, they taught the rest of the league how to win at Worlds.
Rediscovering the magic
After the season five World Championship, both European teams to make the semifinals—Fnatic and Origen—were dramatically remade. In the vacuum came a new team that would dominate the next two years: G2.
G2, at their peak, played like a strong Korean team. They won skill matchups up and down the roster, and they closed games with a combination of strong macro and pristine teamfighting. When it worked, their play evoked that of Korean champions like SK Telecom T1 and Samsung Galaxy.
In contrast, Fnatic tried to adapt by focusing within. Rather than looking to Korea or China for inspiration, they tried to create a meta that would work uniquely for their own roster. When G2 went with meta champions, Fnatic tried wonky laneswap strategies around star bot laner Martin "Rekkles" Larsson. It didn't work: For two years, Fnatic's gimmicks simply didn't work against G2's more proven and predictable style.
Something needed to change. Luckily for Fnatic, they made the right decision on what to change and what to leave alone.
Trailblazers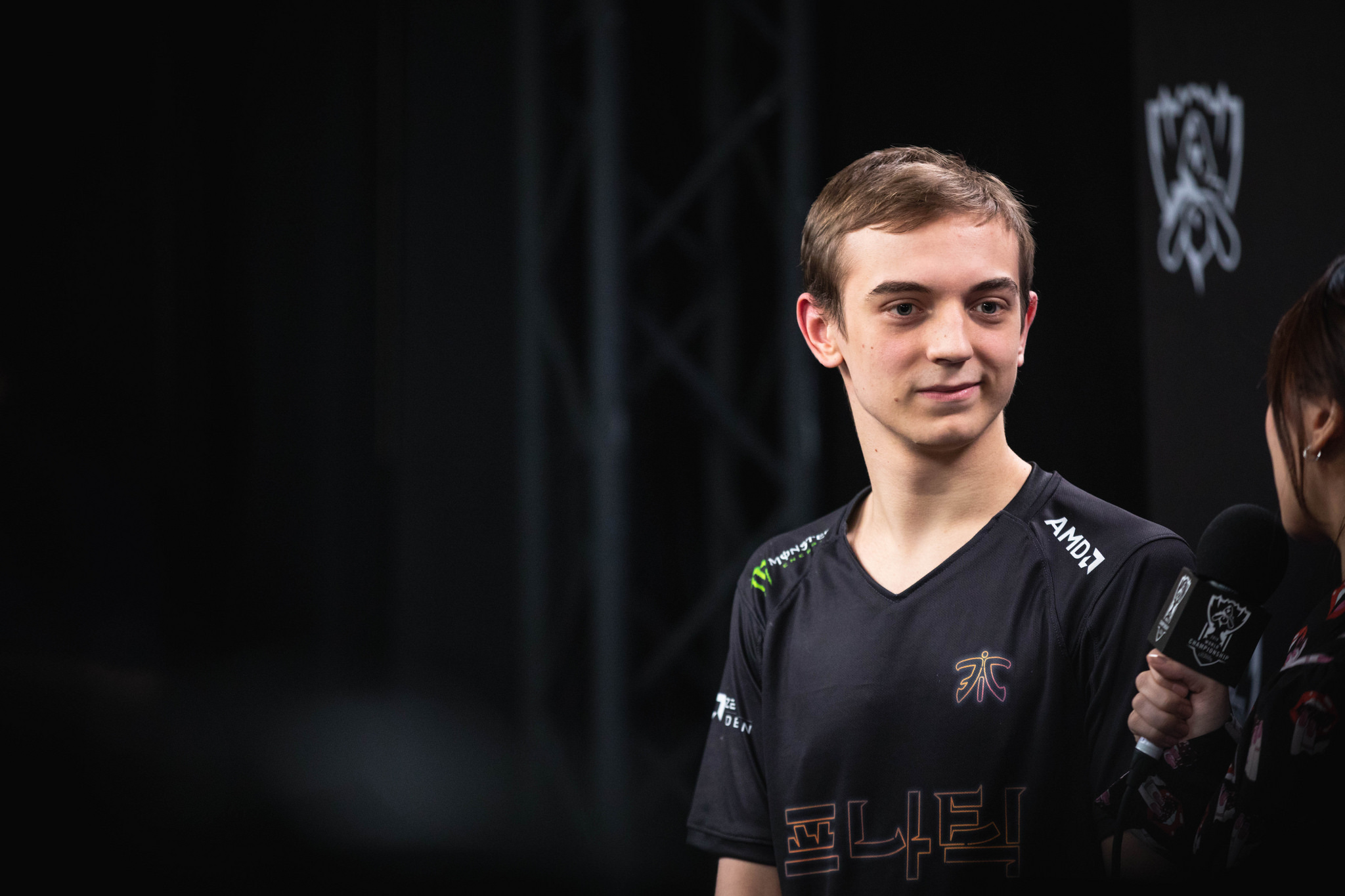 Rather than fully revamp their strategy in favor of what G2 had done, Fnatic kept going down the unknown path as trailblazers. But this year, they found a new path to explore. Well, it was really a player: Mid laner Rasmus "Caps" Winther.
Last year, Caps showed us glimpses of brilliance. At his best, he could stand up to any mid laner in the world. But he just wasn't as consistent as G2's own Luka "Perkz" Perković. This year, Fnatic's response has been to go all-in on Caps, giving him priority in draft and freedom to do whatever he wants on the map. Caps wants to play mid lane Wukong or Vayne? Let him, and see what happens.
Caps has delivered in spades. His willingness to play anything and ability to pressure mid gives his team a lot of flexibility in the draft. That flexibility makes them difficult to plan for before and during games. And his overall attitude of not caring about his opponents and focusing on himself has infected not only his team, but the rest of the region.
Look at how Vitality was playing AP Ekko like it was 2015 all over again. Or the way G2 said "screw it," and let bot laner Petter "Hjarnan" Freyschuss play Heimerdinger in an elimination game while relying on Martin "Wunder" Hansen to solo-carry games. Fnatic's success pioneering this style in the region pushed other teams to innovate as well, and it has paid off for all of them.
Can it continue?
Fnatic's style of chaotic drafts and fast-paced gameplay is very different from the slower-moving styles of SKT and Samsung. If anything, it's evocative of another Korean champion of the past: ROX Tigers.
In 2016 and 2017, ROX Tigers relied on their own style and champions, like support Miss Fortune, to succeed in the LCK and at Worlds. They had a fast-paced jungler in Han "Peanut" Wang-ho. Fnatic certainly have that in Mads "Broxah" Brock-Pedersen. And they had a mid laner in Lee "kuro" Seo-haeng who was willing to play anything.
The Tigers didn't win a world championship with that style, but they got damn close. And they were incredibly fun to watch while they were at it. There are certainly risks to playing like the Tigers—Fnatic's drafts have a tendency to be easy to itemize against or get outscaled, and Broxah's early jungle pathing is still a work in progress.
But again, this is a blast to watch. Fnatic and the rest of Europe finally realized they can't just play the Korean style and hope to beat the actual Koreans. They're taking risks and taking people down. And that's why they're winning at Worlds again.