North America's Danish mid lane imports shined at last week's Rift Rivals tournament.
Nicolaj Jensen of Cloud9 had a tremendous showing, dominating lane like he has for years and also putting out significant damage. TSM's Soren "Bjergsen" Bjerg was the best player for the winning team—they channeled everything into his lane and he delivered. It was a good time to be a Dane.
There was, however, one Danish mid laner that didn't have such a great time at Rift Rivals. That's because Henrik "Froggen" Hansen stayed home. His team, Echo Fox, didn't qualify after finishing eighth place finish in the 2017 Spring Split.
Froggen is one of League's original pros, he's participated in major tournaments since the very beginning. After a highly successful career in Europe, he came to North America to find greater organizational stability.
Instead, he's traded one type of chaos for another.
The lone carry
In his early career, Froggen saw incredible competitive success on a series of teams. The highest success came on the CLG.EU squad that routinely faced Moscow 5 for the title of best in the world. Korea had yet to rise when the two would square off in Season 2, and these de-facto championships solidified Froggen's place in history. His individual battles with Alex "Alex Ich" Ichetovkin were incredible to behold.
But despite the competitive success, League was a young game back then and experienced constant organization churn, especially in Europe. Froggen bounced from team to team as owners came and left and the LCS was just getting off the ground.
Through the constant roster churn, the performance of Froggen's teams suffered. After a good run at the Season Two World Championship that ended in an upset, Froggen never made it back to Worlds. His last team, Elements, quickly sold the team to German soccer club Schalke 04.
The dream of winning Worlds for Europe was over, but North America also needed a hero.
The grass isn't always greener
Bjergsen paved the way for Froggen to find greener pastures in North America. TSM is one of the region's only consistently great teams. The two are very different players, but in Season Six' mid-centric meta, the hope was that Froggen could produce like Bjergsen.
For half a split, it looked like he would. After overcoming some visa issues, the team went even in the second half of Spring 2016. But the wheels fell off in the summer, and the team fought in the promotion tournament for the LCS spot. This spring saw another disappointing finish and another battle against relegation.
Things have improved only incremental in Summer. Froggen still leads NA in all sorts of statistical categories, from lane to damage dealt. Just look at this damage chart through week five. It's ludicrous.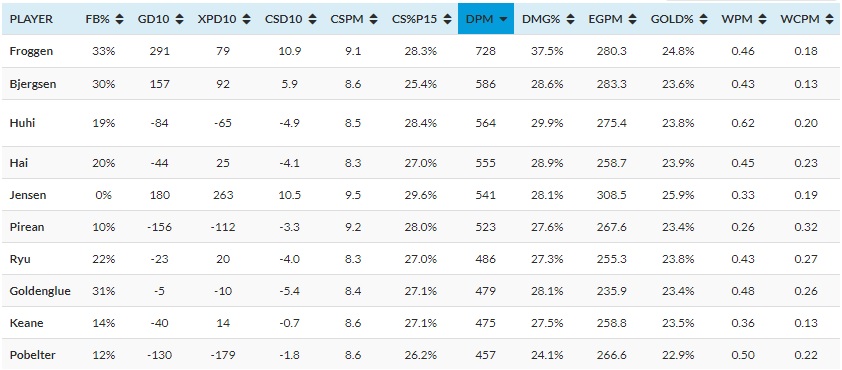 The difference between Froggen in First Place and Bjergsen in second is greater than the difference between Bjergsen and last-place Eugene "Pobelter" Park (counting only mids who have played more than 10 games). That's absolutely insane, and a good number higher than Froggen's damage lead from Spring. And yet, it's not enough. Echo Fox continues to lose, sometimes in heartbreaking manner.
The reason for the team's struggles? Lane phase only lasts so long.
The 6th opponent: the clock
As tortured Echo Fox fans have come to realize, they just cannot close. No lead is safe for this team as their late game often dissolves into a combination of running aimlessly around the map, looking for a miracle backdoor, or convoluted Baron calls that almost uniformly work against them.
Just look at Froggen's gold over time graph from the current split: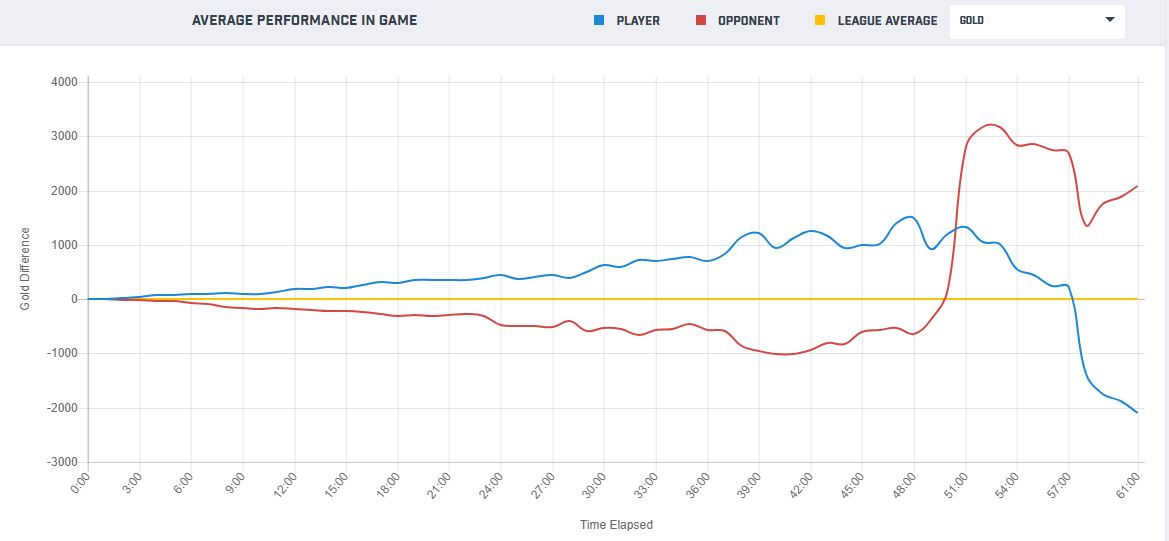 The graph shows a consistent snowball in the early game followed by a precipitous drop as Echo Fox lose their heads.
The problems are myriad, but mostly revolve around a giant purple worm: Baron Nashor. The team consistently fails to set up properly around Baron, even when they have a gold lead. Sometimes the lanes aren't pushed enough, allowing their enemies to respond to baits. Other times they don't have vision control of the pit. More often, it's multiple going wrong at once.
It's almost shocking to see that the team has over 50% control of both first Baron and total Barons. But they struggle at key moments, when one lost teamfight can lead to catastrophe. Even when they don't attempt Baron, they can get it stolen from under their noses, again because of poor vision control.
In some games, you can tell how crazy the Baron has driven this team. In a key game against Cloud9 at the start of the split, Echo Fox lost an extremely unlucky Baron that allowed C9 to equalize in map pressure. And then the wheels just came off. Looking terrified at meeting Cloud9 as a coordinated unit, Echo Fox kept sent people deep into Cloud9 territory, trying desperate backdoor maneuvers. Froggen did his damnedest to get behind enemy lines on the slippery LeBlanc, but when Cloud9 finally caught him, it was curtains for Echo Fox.
Time after time, the clock is Echo Fox' biggest enemy.
Where's everyone else?
It seems like the only way Echo Fox can win is if Froggen just goes even more ham than in the early game. Often times, he'll be tasked with charging into the enemy team, initiating, dealing damage, and living to clean up. Sometimes, it takes Froggen setting a CS record for Echo Fox to win. But that level of responsibility would be daunting for even a player of Froggen's caliber.
Echo Fox' bot lane duo has been an issue for years. Where Froggen tops the region in damage, ADC Yuri "Keith" Jew ranks at the bottom, largely due to positioning errors in teamfights. It's catch-22: he's either missing because he's dead, or missing because he doesn't want to die. The team brought in Jang "Looper" Hyeong-seok coming over from the LPL to play top lane, but so far, Looper has not proven to be a game-changing carry. Head Coach Nick "Inero" Smith is a blank slate, having never coached in the LCS before this split.
Eventually mid lane priority peters out and teams have to be able to win fights to advance objectives. Seeking to win elsewhere on the map, Froggen has made Taliyah a common champion. But the results aren't there—after two wins earlier in the split on the rock mage, he's gone on a four-game slump.
He's recently transitioned to Corki, a favorite of his from past years, and the damage numbers are insane. Echo Fox has won two of four with him on the daring bombardier, a good mark for them. It's anyone's guess how long it will last. Froggen hasn't seen Corki banned yet, but you can bet those bans are incoming. How long the good times can last has been a continual question hovering over Froggen's career.
Soldiering on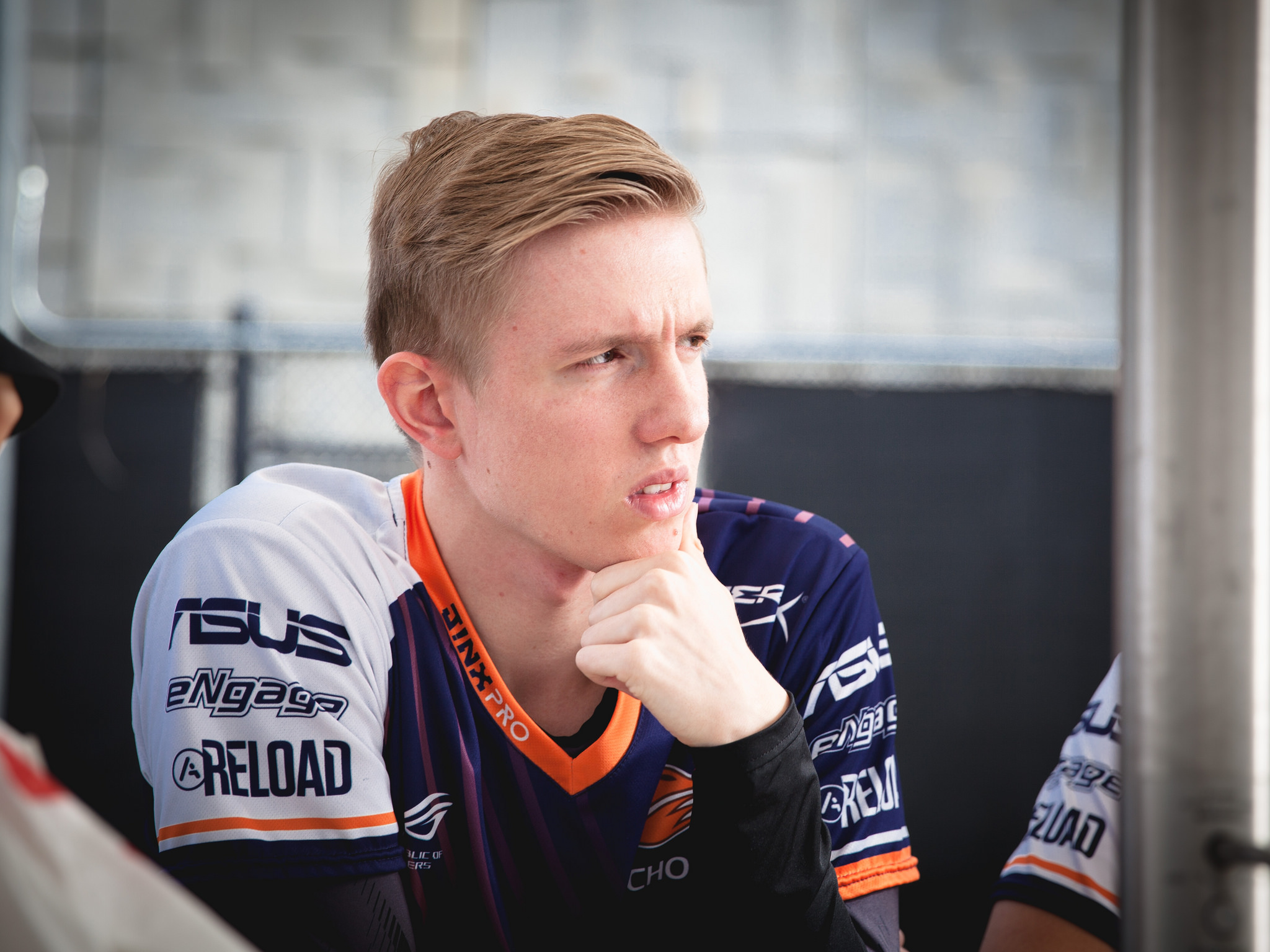 Echo Fox is known as a well-capitalized and intelligently run organization. There's definitely more stability to be had with this team and in North American in general. That gives Froggen the opportunity to build something enduring.
But so far, the team hasn't given him many pieces to build with. The team's move to a 10-man roster may pay dividends in the form of unearthed talent in a future split, but that help seems a long way off. For now, fans will continue to be frustrated at watching Froggen struggling to carry the entire team on his shoulders.
At some point, people may begin to wonder—is Echo Fox' over-reliance on Froggen the root of their problems? Shouldn't a star mid laner be able to guide his team to better macro decisions? After all, another new team, Immortals, built around a North American mid laner in Eugene "Pobelter" Park, and they have been to the playoffs twice, with a third appearance likely this summer. Are the numbers lying?
More likely, Froggen's struggles since Season Two are due to League's increasing complexity. Mid lane priority doesn't just mean a single player smashing lane anymore. Bjergsen is one of the best laners around, but even he frequently requires help from the jungle and support position to control the map and set vision. Teams are more coordinated than ever, and importantly, have figured out how to play around Froggen's sheer talent, using their secondary players in a way Echo Fox hasn't. Froggen's crazy damage numbers hide the fact that once he goes down, there's nothing left behind him.
TSM's phenomenal success the last few years started with Bjergsen, but was capped by finding players like Vincent "Biofrost" Wang. The same can be said for Cloud9 and Juan "Contractz" Garcia and Andy "Smoothie" Ta. Both of those teams sport some of the best in the region at positions other than mid lane. Echo Fox' move to having a 10-man roster will help them find that talent. So would an upgrade at coach, whether it's through Inero improving, or another change. They did find Matthew "Akaadian" Higginbotham, but he's taken a step back after a solid Spring Split.
None of that will come in time for this season. Froggen is an all-world talent, but for another split, it looks like he'll end up near the bottom of the bracket, going it alone for Echo Fox. The rest of the Summer Split will be again be about survival and soldiering on.
---
Photos via Riot Games Flickr. Statistics from Oracle's Elixir, Champion stats from Games of Legends and Stage.gg.