The Rise of Shadows expansion goes live on April 9 and brings with it a variety of new toys for each class.
So what can we expect from our favorite Demon-summoning, spell-slinging class going forward?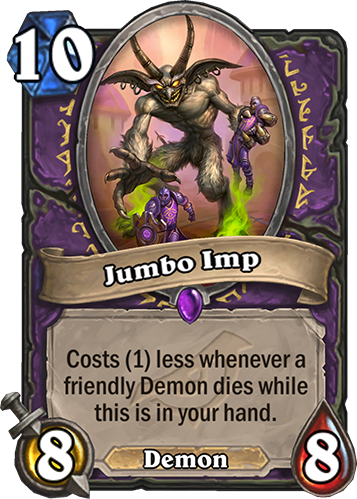 During the last year of Hearthstone, the Warlock class had highs and lows. The Year of the Raven gave us arguably one of the most unique decks of all time with Cube Lock, and Aggro lock players found plenty of love through decks like Even, Odd, and Zoo lock. Sadly, however, these decks will soon no longer exist in Standard play, at least not in the way we know them.
The good news, though, is a new expansion means tons of exciting decks. If you're a fan of Warlock's classic Zoo archetype, Rise of Shadows definitely looks like it has something in store for you. Demon Zoo looks like it's getting some serious support in the expansion, including the new Jumbo Imp, a 10-mana Demon with eight Attack and eight Health.
Although the Imp's mana cost may be high, his effect provides a way around it. Jumbo Imp's mana cost decreases by one whenever a friendly Demon dies while the card is in your hand. Since Zoo Warlock decks usually run a high amount of low-cost Demons, Jumbo Imp shouldn't have any issue joining the battle well before your 10th turn. Demon Zoo is also getting more support in the expansion with buff cards like Impferno and Rafaam's Scheme.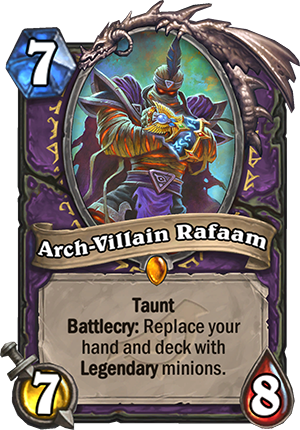 Speaking of Rafaam and his Scheme, one of the most interesting additions to the class comes in the form of the new Warlock Legendary minion, Arch-Villain Rafaam. The Arch-Villain is a seven-mana Taunt minion with seven Attack and eight Health. What makes Rafaam interesting, however, is his Battlecry. When Rafaam enters the field, you replace your hand and deck with Legendary minions.
While we'll have to wait until some serious play time has been put into competitive by the community to know exactly which deck Rafaam performs best in, there are certainly some opportunities. Imagine playing a Zoo Lock deck and suddenly transforming what's left of your tiny minion-based deck into super powerful Legendary minions.
Rafaam could also be used as a big value play in Hand Lock. Although the deck wasn't as popular as its Cube or Zoo counterpart during the Year of the Raven, Hand Lock did see some success. The deck primarily focuses on using cards that benefit from having a large hand. Once you've used the cards you think you'll need in a given match, you can drop Rafaam and roll the rest of your deck and hand into powerful Legendary minions.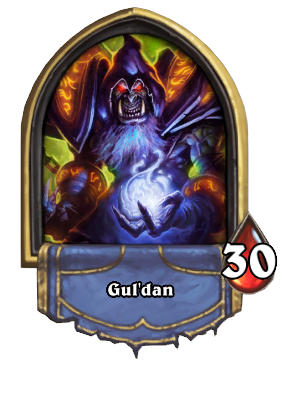 If you're interested in playing Warlock this month, keep your eyes on Rafaam and Jumbo Imp. These cards will both more than likely be instrumental in building the meta for Warlock going forward.
You can check out all of the new Rise of Shadows cards when the expansion drops on April 9.