The Standard format brought a lot of new cards that stemmed numerous creative deck archetypes and helped revitalize or improve others, but it also did something that is my favorite phenomenon in card games. Enabling old cards and making them useful. Today, we shall be talking about cards that were released before Standard but didn't see play until the Old Gods blessed them.
Special Mentions
1. Argent Squire
Pre-Standard, 
Argent Squire only saw some niche play in Zoolock, often acting as a replacement for  Flame Imp in an Aggro-oriented meta. Now, the card is everywhere. Due to the hard-hitting nerf to  Leper Gnome, Aggro Decks were left without a solid 1-drop. Missing the 1-drop can be extremely rough for Aggro decks and often result in losses. Argent Squire became the primary replacement. It's synergy with cards like  Flametongue Totem and  Abusive Sergeant made it the perfect candidate for a solid 1-drop in Aggro and Tempo decks alike. It is now even being used in archetypes of Rogue due to the absolutely insane synergy it has with  Cold Blood.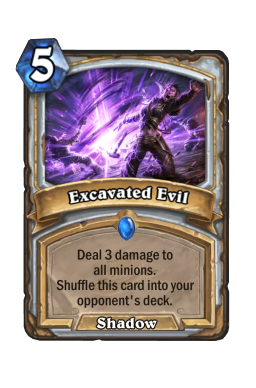 2. Excavated Evil
Although the Priest class barely sees any play in standard, if you do queue up against it, you can be certain that Anduin's deck is running 2 Excavated Evils. Before WotOG, there was no need for Priest to use Excavated Evil. It had arguably the best AoE spell in the game – 
Lightbomb – usually featured 1 or 2  Holy Novas and if that wasn't enough, there was always the  Auchenai Soulpriest– Circle of Healing combo to fall back on. However, since the departure of GvG, Priest was left bereft of a good board clear. Enter Excavated Evil. This card is extremely useful not only because it helps clear the board against Aggressive/Midrange decks, but also gives them a dead draw later in the game, which can possibly be game winning.
5. Drakonid Crusher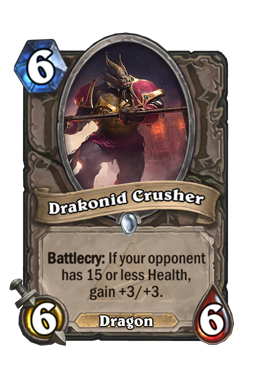 Before standard, Dragon-based decks were usually slow decks that played minions on curve and slowly gained advantage of the board, often using 
Ysera to close out games. With Standard emerged a new form of Dragon Warrior. It utilized the ahead of the curve stats of Dragon decks to gain tempo early on and snowball really fast to close out games as fast as possible, being an Aggro-Midrange fusion deck. Drakonid Crusher lay at the heart of this idea. As it turns out, playing a 9/9 on turn 6 is extremely strong and allowed the deck to not run out of steam and in fact, capitalized on the aggressive nature of the deck.
4. Nourish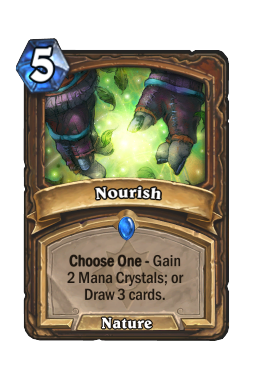 Druid as a whole is based around the mechanic of ramping up as fast as possible using cards like 
Innervate and  Wild Growth to cheat out cards with high value earlier than the opponent can deal with them. However, this leaves a gaping hole in the strategy, which is that you run out of cards very quickly. This was never a problem pre-standard, mainly because of the ability of Druids to close out games quickly the combo and due to  Ancient of Lore. After the nerf, Druids needed a strong draw card. Nourish works perfectly and fits right into most Druid decks, be they Ramp, C'Thun or Yogg. It's ability to act as a consistent draw mechanic as well as ramp at an insane rate makes it a staple for Druids and will probably remain so for a while.
3. King's Elekk/Huge Toad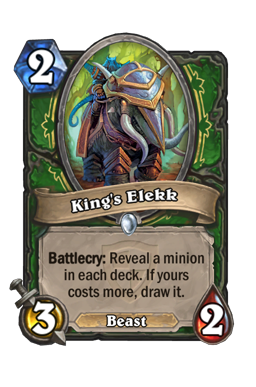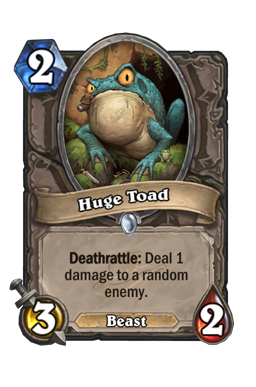 Huge Toad and King's Elekk were always cards that were great, but were simply overshadowed by better cards. 
Haunted Creeper and  Knife Juggler were simply too good to not run in a Midrange Hunter list and didn't leave any space for these 2 cards. That changed with Standard. Because Haunted Creeper rotated out and Knife Juggler was nerfed, Hunter was in a dire need of solid 2 drops, and solid 2 drops they found.
King's Elekk's problem lay at the heart of the Joust mechanic. While a 2 mana 3/2 with a card draw effect is insane, Elekk could not manage to pull it off consistently enough to have any merit. However, since the overall power of cards decreased because of Naxx and GvG rotating out, King's Elekk finally got its platform to shine.
Huge Toad is a relatively vanilla minion. While it did make everyone's beloved 
Bloodfen Raptor obsolete, it just wasn't strong enough to see play. However, because of its beast tag and the added benefit of dealing 1 random damage, Huge Toad quickly became a staple in all Hunter decks.
2. Stampeding Kodo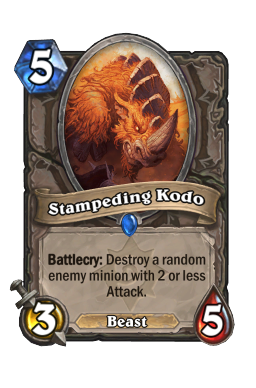 With the advent of Old Gods, the good Kodo quickly took the meta by a storm. Its potential was first realized by N'Zoth paladin which used it as an anti-aggro tool as well as a large removal when used in conjunction with 
Aldor Peacekeeper or  Humility. However, people quickly realized the true power of this monster of a card. It was partly because of the insane amount of Warriors on ladder that used  Acolyte of Pain and  Bloodhoof Brave and Shamans with their absurd amounts of Totems that this card saw a huge increase in play. It was quickly picked up by other decks such as Midrange Hunter since it is also a beast and Renolock, a deck that can afford to have tech cards.
1. Ragnaros the Firelord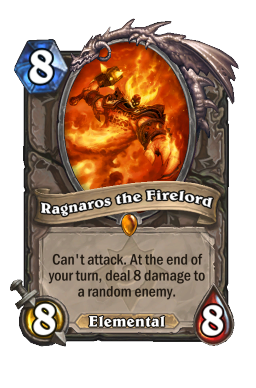 Yes. Ol' Rag himself clinches the number 1 spot on this list. Surprising as it might seem now, Ragnaros barely saw any play before Standard. 
Dr. Boom was simply a cheaper and better finisher that quick Midrange decks such as Druid and Tempo Mage used to close out games and Ragnaros seemed like an added and redundant luxury. This was also emphasized by the sheer amount of Secret Paladin and Zoolock on the ladder, both of which Ragnaros wasn't good against. However, since Standard has hit, Ragnaros has reclaimed his spot as the no.1 finisher as well as the no.1 killer of insects. While people like to argue against it, the meta has slowed down enough for Ragnaros to be extremely good at doing what he does best, closing games out. The card can be extremely punishing if you do not have removal for it or lethal the very turn it is played and can quickly turn lost games into wins. Ragnaros is played in almost every midrange deck now and is arguably the safest Legendary to craft for new players simply due the absurd amount of play that it now sees.
Thanks for reading guys! If you have any questions, you can ask in the comments below! Let me know any cards that you think deserve to be on the list and that I may have missed out! Cheers.