Mage players, rejoice. Reno is here in the form of a new Legendary minion.
Reno The Relicologist was just revealed for Hearthstone's Saviors of Uldum expansion.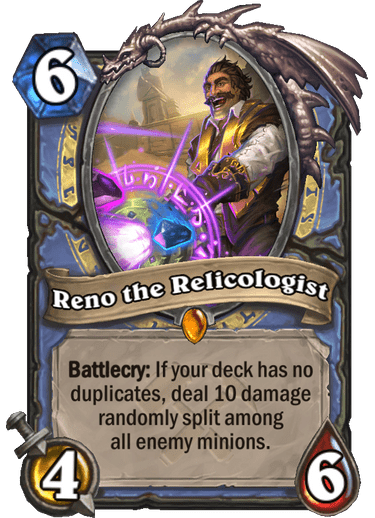 We've known for a while that everyone from the League of Explorers would be attached to a class, and it looks like Reno will be representing Mage. Reno the Relicologist is a six-cost 4/6 Legendary Battlecry minion. Reno's Battlecry deals 10 damage randomly split among all enemy minions if your deck has no duplicates.
All four of the new Legendary minions revealed today have a Battlecry that provides a huge benefit for not running duplicates. Players may remember similar cards from the past, like Kazakus and Raza the Chained. Both cards had Battlecries that provided big rewards as long as your deck didn't contain duplicates.
Mage is a class that has a wide variety of spells and minions that can lend themselves to multiple different playstyles. Reno the Reliolgist has a Battlecry that essentially acts as a board clear. Since Mage already has a healthy amount of board clear cards available, it's probably safe to assume Reno Mage will be a very Control-oriented deck.
Reno the Relicologist was one of four Legendaries revealed at a Comic-Con panel that took place today in San Diego. You can check out all of the new toys coming with Saviors of Uldum when it goes live on Aug. 6.