This is one big genie you don't want to mess with.
Siamat is one of the newest Legendary minions revealed for Hearthstone's upcoming expansion, Saviors of Uldum.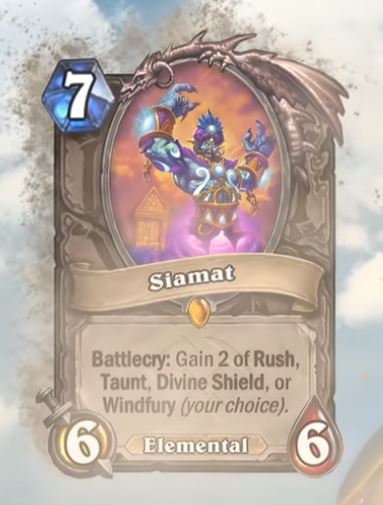 Siamat is a seven-cost 6/6 Elemental minion with one of the most unique Battlecries we've seen in some time. Siamat's Battlecry allows you to give him two benefits from a plethora of Keywords. The benefits you can choose to give Siamat includes Rush, Taunt, Divine Shield, and Windfury.
As if being a 6/6 minion isn't intimidating enough, Siamat's Battlecry is seriously scary. Though Siamat would be insanely better if Rush were replaced with Taunt, he still holds the potential to usher a big tempo swing. One thing Siamat will definitely be good for is clearing your opponent's minions.
Rush and Divine Shield would allow Siamat to clear a big minion without taking any damage. You could also choose Rush and Windfury then use Siamat to clear two minions in a single turn.
Find out which decks Siamat fits into after Saviors of Uldum goes live on Aug. 6.