Blizzard just revealed a ton of information about the upcoming Rise of the Mech event which starts on June 3.
One thing players can look forward to? A new Legendary minion that's available for free.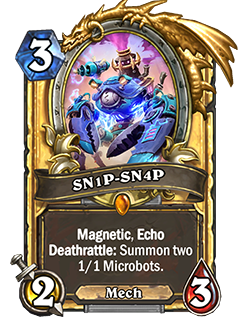 The new minion is called SN1P-SN4P and looks to be quite powerful. SN1P-SN4P is a three-cost mech minion that has Magnetic, Echo and a Deathrattle. The card's Deathrattle causes it to summon two 1/1 Microbots. With all of the exciting decks available to Mech fans in the current meta, SN1P-SN4P should have no problem finding a place to call home.
To get SN1P-SN4P players will need to log in to Hearthstone during the Rise of the Mech event anytime between June 3 and July 1. The version of the card obtained by players for logging in during the event will be golden. SN1P-SN4P will be considered as part of the Boomsday Project and will rotate out of standard play alongside the expansion.
Though SN1P-SN4P is part of the Boomsday Project, it will not be obtainable through Boomsday Project packs. The only way to obtain a golden copy of SN1P-SN4P is to log-in during the Rise of the Mech event. If you miss the event, you can craft a normal copy of SN1P-SN4P with dust.
Check out Hearthstone's Rise of the Mech event and secure your golden SN1P-SN4P when it goes live on June 3.