After two weeks of silence, the card reveals for Hearthstone's next expansion will get underway on Monday. But one card may have been leaked a few days early.
The new set, Knights of the Frozen Throne, will include nine new Hero cards. These cards will change the standard player heroes into death knight variations with powerful hero powers and effects.
The Hunter Hero card, Deathstalker Rexxar, was revealed as part of the announcement two weeks ago. As yet it is the only one to be officially shown off, among the five cards revealed at the launch.
Advertising for the new set may have disclosed another one, however. A Twitter user claimed that a French advert for Knights of the Frozen Throne has inadvertently revealed the Mage Death Knight.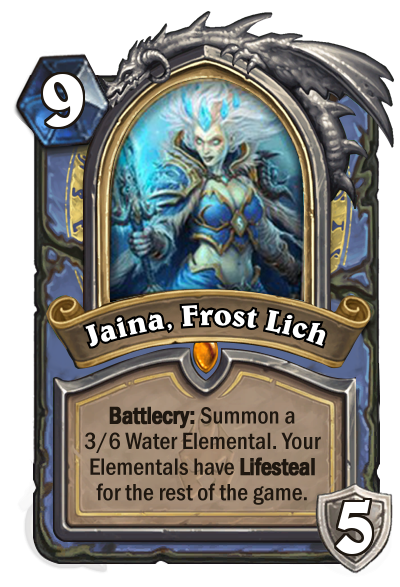 The card, translated by Hearthhead, costs nine mana and has synergy with Elementals. The Elemental tag was added in the last set set, Journey to Un'Goro. The advertising also shows off the corner of the Paladin Hero card, which also appears to cost nine mana.
As with all leaked cards, this should be taken with a big pinch of salt. This one, however, might need a bigger pinch than usual. Team Celestial's Sinn Tann responded to this apparent leak with news that the Mage Death Knight had already been leaked in China—and that the card text was completely different.
As with all leaked cards, we won't know until they are officially revealed how accurate they are. Hopefully it will only take a few more days, with the expansion release following in August.