Mark "Ike" Eichner, a relatively unknown American Hearthstone player, went undefeated in his first ever Dreamhack event en route to the title.
Ike went 9-0 in the swiss stage before making his way through the top 16 bracket, claiming the $7,500 first prize. He defeated DreamHack Atlanta champion "DrJikininki" in the final, after getting past World Championship competitor Muzhadil "Muzzy" Islam.
It was a breakout moment for Ike, who can often be seen on streams playing with some of North America's top players like Paul "Zalae" Nemeth. With the Hearthstone Championship Tour season over, and just a handful of events scheduled for between now and January's World Championship, Ike's win sets him up as a big player in the region in the 2018 season.
Ike didn't stray too far from the meta for his winning lineup. Jade Druid, Highlander Priest, and Tempo Rogue all featured—the three most common decks in the meta. Out of 171 participants 156 brought Druid, 143 brought Priest, and 136 brought Rogue. Ike's fourth deck was a little off piste, as he chose Burn Mage to round out his lineup.

The deck has fallen a little out of favor, but Ike demonstrated a mastery off it during the swiss. It was his best performing deck—and subsequently targeted for bans in the playoffs.
Ike and his finals opponent DrJikininki both opted for the newer builds of Jade Druid, featuring Mark of the Lotus and Medivh. Apart from a different choice in the single tech slot—Ike opted for Mind Control Tech while DrJikininki went for Spellbreaker—the lists were identical.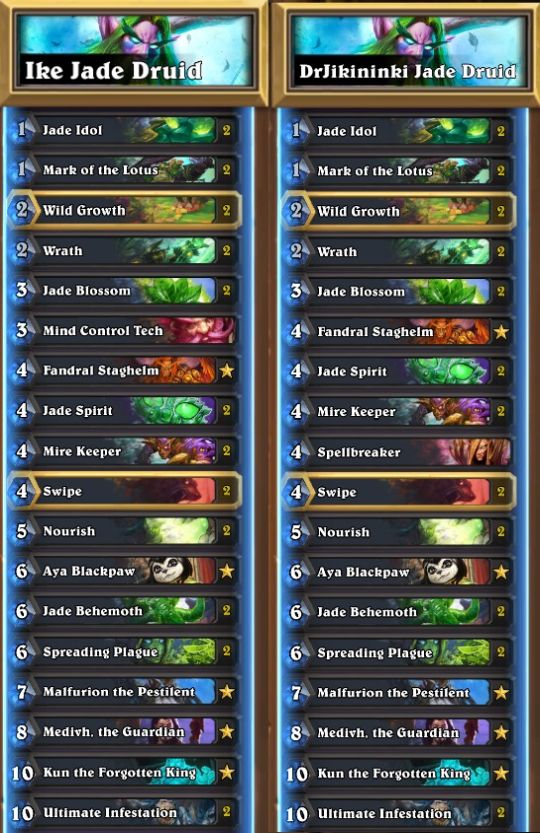 Stats and decks via Kilkku