Kobolds and Catacombs gets its newest dragon in the form of a neutral common card.
Hoarding Dragon is the next card revealed for the new Hearthstone expansion coming out in December. It's a four-mana 5/6 minion that can be quite sticky on the board. The card comes with a drawback, however, as its Deathrattle will give your opponent two coins. But this Deathrattle could potentially be silenced away, giving your opponent no advantage.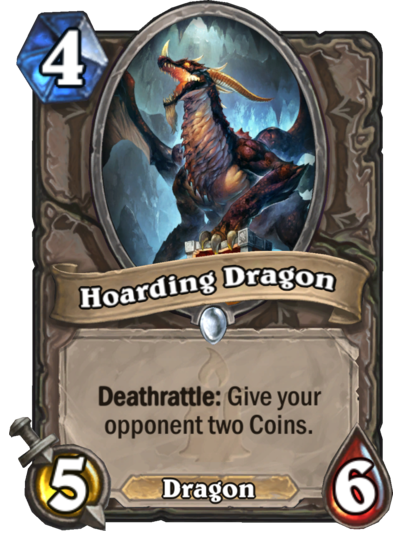 This card is quite similar to the Hungry Dragon, which is also a four-mana 5/6. Hungry Dragon spawns your opponent a random one-mana card as a Battlecry, thus giving you a slight disadvantage.
Hoarding Dragon is a bit different in the sense that it has a Deathrattle instead of a Battlecry, giving your opponent the delayed advantage. Both cards are good to have in Arena because they are strong minions with big bodies. We don't see Hoarding Dragon being played in constructed much, though it may find a place in certain dragon-themed decks.
Kobolds and Catacombs will be released sometime next month.