Blizzard's autobattler, Hearthstone Battlegrounds, puts a unique spin on the genre that allows eight players to compete against each other in an elimination-style match. Battlegrounds recently saw the introduction of a plethora of new Heroes via the Forbidden Library event.
Reddit user SebZerotoHeroes created the Firestone app, which is hosted on Overwolf, a technological platform for developers that host apps created by third parties. Firestone features a Battlegrounds tier list of the top few Heroes based on statistics like average final rank. The higher you rank out of eight in a game of Battlegrounds, the better.
Here are the best Hearthstone Battleground Heroes ranked by average position.
Jandice Barov
Jandice Barov just joined Hearthstone as a dual-class Mage and Rogue Legendary in the Scholomance Academy expansion. As part of week one of Hearthstone's Forbidden Library event, Jandice was introduced to Battlegrounds. Jandice has an average position of 4.17. On top of that, she wins 18.3 percent of the games she's a part of.
Lord Jaraxxus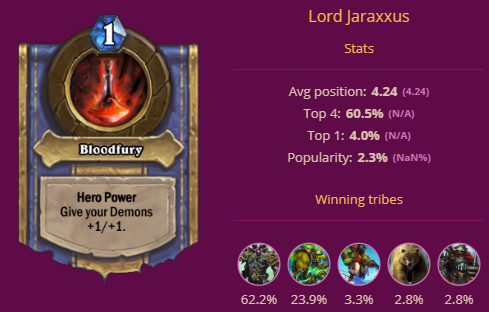 Jaraxxus, Eredar Lord of the Burning Legion, joins Jandice at the top of the mountain. Jaraxxus joined Battlegrounds when the mode was added in November 2019 and has been a popular choice since then. Jaraxxus has an average position of 4.24 and places in the top four over 60 percent of the time he's played.
The Lich King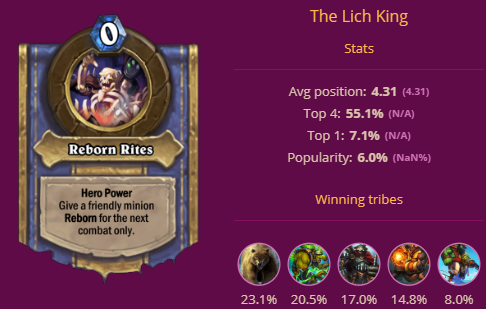 It seems like Arthas is powerful no matter where he appears throughout the Azeroth mythos. The Lich King also joined Battlegrounds when the game first went live in November 2019. The Lich King has an average position of 4.31 right now and finishes in the top four over 55 percent of the time.
Kael'thas Sunstrider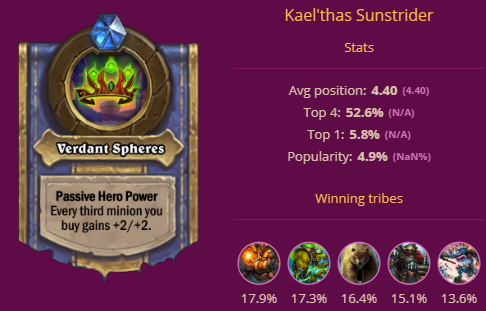 The final standout is the masterful Fire Mage, Kael'thas Sunstrider. Unlike The Lich King and Jaraxxus, Kael'thas is relatively new to Battlegrounds. The Blood Elf Legend was introduced to the mode in May and continues to show his worth. Kael'thas has a 4.40 average position and finishes in the top four over 52 percent of the time.
---
If you aren't already familiar with Firestone, you can download it here. It has tons of useful features related to Battlegrounds, as well as regular Hearthstone.