Blizzard has unveiled two new cards from the upcoming Hearthstone expansion, Rastakhan's Rumble.
Heavy Metal! is a six-mana Warrior spell that allows you to summon a random minion with a cost that equals the amount of Armor you have (up to 10). On paper, this card should allow Warrior players to effectively pull off a combo and get a strong minion on their board (as long as they have a lot of Armor). The drawback, though, is that the minion will be chosen at random—so you'll need luck to be on your side if you play this card and want a strong minion to be summoned.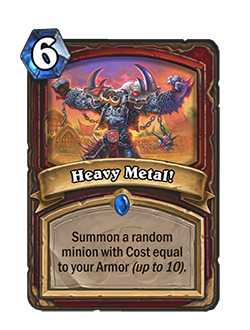 Ticket Scalper is a four-mana Pirate with five Attack and three Health. It features the new keyword, Overkill, which will allow the player with Ticket Scalper to draw two cards whenever it "deals damage to a minion exceeding its current Health and destroys it."
Related: All of the cards revealed from Hearthstone's upcoming expansion, Rastakhan's Rumble
Due to the combination of Ticket Scalper's high Attack stat and its Overkill ability, this card could become an instant hit. Drawing is always important in Hearthstone, and this card has the tools to allow you to do just that.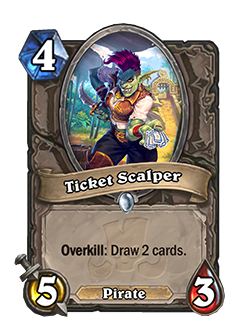 Hearthstone players can already pre-purchase Rastakhan's Rumble. There are two bundle options: One for $20 and another for $50. These pre-purchase bundles will be available until Dec. 4.