Since Rise of Shadows was released last month, the Hearthstone community has patiently waited for the arrival of the game's new solo campaign.
The wait is finally over. You can update Hearthstone and play the Dalaran Heist right now.
Last week, Blizzard revealed that the Dalaran Heist was coming on May 16. During the reveal, Blizzard discussed various features of the new solo campaign and even gave us a sneak peek during the Showdown in Dalaran event.
The Dalaran Heist will see players take on the role of henchmen as they work to gain approval from Rafaam and his League of EVIL. In order to gain the League's respect, players will need to prove themselves by carrying out a number of strategic attacks on the magical city of Dalaran. Today, players can start the adventure with an assault on the Dalaran Bank.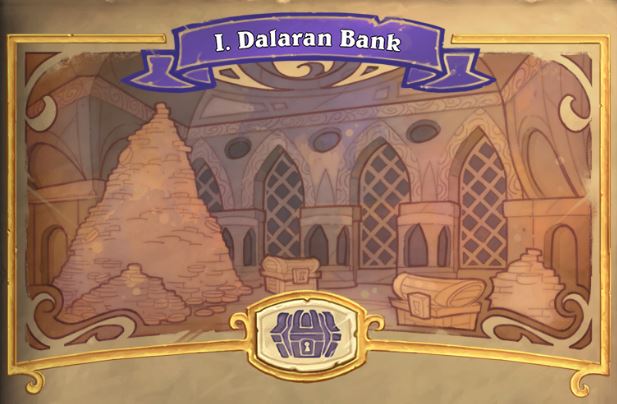 The Dalaran Bank is the first chapter in the new solo adventure and will be available for free today. Players will start off by playing as Rakanishu, the mischievous fire elemental from inside Togwaggle's lamp. Like every henchmen you'll play as during the adventure, Rakanishu comes with three hero powers. Additional hero powers and decks are unlocked for each henchmen just by playing the Dalaran Heist.
After taking the action to the Dalaran Bank, players will have the option to purchase chapter two, the Violet Hold. The chapter can be purchased individually for $6.99 or 700 in-game gold. Alternatively, players can purchase the entire solo adventure for $19.99.
As you play through the different chapters of the Dalaran Heist, you'll unlock new henchmen and decks that drastically change the way you play. The Dalaran Heist appears to have tons of replayability thanks to the unique gameplay changes brought by the different henchmen and hero powers.
You can log on to Hearthstone right now and start your journey with the League of EVIL.