The Dalaran Heist is finally here and that means it's time to unleash EVIL upon the magical city.
Similar to previous single-player experiences, The Dalaran Heist will see players clash against a series of unique bosses. This adventure is broken up into five chapters. The first chapter is available for free and will force players to attack the Bank of Dalaran.
In this guide, we'll take a look at the first chapter of the new adventure on normal difficulty. The Dalaran Bank chapter includes eight challenges and each challenge has you face a different boss. Since this is the biggest solo adventure in Hearthstone history, each run will feature a unique lineup of bosses. This means the same boss you play first for one run may not even appear as a challenge the next time you visit the chapter. In this guide, we will take a look at the Dalaran Bank bosses we have encountered so far, as well as some other features involved in a run.
Looting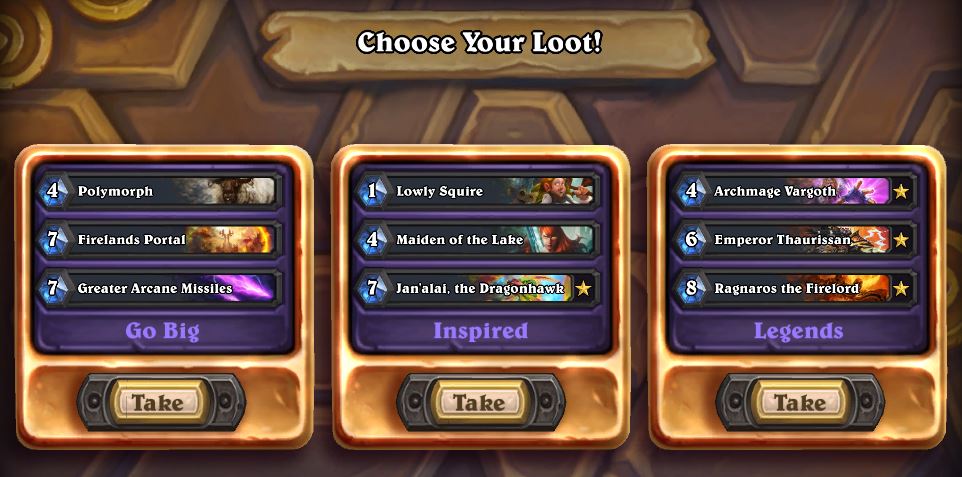 Looting allows you to add a number of cards to your deck that include some sort of potential synergistic package. The important thing to keep in mind when looting is making sure the cards you choose over time fit the same theme. For example, You wouldn't want to choose a loot pack full of spell damage minions if your current deck doesn't have damage spells.
Also, keep in mind which treasure you choose and how the cards available to loot interact with that treasure. If you take a treasure that causes your minions to cost one less the entire game, a loot package including high-cost big value minions might be worth your while.
Friendly Encounter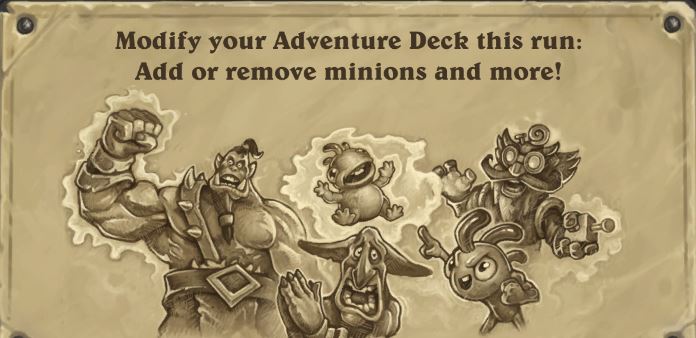 During the course of a run you'll experience a number of friendly encounters. This allows you to obtain new cards for your deck, remove cards from your deck, and more.
During a Friendly Encounter, you'll have the opportunity to sit down with Bartender Bob or one of his co-workers. Both you and Bob will automatically lay cards on the board. You will then have the option to do things like trade cards with Bob and to alter other cards on the board or in your deck. This is a nice way to give players more customization and control over which cards are in their deck throughout a run. It can also put an interesting spin on the run with cards like Tell a Story.
This card allows you to buff a minion giving it +2/+2 for the remainder of the run. When participating in Friendly Encounters, try to make changes to that better suit your decks playstyle. Don't grab a shiny legendary just because it is a shiny legendary, but instead think about which of the cards it is that Bob offers that would synergize with your deck the most.
Marei Loom
Loom's hero power cost zero and is called next. This power allows Loom to swap the leftmost card in each player's hand with one in their deck.
Loom will use her hero power pretty much every turn. The main thing you'll need to focus on during this match is making sure you play any cards you don't want her to swap out of your hand before they become your leftmost card.
Awilo, Cooking Trainer
Awilo has a hero power called Feast. This is a passive hero power and allows Awilo to restore three health to himself every time he cast a spell.
Awilo runs Warrior cards and likes to use Cleave early. Keep this in mind when populating the board during the first few turns. Fortunately, as long as you can continue to populate the board and pepper his health, you shouldn't have a problem outpacing his healing. Depending on your deck composition, you may be forced to trade into his minions instead of rushing face. Regardless, you shouldn't have any problem defeating him as long as you get a beefy minion or two on the board and chunk his health.
Tipsi Wobblerune
Wobblerune's hero power cost two mana and adds a random portal to her hand.
Tipsi runs Mage cards and puts a heavy emphasis on spell damage. If you are running a minion-heavy lineup you should have absolutely no issue dispatching of Tipsi. It looks like her kit is designed around building a board of spell damage and then blasting you with some big magic. Unfortunately for Tipsi and similar to Awilo, both bosses struggle against an early minion onslaught.
Xur'ios
Xur'ios has a passive hero power called Scroll Savvy. This power causes all spells to cost zero mana the turn they are drawn.
Xur'ios uses Mage cards and as you probably guessed based on his hero power puts a heavy emphasis on spellcasting. Even the defensive aspects of his deck are spell centered with cards like Wee Spellstopper, which causes adjacent minions to become un-targetable by spells and hero powers. Fortunately, none of the minions Xur'ios plays early on are threatening enough to keep you from smashing his face. Expect Xur'ios to use removal when he has it, but don't expect it to make much of a difference as long as you have a minion heavy lineup.
P.O.G.O.
Pogo has a hero power called Pogoshuffle. This power cost two mana and allows Pogo to choose a minion and shuffle three copies of it into his deck.
This bionic pooch is serious. Pogo can use his hero power to shuffle copies of his own minions and yours into his deck, so expect to get some of your value picks thrown back at you. During our first run against Pogo, he didn't play a minion until turn four. While this seemed unusual, it gave us plenty of time to amass a hand full of threats thanks to playing Archmage Argul early. We were able to defeat Pogo fairly easily thanks to our minion-heavy lineup, but anyone running a more spell-centered list can expect a late-game war.
Vas'no
Vas'no has a passive hero power called Stormswell. This power will cause Vas'no's spells with overload to cast twice.
Expect Vas'no to do lots of board clear early on. If you have ever played against Control Shaman then you might have a bit of an idea what it feels like to play against Vas'no. The only difference is Vas'no's hero power makes him feel like a Control Shaman on steroids. Getting minions to stick is very difficult since Vas'no has so much removal available through the Overload mechanic and his hero power. The key to defeating Vas'no is weathering the storm long enough to make big minions stick to the board. You'll also want to use your removal as carefully as possible during this fight because Vas'no has a number of different ways to quickly populate his side of the board.
Moon Priestess Nici
Moon Priestess Nici has a hero power called Blessing of Elune. This power doubles all healing, including yours.
Since Nici has a hero power that also benefits you cards like Earthen Ring Farseer will come in handy big time. Nici plays Priest cards and you can expect a big part of her strategy to be built around her healing mechanic. The key to defeating Nici will be outpacing her healing mechanic similar to Awilo. In order to do this, you will need to get big damage minions to stick to the board long enough to chunk her face.
Check back for more info on more bosses as we continue to replay the Dalaran Heist.