In a tournament field dominated by Jade Druid and Big Priest, one player is seeking to throw off the shackles of the meta altogether.
"Monsanto", a Hearthstone player hailing from Quebec has brought one of the most unorthodox lineups seen at this season's HCT Playoffs—a lineup with three Quest decks.
When the Quest cards were released in Journey to Un'Goro, only Rogue and Warrior really made an impact. A couple of the others had niche appeal but some, including the Druid Quest Jungle Giants, were rarely seen.
Monsanto is looking to change that at the HCT Americas Playoffs, bringing no fewer than three Quest decks.
So you would assume it's Rogue, Warrior, and maybe Priest or something? Wrong. Warrior doesn't even feature in his lineup, despite eight other players opting for the Taunt-focused deck.
No, alongside Rogue and Mage Monsanto is bringing that all-but-forgotten Jungle Giants deck.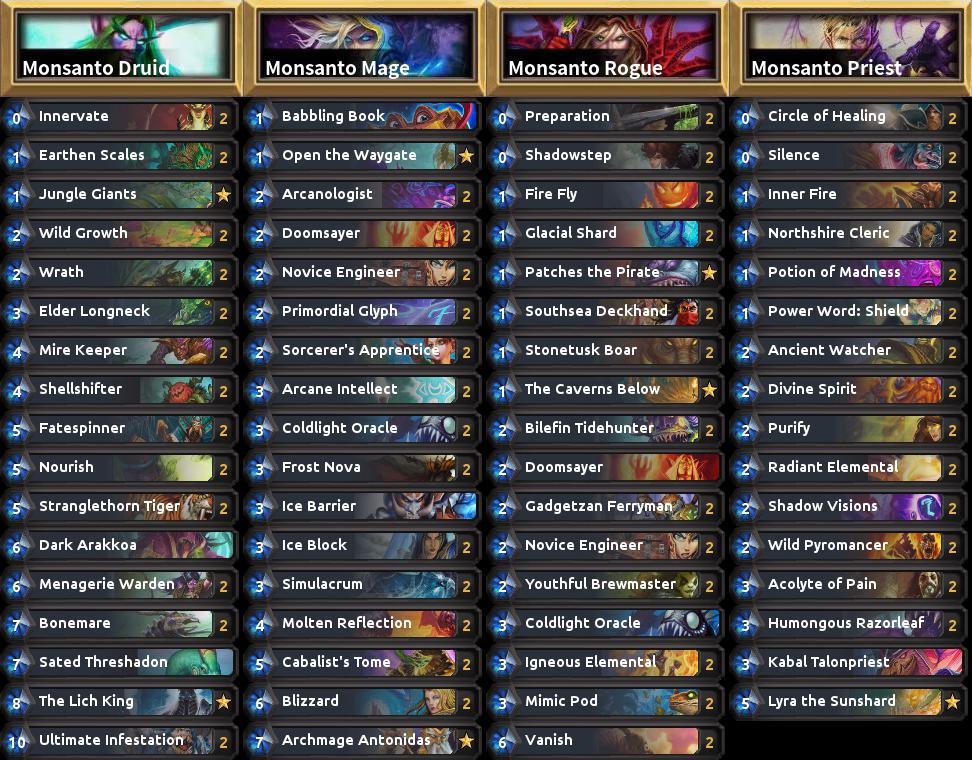 Jungle Giants requires players to play five minions with five or more attack. Because of that, the deck is jammed with five attack options—the 5/1 Elder Longneck, Stranglethorn Tiger, and even Dark Arrakoa in a deck with no C'Thun.
The deck is pretty simple—ramp, Quest activators, some staples like Earthen Scales and Wrath, and of course Ultimate Infestation.
Monsanto's Quest Mage aims to create an insane Archmage Antonidas OTK with Sorcerer's Apprentices. It's not new, in fact it's a relatively common Exodia Mage variant now, but it's still awesome to see it pulled off.
The Quest Rogue is pretty familiar too. It's the exact deck that was running roughshod over ladder until the Quest card itself was nerfed. When the number needed to activate the reward was increased from four to five it neutered the deck, and it has basically disappeared in the current meta. Six players are bringing it to Americas Playoffs, though.
While everyone else is bringing Kazakus or Big Priest, Monsanto has gone another way with that too. He's running Silence Priest.
Apart from the Druid Quest deck, where he is the only player bringing it, Monsanto's choices aren't unique. But they are highly unusual, and a commitment to bringing a completely out of the box overall lineup is certainly to be applauded.