The HCT World Championship takes place next week, which means the pros will be busting out some new decks.
Luckily for us, the decklists for the event are now available and we can finally start to get an idea of what the pros consider to be meta.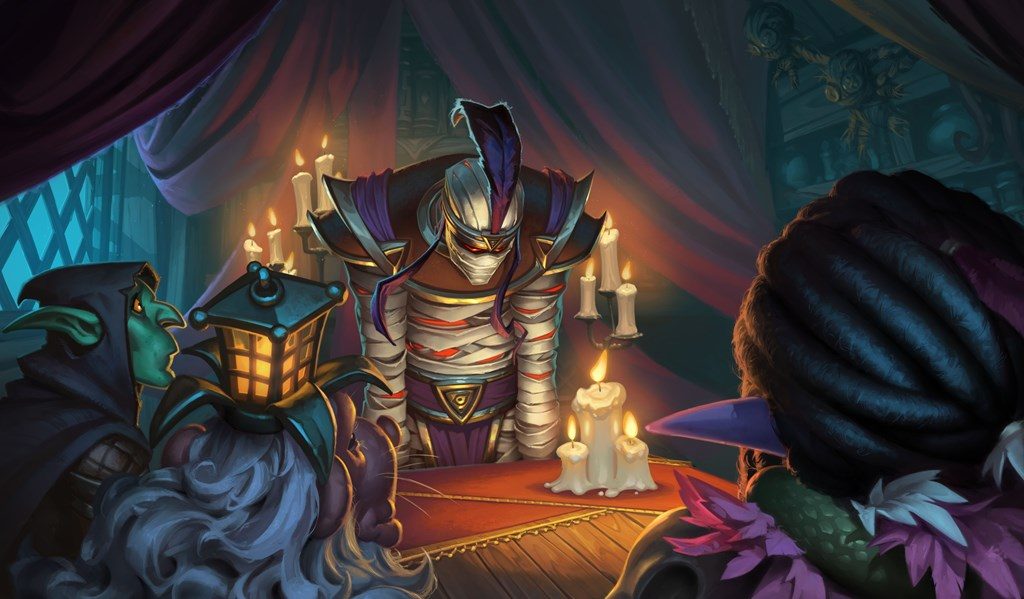 Since we're still very early into the lifespan of Hearthstone's Rise of Shadows expansion, it can be difficult to decide which decks are worth crafting. Thankfully, Blizzard has released the decklists for all competitors who will be attending the HCT World Championship next week in Taipei from April 24 to 28. Here are some decks that stand out from the bunch and might be worth your dust if you're looking to find success on ladder.
Carpet Zoo Lock
This is a deck that many players have been finding success with on ladder during the first weeks of the expansion—and the pros seemingly have taken notice. This list comes from Justsaiyan and is basically identical to versions of the deck that have been seeing decent winrates on HSReplay. Although this list belongs to Justsaiyan, over half of the competitors will be bringing a similar Zoo Warlock deck.
The idea behind the deck is to use Magic Carpet alongside your one-drop minions to overwhelm your opponent with early damage. This version of the list doesn't include Arch-Villian Rafaam, but many iterations of the deck use him for late-game value.

Control Warrior (No Bombs)
Although Bomb Warrior has been one of the highest winrate decks on ladder since Rise of Shadows went live, it looks like most pros are opting for its non-bomb tossing cousin. This list comes from Bloodyface, but is similar to other non-bomb Control Warrior decks that various competitors will also be using.
The idea behind this kind of Control Warrior deck is to outlive your opponent. This deck has a ton of tools that will help accomplish that goal such as Dr. Boom, Mad Genius and Archivist Elysiana. With a deck like this, once you make it to late game, it's very difficult for your opponent to end you. Focus on getting maximum value out of removal, and try to keep your armor total as high as possible.

Tempo Rogue
If you've played any competitive ladder this month, odds are you've faced your fair share of Tempo Rogue decks. The archetype has been revamped in a big way thanks to some key Rise of Shadows cards—and the competitors at the World Championship took notice. This list comes from Killinallday, but is similar to other lists being used by the majority of his peers.
If you've never played a Tempo Rogue deck, it can take some getting used to. The idea behind the archetype is to out-tempo your opponent by generating big value with your combos and removal. This version of the deck includes the new Heistbaron Togwaggle Legendary for some insane late-game value.

Khadgar Dragon Mage
Although it isn't as popular among the pros as the other decks mentioned here, there are a few competitors who will be using a version of the new Khadgar Dragon Mage deck. This list comes from Languagehacker and makes a few adjustments to the more popular version of the deck seen on ladder. This list includes Alexstrasza and Rabble Bouncer, as well as Baron Geddon and Mossy Horror.
Part of the idea behind any Khadgar deck is to cheat out various big minions with his enhanced summoning ability. Cards like Conjurer's Calling when combined with Khadgar and a Mountain Giant can generate some insane early value and be very difficult for your opponent to recover from.

Be sure to check out the HCT World Championship from April 24 to 28 streaming on Twitch so you can learn how to master each of these fresh new decks.