Thanks to the lack of button pressing, Hearthstone is a great game to play while enjoying a snack.
Blizzard and the Korean Dunkin' Donuts team must have taken notice because the two have partnered for a special promotion.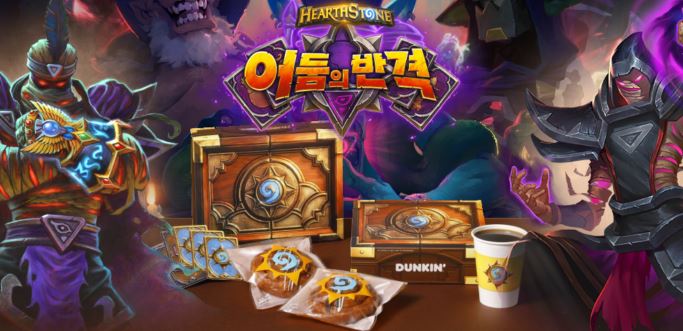 Earlier this month, Blizzard launched the highly-anticipated follow up to Hearthstone's Rastakhan's Rumble expansion, Rise of Shadows. The expansion brings a host of new mechanics and themes to the game, including the introduction of a villainous team called the League of EVIL. The League of EVIL's goal is to inject as much mayhem as possible into Hearthstone as they attack the magical city of Dalaran.
Now, it appears the League has set its sights on the Hearthstone community's supply of pastries and coffee. Hearthstone players from Korea have the lucky opportunity to purchase a variety of goodies that come in Hearthstone-themed packaging. Mocha rolls and drinking cups can be seen dawning the game's logo, plus it all comes in a box identical to an actual in-game Hearthstone board.
Real world cosmetics aren't the only thing appealing about the promotion, however. Depending on which of the two available combos players choose from, they have the opportunity to earn certain in-game rewards.
Players who choose the two pastry combo will be awarded a physical card back modeled after the classic Hearthstone card back. The card back will have a promo code on the other side that awards five classic Hearthstone packs. The four pastry combo will include a physical Legend card back with a promo code for seven classic packs.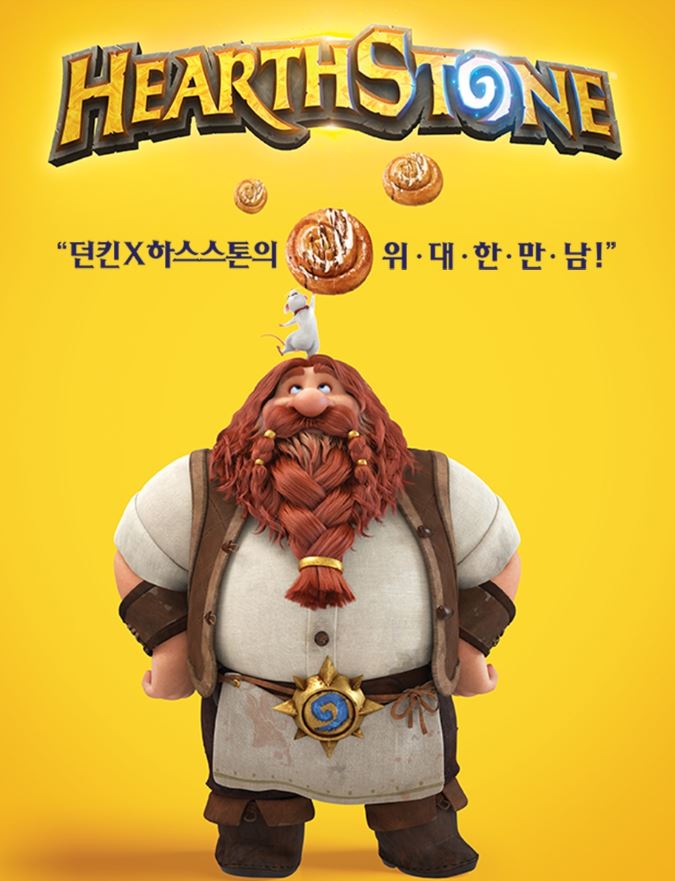 In the past, Blizzard has done similar promotional events that included giving away physical versions of Hearthstone card backs. Since physical Hearthstone cards are rare, similar events usually create an online market for whatever the promotional product was. There are numerous postings on eBay like this one where similar region-specific promotional items sell for hundreds of dollars.
Hopefully, for fans of Hearthstone living elsewhere, these physical items won't be as expensive when they surface online thanks to the volume that Dunkin' will produce. The event is expected to last over the next two weeks, and while there's no word of a similar promotion in the United States just yet, perhaps the League of EVIL will provide one of our favorite restaurants with some devious and delicious treats.