A neutral elemental card is the latest reveal from Hearthstone's upcoming expansion, Kobolds and Catacombs.
Arcane Tyrant can be a powerful tempo card if played under the right circumstances. With many high cost spells being released in the new expansion, and existing high cost spells played in constructed, there are many opportunities to activate this card.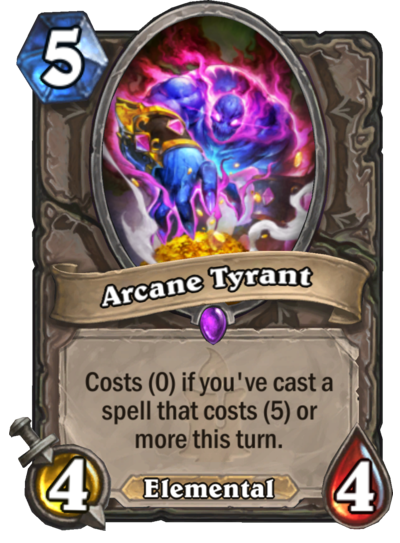 Arcane Tyrant is a five mana 4/4 that costs zero if you've cast a spell that costs five or more this turn. This isn't the strongest card, but if you can play it for zero mana, it can go in your favor. An example for this card for Mage is to combo it with Firelands Portal. Ideally the combo clears a minion from your opponent and gives you two strong bodies on board, resulting in a swing of board advantage for you.
This card is similar to Happy Ghoul, which was released in the Knights of the Frozen Throne expansion. On a turn where you heal your hero, Happy Ghoul costs zero mana. This could give you a strong tempo play. Though Happy Ghoul hasn't been used much in competitive decks, Arcane Tyrant could see more play because it has an easier card text to activate with a stronger body.
Kobolds and Catacombs will be released sometime next month.