Two more cards have been introduced from Hearthstone's upcoming expansion, Rastakhan's Rumble—and both of them are Priest minions.
Bwonsamdi, the Dead is a seven-mana minion with seven Attack and seven Health. It also has a Battlecry ability that allows you to draw one-cost minions from your deck until your hand is full.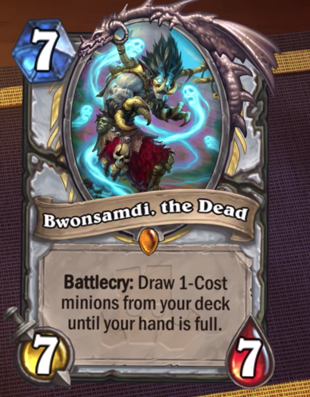 In theory, this card could provide a lot of draw power if used in a deck with several one-cost minions. And if you use Bwonsamdi in the later stages of the game when you have 10 mana, you could technically play up to three of the one-cost minions that you draw because of this effect.
Related: All of the cards revealed from Hearthstone's upcoming expansion, Rastakhan's Rumble

Spirit of the Dead, on the other hand, is a one-mana minion with zero Attack and three Health. It gains Stealth for one turn, and its effect allows you to shuffle a one-cost copy of a friendly minion into your deck after it dies.
Keeping this in mind, Spirit of the Dead and any one-cost minion copies that it adds to your deck would be potential targets for Bwonsamdi, which means these two cards should probably be used in the same deck.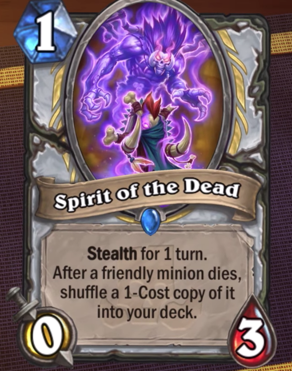 Hearthstone players can already pre-purchase Rastakhan's Rumble. There are two bundle options: One for $20 and another for $50. These pre-purchase bundles will be available until Dec. 4.