The Steam Deck is poised to become Valve's dedicated handheld system, capable of running (almost) every game in your Steam Library, which is good news for the upcoming Elden Ring release.
Valve breaks down game compatibility for the Steam Deck into four categories: Verified, Playable, Unsupported, and Unknown. The first three are self-explanatory, while Unknown is a wild card. Valve hasn't checked compatibility for titles that currently reside in this category. Given the vastness of the Steam library, unfortunately a lot of games slot in there.
Fortunately, FromSoftware's Elden Ring has been rated as "verified" for the Steam Deck, according to a listing that appears in Elden Ring's Steam data. That means the default settings will get you a relatively stable 60 FPS — although the micro-stuttering issues plaguing PC owners are likely to be felt on the Steam Deck as well.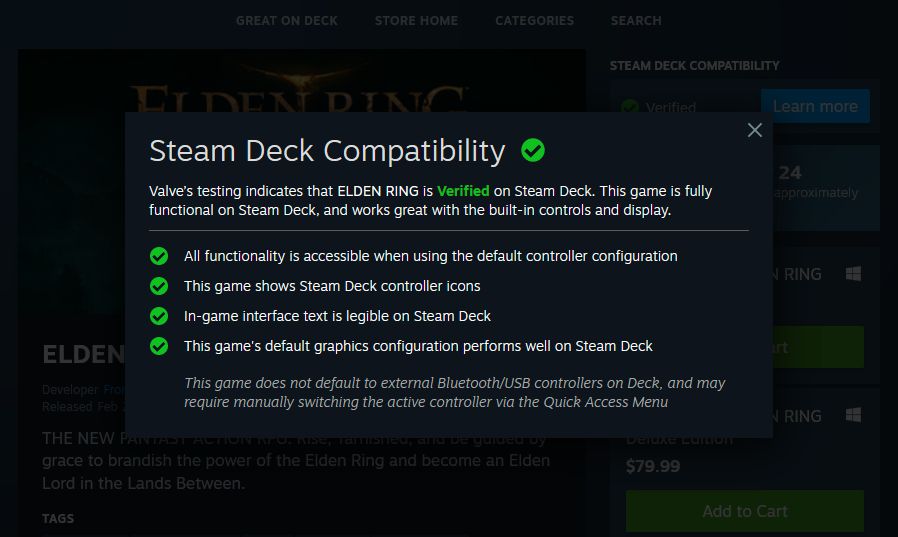 Elden Ring is already slated for a February 25, 2022 across PlayStation, Xbox, and PC via Valve's Steam platform.
If you're unsure if the rest of your Steam library works with the Steam Deck, this guide will help you out.