The NBA 2K League announced Friday that three players will be reprimanded for their involvement in an altercation between Celtics Crossover Gaming and Hawks Talon GC.
Celtics Crossover Gaming's Albano "oFAB" Thomallari, the apparent instigator of the incident, was fined $500 and will serve a one-game suspension, the league's managing director Brendan Donohue announced in a press release. Hawks Talon GC's Connor "Dat Boy Shotz" Rodrigues, meanwhile, will serve a one-game suspension. Celtics Crossover Gaming's Ahmed "Mel East" Kasana was also fined $500.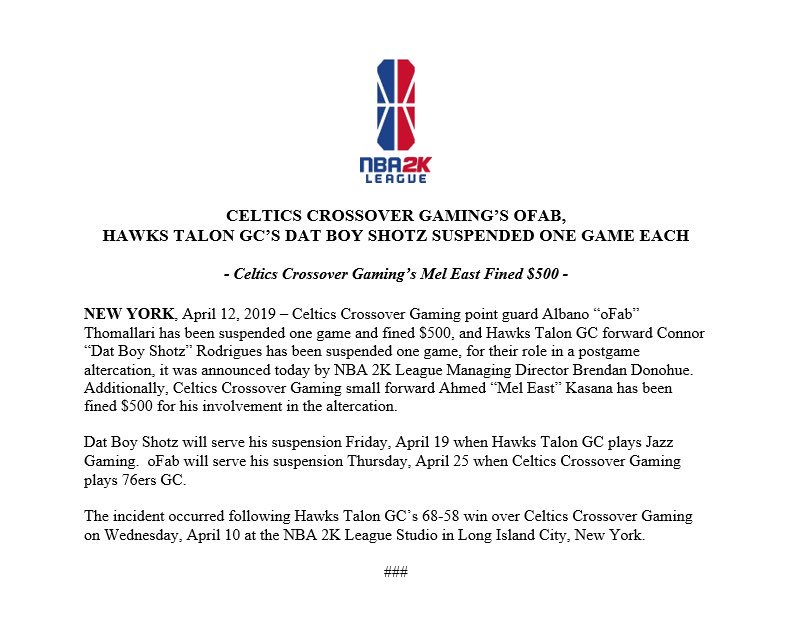 oOB's suspension will take effect on April 25 when his team plays the 76ers GC, and Dat Boy Shotz's suspension will be served April 19 against Jazz Gaming.
The fight was all over social media on Wednesday after Talon GC beat Crossover Gaming 68-58. During the end-of-game handshakes, oFAB did not shake Talon GC player Rando's hand.
Rando bumped into oFAB who responded by shoving him out of line. Security and on-site staff stepped in to break it up and the broadcast quickly cut away from the fight.
The NBA2KL began play in 2018 and includes 21 teams with plans to expand further for the 2020 season.