Another new weapon is on its way to Fortnite: Battle Royale.
A Thermal Scoped Assault Rifle is "coming soon" to Fortnite, according to today's in-game news update. The description of the weapon simply reads, "New high power Assault Rifle makes it easier to find enemies."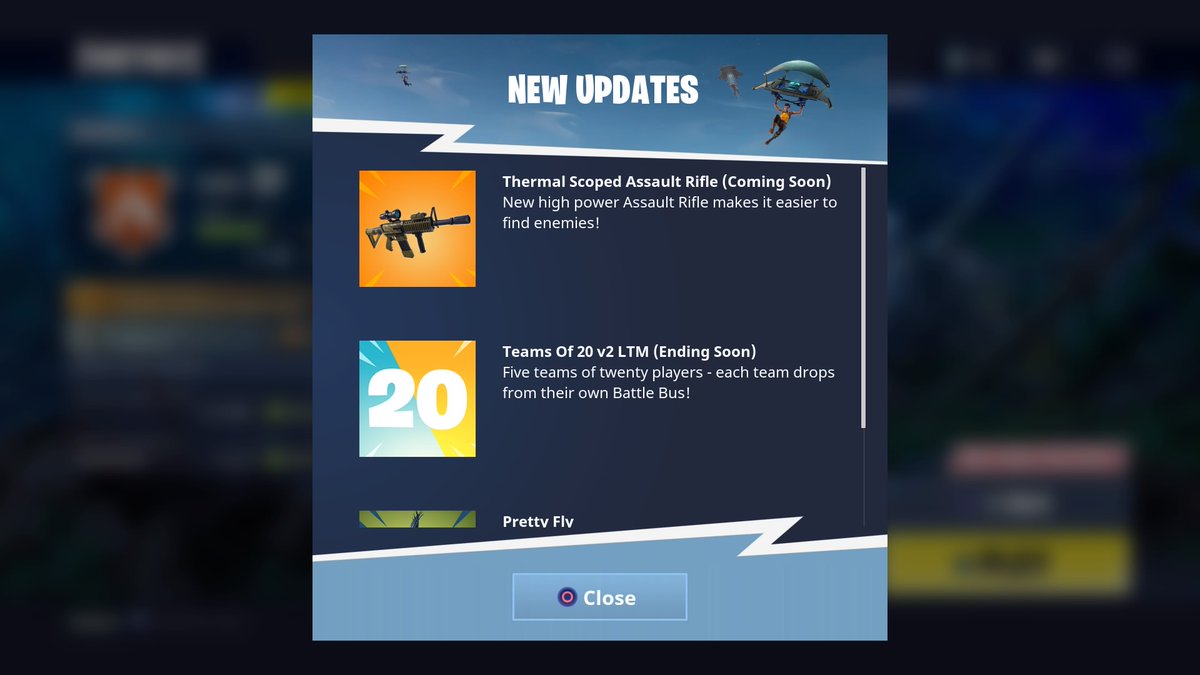 Not much else is known about the weapon at this time—but a thermal gun obviously has the added benefit of helping players see opponents more easily.
Scoped assault rifles are already a part of Fortnite too, so it's pretty easy to visualize what this new thermal weapon's scope could look like. When you aim down sights with this gun, players should stand out in an obvious color that contrasts the background of the surrounding environment.
Related: A new Fortnite fan concept shows off an awesome shield consumable for teams
Although we don't know exactly how powerful this Thermal Scoped Assault Rifle will be, it could deal similar damage and have a comparable fire rate to the regular scoped assault rifles in Fortnite.
Luckily, smoke grenades are no longer in Fortnite—they were added to the vault in March. If smokes were still in the game, however, this weapon would arguably be even more powerful. Imagine being in an end-game scenario where your opponent has a thermal gun and you don't. All they'd have to do is throw a ton of smokes, and you wouldn't be able to see them—but they'd have no problem spotting you.
Other games that have implemented thermal weapons, like Call of Duty, have also had ways to counter this type of scope, so it'll be interesting to see if Fortnite adds a countermeasure for this weapon down the road.
Epic generally teases new items in the news tab right before its ready to add them to the game—so it's very possible that we could see the Thermal Scoped Assault Rifle in Fortnite very soon, or even as early as this week.