The Fortnite world record for most kills by a single team on PC was broken for the third time within 24 hours.
Jamal "Jamside" Saidayev and Artur "7ssk7" Kyourshin of Virtus Pro teamed up with Oskar "3vil" Żeljazkow and Mallqui "sifflol" Farinango Klag to become the new record holders, finishing with a 59-kill game, an improvement on the previous record of 57 eliminations.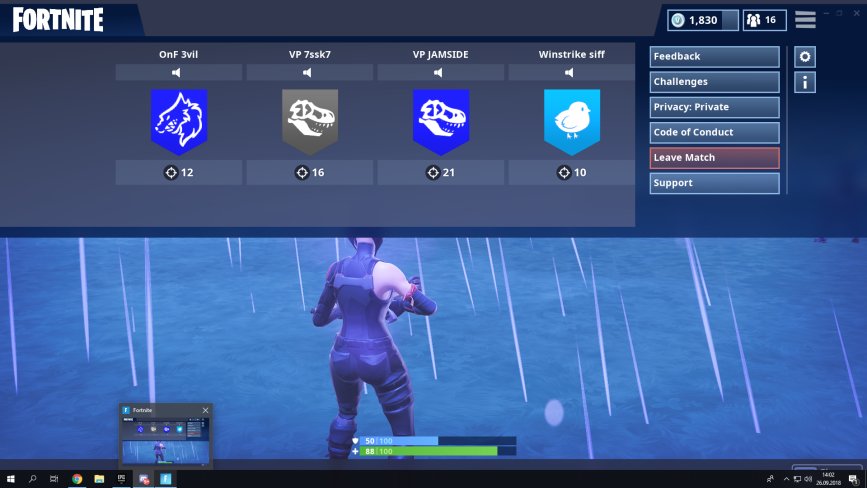 FaZe Clan's Turner "Tfue" Tenney and Dennis "Cloak" Lepore led the way for that 57-kill performance, combining for 41 of the eliminations. Their brief stand as record holders usurped fellow FaZe Clan members Replays and Thang "SpaceLyon" Phan, alongside NickEh30 and TurkeyLips, who racked up 56 eliminations in one game.
Popular Twitch streamer Tyler "Ninja" Blevins finished with a high-kill squads game, too. Playing with KingRichard, Chance "MoNsTcR" Duncan, and Justin "Kayuun" Ha, Ninja's team finished with 54 eliminations.
A likely reason for the sudden push for the elimination record is Fortnite's new trial system in the Fall Skirmish series. In addition to the weekend competitions, players were tasked with the goal of finishing with the most eliminations in a game in order to earn cash prizes and points for their clubs.
Related: How to watch the Fortnite Fall Skirmish series
Jamside's team represents the Bush Bandits, which had a lead of 150 points after the first Fall Skirmish events Friday. If they're able to hang on to the record, the Bandits should be able to increase their lead before the second weekend's tournaments begin.
Tfue and Cloak's club, the Rift Raiders, need the points more, though. After the first week of the Skirmish, the Raiders sat in fourth-place with 340 points, 350 points back from the Bush Bandits in first.