Nearly limitless resources, tons of loot spawns, and almost no enemies: Welcome to Moisty Mire.
The new season has begun in Fortnite: Battle Royale, and players who previously enjoyed dropping into Dusty Depot will be looking for a new favorite landing spot.
Related: Fortnite's season four update brings the comet crash, a new Battle Pass, and more big changes
Depending on what you're looking for, Moisty Mire could be the place for you. If you're an aggressive player who likes to see how many kills you can get, stick with Titled Towers. But for anyone who's interested in the late game and stocking up on weapons and resources for increased survivability, look no further than Moisty Mire.
Located in the extreme southeast corner of the map, Moisty Mire is a relatively quiet destination. While it generally lacks enemy engagements, it makes up for that with the ability to safely loot and prepare for future fights.
Here's why Moisty Mire is one of the most underrated landing spots in Fortnite: Battle Royale.
Wood, wood, and more wood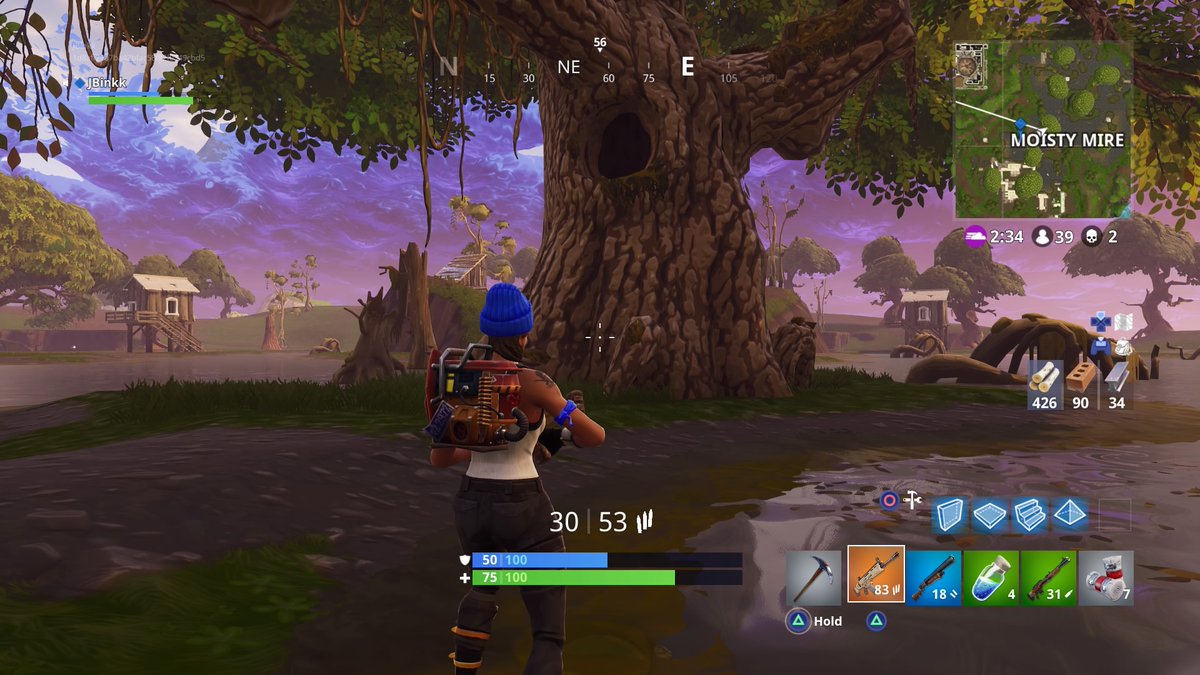 Moisty Mire did receive a few alterations in the season four update, but one thing definitely didn't change: The ability to stock up on resources—especially wood.
There's an abundance of trees in Moisty Mire—it probably has the most trees only behind Wailing Woods and Lonely Lodge—which makes it easy to chop down a few and quickly build up your material count. And with the new update adding a movie set in the southwest corner of Moisty Mire, you can even stock up on metal by destroying the trucks or the helicopter.
Most of the big trees in Moisty Mire give over 100 wood if you completely destroy them, which allows you to quickly max out your wood count. There are also smaller trees that provide less wood, but can help you maximize your time since it doesn't take as long to chop them down.
Building is crucial as you progress through a game of Fortnite, and you obviously need materials to build. So by landing at Moisty Mire, you can quickly collect wood and metal to prepare for the late game.
More than meets the eye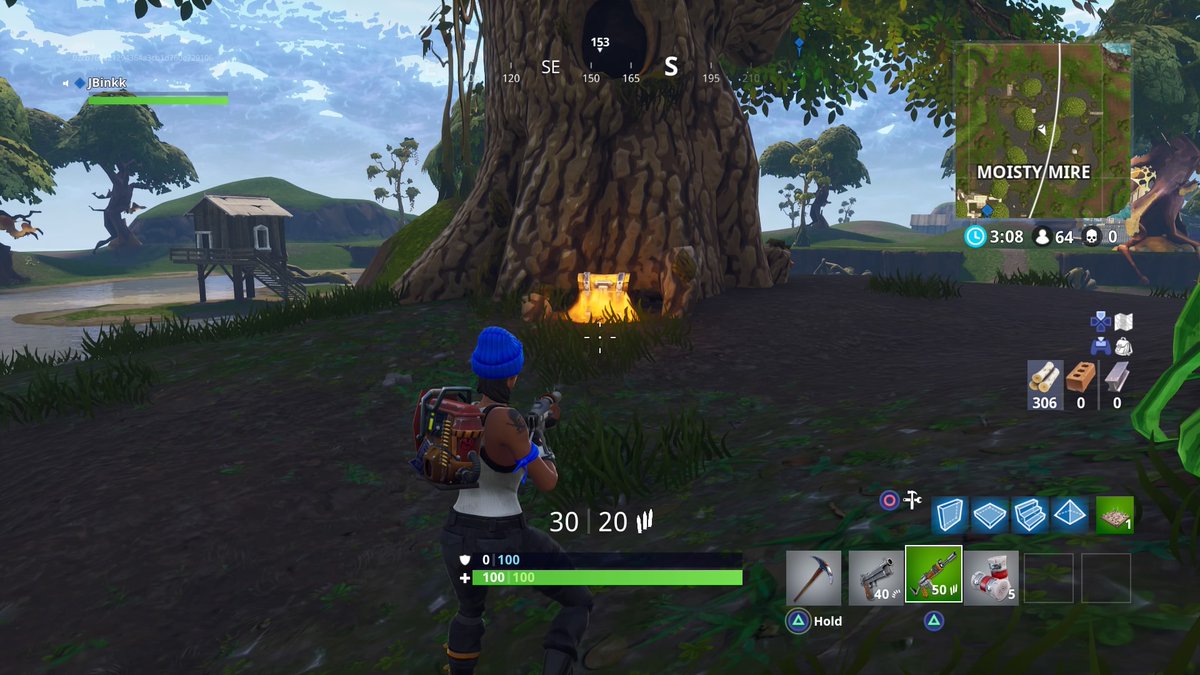 You could chop down all of the trees in Moisty Mire and quickly max out your wood count, but that won't mean much if you don't have any weapons. Luckily, Moisty Mire is a great landing spot because it provides the opportunity to stock up on materials and weapons.
There are a plethora of chest spawn locations in Moisty Mire—obviously what kind of loot you get from these chests will come down to chance, but the odds of getting something good are better since there are so many opportunities.
Some spots in Moisty Mire even have multiple chest spawn locations within just a few feet of each other, such as around the base of the giant trees and on both floors of the treehouse. And the new movie set in Moisty Mire also introduced a few more chest spawn locations in this swampy destination.
But even on the off chance that there aren't many chests when you land at Moisty Mire, there should be plenty of random, assorted weapon spawns. Make sure to check inside some of the hollow trees, too—sometimes there will be weapons and ammo inside.
Seclusion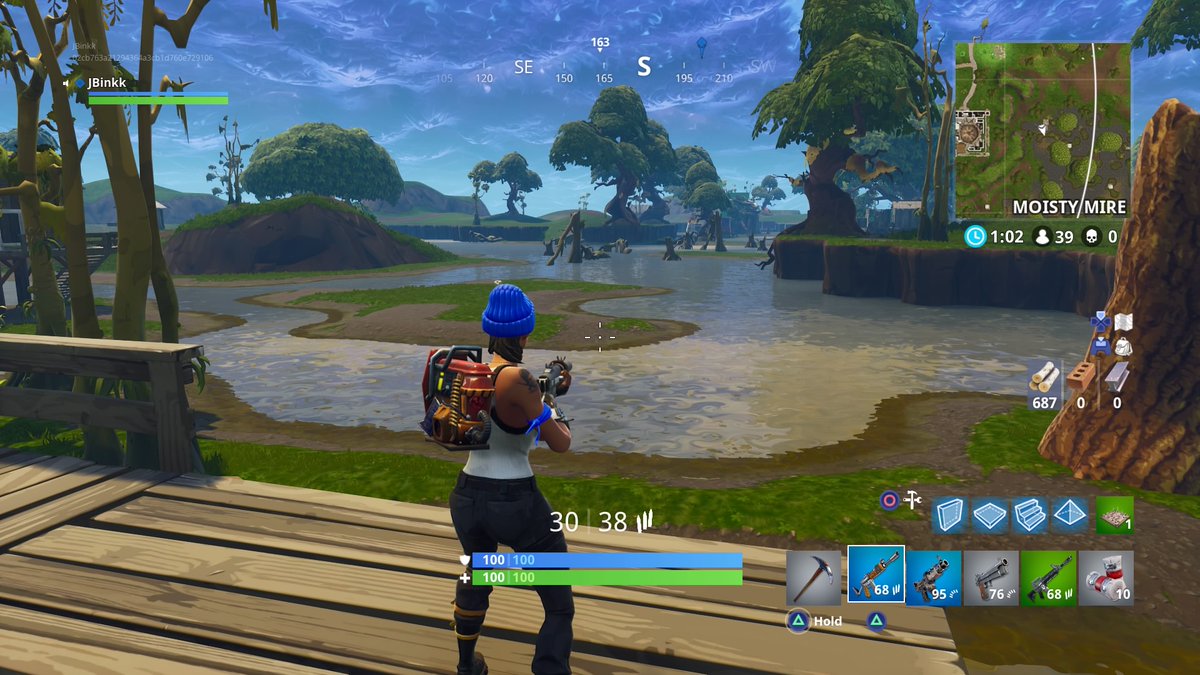 Although the material and chest possibilities in Moisty Mire are fantastic, arguably the best aspect of this location is how quiet and isolated it is. Not many players land here, which means if you choose to do so, you'll more often than not get free rein to safely loot the entire area.
If you're looking to land somewhere and get into instant gun fights, Moisty Mire probably isn't the place for you. But players who are thinking ahead and like to prepare for the late game will find comfort in safely looting this swamp without having to always watch their backs.
Since the movie set was added to Moisty Mire, however, we have noticed a few more players are starting to venture to this corner of the Fortnite map. But that shouldn't be enough to deter you from landing in this extremely underrated spot.
If you see some opponents headed to Moisty Mire alongside you, just move to a different part of the swamp away from them—unless you're feeling confident and want to face off against them immediately to gain complete control of the area. We'd recommend the first option, since it's safer to stock up on materials and guns before getting into a battle.
---
There are some disadvantages to landing at Moisty Mire, however. Since this swamp is located in the southeast corner of the map, you can often get an unfortunate first circle and have to run a long distance to avoid the storm. And speaking of the swamp, the murky water in Moisty Mire can be annoying to run through.
Other than that, though, there really aren't many negatives to landing in this truly underrated spot. Moisty Mire provides players with the ability to quickly stock up on materials and guns in a safe environment before the circle even starts to close. And if you're lucky enough, you could even leave the area with a gold SCAR and 999 wood.