The holiday season is rapidly approaching, and that means a whole lot more than Black Friday sales, hot cocoa, and obnoxious sweaters—it also means it's time for a new seasonal Fortnite cosmetic.
This year, it's all about the Merry Mint pickaxe. This one can't be simply bought from the in-game store, though. You'll need to get a physical item at a store to earn a code to pick this one up.
"Select retailers in the U.S., United Kingdom, France, and Germany will include a gift code for an in-game Merry Mint Pickaxe free with any purchase of an officially licensed Fortnite product while supplies last," Epic Games said in a blog post last week.
What is the Merry Mint pickaxe?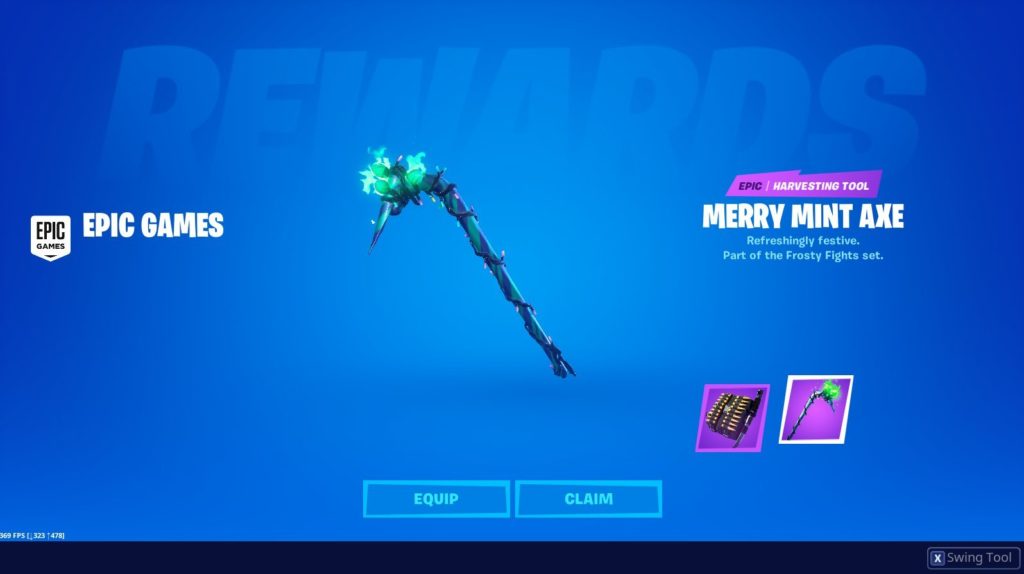 Merry Mint is a special limited-time pickaxe. It's a mint-colored candy cane with holiday lights on it and it's part of the Frosty Flights cosmetics set.
How do I get the Merry Mint pickaxe?
The short answer right now is that certain Fortnite items at specific retailers in specific countries will contain a code to get the Merry Mint pickaxe. Epic hasn't revealed exactly what you need to buy just yet.
Buy any officially licensed Fortnite product from participating retailers in the U.S., U.K., France, or Germany. This should include the newly-released V-Bucks cards.
GameStop has codes in the U.S. To double-check, ask an employee if their store is participating and which items are eligible before you buy.
The code will be given to you with your purchase, likely somewhere on the physical receipt.
Head to the Fortnite Redeem page and redeem the code.
Boot up Fortnite and the Merry Mint pickaxe should be in your locker.
And that's all there is to it. The item is very limited, so be sure to pay attention to Fortnite social pages for further information on which stores are participating in the promotion.