The first week of the Duos portion of the Fortnite World Cup Open Qualifiers has begun. This stage brings teams of two who have reached the Champions Division in Arena Mode together to compete this Saturday in the semifinals.
On Sunday, the top 3,000 teams in every region will move on to the finals and fight for a spot in the Duos portion of the World Cup, which is set to take place in New York this July.
All qualifiers take place at 4pm local time in each region so that matches won't be on at the same time. It might be difficult to track each regions superstar players because of this, but that's where we come in.
Below, we have the scores and standings for each region to help you keep track of all the action going on in the second week of competition. We've added only the top 10 players in each region, so if you want to check out the full standings, be sure to head over to Epic's website.
Semifinal standings (April 20)
We'll update this section with in-game screengrabs of the standings as each region completes their competition.
Oceania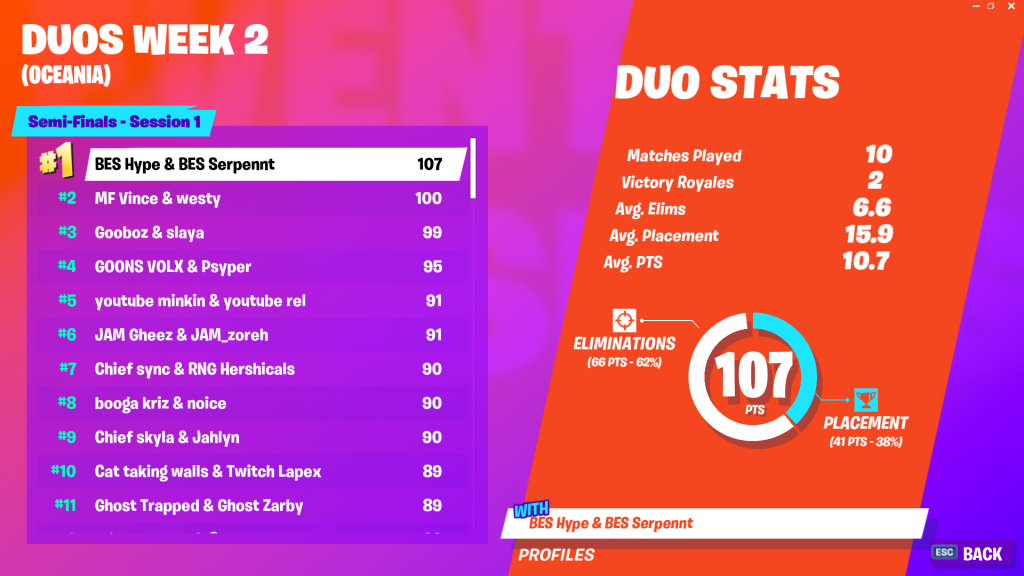 Asia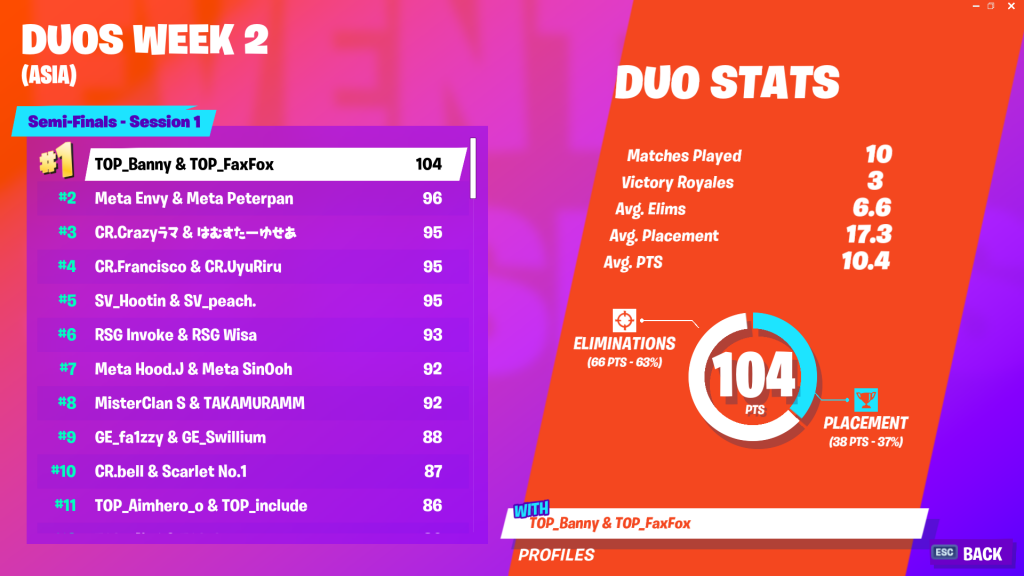 Europe
Brazil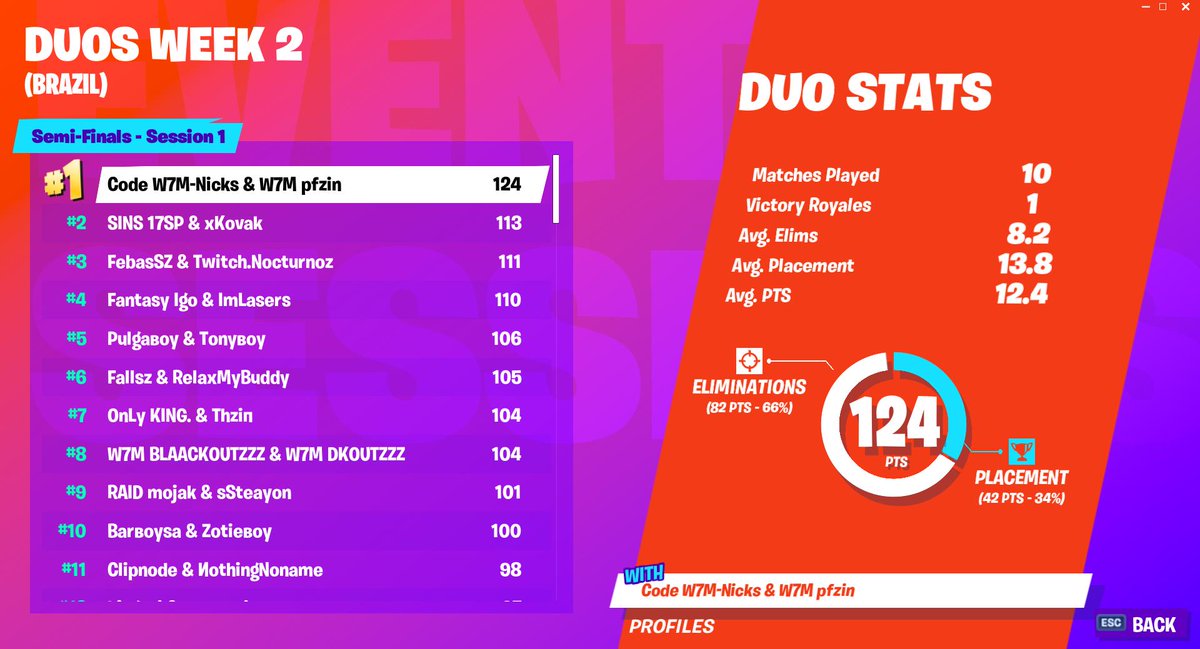 North America East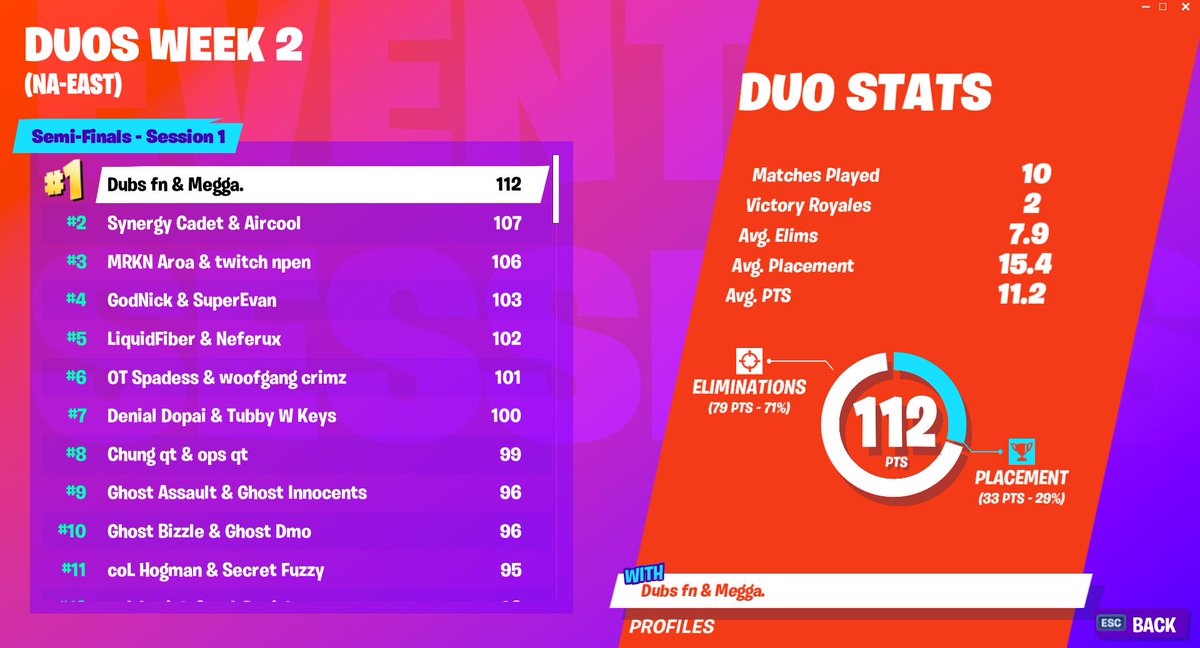 North America West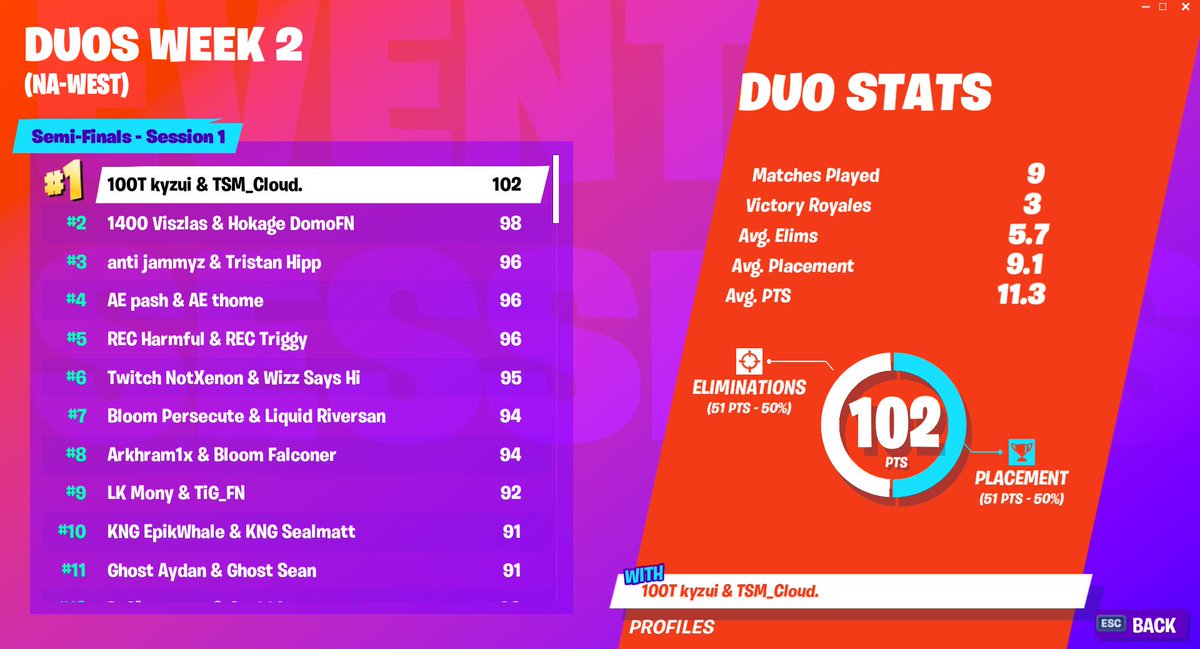 Final standings (April 21)
These tables will be updated after the competition concludes for each region.
Europe
| | | |
| --- | --- | --- |
| Placement and Points | Players | Status |
| First: 110 | NRG benjyfishy and NRG MrSavageM | Qualified for World Cup Solo Finals |
| Second: 105 | Secret_Mongraal and Atlantis Mitr0 | Qualified for World Cup Solo Finals |
| Third: 92 | E11 Tschiiinken and E11 Stompy | Qualified for World Cup Solo Finals |
| Fourth: 89 | Lootboy Mexe and Lootboy Skram | Qualified for World Cup Solo Finals |
| Fifth: 85 | Solary Airwaks and Solary Nikof | Not qualified |
| Sixth: 84 | TrainH Seth and TrainH DRG | Not qualified |
| Seventh: 77 | VHV Crue and VHV Chapix. | Not qualified |
| Eighth: 76 | DualMedia BlastR and DualMedia Alpha | Not qualified |
| Ninth: 73 | PnR. and Omer Btw | Not qualified |
| 10th: 73 | FACT lolb0om and TTVCoreGamingg | Not qualified |
North America East
| | | |
| --- | --- | --- |
| Placement and Points | Players | Status |
| First: 90 | woofgamg crimz and OT Spadess | Qualified for World Cup Solo Finals |
| Second: 87 | MSF Clix and MSF Sceptic | Qualified for World Cup Solo Finals |
| Third: 87 | Envy LeNain and Tyler15 | Qualified for World Cup Solo Finals |
| Fourth: 86 | KEZKD and GA_phung | Not qualified |
| Fifth: 86 | LZR Kreo and LZR Kiwiface | Not qualified |
| Sixth: 85 | SEN Bugha and SEN Carose | Not qualified |
| Seventh: 85 | irregular. and kire up | Not qualified |
| Eighth: 84 | TF Cole and Legedien | Not qualified |
| Ninth: 84 | Rise ronaldo and Rise XXiF | Not qualified |
| 10th: 83 | SuperEvan and GodNick | Not qualified |
North America West
| | | |
| --- | --- | --- |
| Placement and Points | Players | Status |
| First: 99 | Arkhram1x and Bloom Falconer | Qualified for World Cup Solo Finals |
| Second: 92 | ThaiTanks and Thomuss_ | Not qualified |
| Third: 91 | WBG Rhux and WBG Pika | Not qualified |
| Fourth: 90 | TSM_Cloud. and 100T kyuzi | Not qualified |
| Fifth: 86 | Ghost Sean and Ghost Aydan | Not qualified |
| Sixth: 84 | AK Symetrical and Tocata | Not qualified |
| Seventh: 82 | KNG Sealmatt and KNG EpikWhale | Not qualified |
| Eighth: 81 | Leno and barl | Not qualified |
| Ninth: 81 | 1400 Viszlas and Hokage DomoFN | Not qualified |
| 10th: 77 | Twitch Baackup and Fiscoo | Not qualified |
Brazil
| | | |
| --- | --- | --- |
| Placement and Points | Players | Status |
| First: 120 | W7M pfzin and Code W7M-Nicks | Qualified for World Cup Solo Finals |
| Second: 105 | mystick – SA and master – SA | Not qualified |
| Third: 105 | QUASAR Losted and QUASAR Woodzilla | Not qualified |
| Fourth: 104 | 9z PatO and 9z Leobas | Not qualified |
| Fifth: 94 | W7M DKOUTZZZ and W7M BLAACKOUTZZZ | Not qualified |
| Sixth: 87 | QUASAR leleo and QUASAR gordiNN | Not qualified |
| Seventh: 87 | Twitch.Nocturnoz and FebasSZ | Not qualified |
| Eighth: 85 | RED Snow. and RED Avlr | Not qualified |
| Ninth: 83 | erickviadoo and T-RED TeruelFN | Not qualified |
| 10th: 82 | SINS 17SP and xKovak | Not qualified |
Oceania
| | | |
| --- | --- | --- |
| Placement and Points | Players | Status |
| First: 111 | CoverH and MF Twizz | Qualified for World Cup Solo Finals |
| Second: 109 | JAM zoreh and JAM Gheez | Not qualified |
| Third: 107 | TwitchJordyx3 and Chief Radius | Not qualified |
| Fourth: 100 | Ghost Zarby and Ghost Trapped | Not qualified |
| Fifth: 97 | youtube minkin and youtube rel | Not qualified |
| Sixth: 96 | Youtube.Kauez and Flacko | Not qualified |
| Seventh: 92 | Gooboz and slaya | Not qualified |
| Eighth: 87 | Jahlyn and Chief skyla | Not qualified |
| Ninth: 87 | Twitch AleccAU and Twitch_Mingovi | Not qualified |
| 10th: 85 | RNG_x2Twins and RNG_x3Jesse | Not qualified |
Asia
| | | |
| --- | --- | --- |
| Placement and Points | Players | Status |
| First: 106 | CR.bell and Scarlet No.1 | Qualified for World Cup Solo Finals |
| Second: 103 | G2_Swillium and GE_fa1zzy | Not qualified |
| Third: 102 | TOP_Fax)Fox and TOP_Banny | Not qualified |
| Fourth: 95 | BlossoM Tsunami and BlossoM JoKe | Not qualified |
| Fifth: 93 | KGA SexyBoy and Wonxx. | Not qualified |
| Sixth: 88 | 4RaiF_Nagonmin and 4RaiF_Gorou | Not qualified |
| Seventh: 88 | TriggerQQ Flame and TriggerQQ Uniq | Not qualified |
| Eighth: 87 | T1 Quickss and T1Medusa | Not qualified |
| Ninth: 87 | TOP_Puzz and TOP_Ming | Not qualified |
| 10th: 85 | WGS_HOON and WGS_Sopra | Not qualified |