The pre-E3 rumor mill now includes gaming's hottest title of the year, with a new leak suggesting that Fortnite will be announced for the Nintendo Switch very soon.
The rumor comes from 4chan, so it should be taken with a grain of salt, but it's somewhat convincing. The anonymous poster said that the image is from someone whose job is making showroom displays, and that these are E3 floor plans. Check out the image below.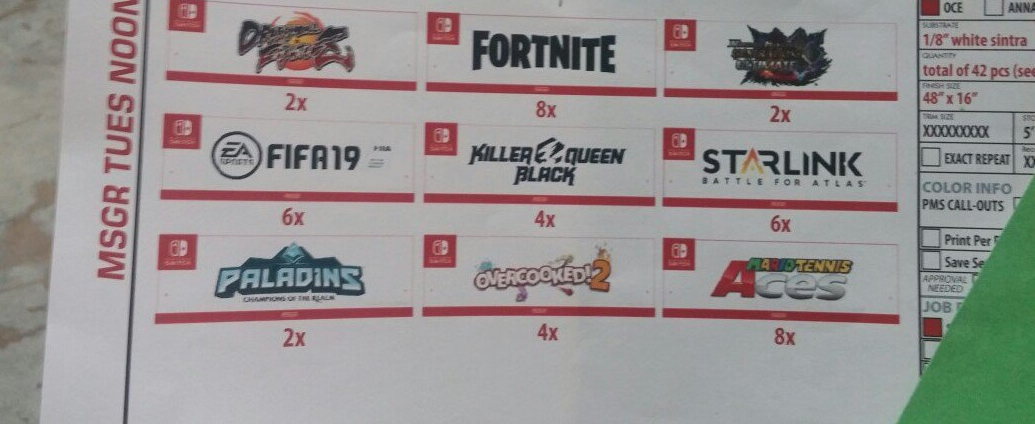 The image includes other titles like DragonBall FighterZ, FIFA 19, Paladins, and unannounced games like Killer Queen Black and Overcooked 2. You can also see confirmed Switch games like Mario Tennis Aces and Monster Hunter Generations Ultimate.
It's worth noting that the logo just says Fortnite, so it's unclear whether or not it will include Save the World, Battle Royale, or both. It certainly seems possible that the game could run on a Nintendo Switch, and Epic Games would be smart to bring the hugely popular title to yet another platform while it still has a ton of momentum in 2018.
The Switch is just about the last platform that Fortnite isn't available on, with the game coming to Android some time this summer. It's currently playable on PC, PlayStation 4, Xbox One, and iOS devices.
Nintendo's 2018 E3 conference is on June 12 at 11am CT, so more will be known within just a few weeks. Until then, it's safe to mark this one as a pretty exciting rumor for Nintendo fans.