After server lag cut the first Summer Skirmish event short a week ago, Epic Games was back to host a highly-anticipated $500,000 Solo tournament today.
PlayStation 4 player iDropz_Bodies was the victor in this week's competition, taking not only the tournament title but the $50,000 elimination bonus as well to total at least $110,000 in earnings. The console star finished the tournament with 184 points—points were accumulated using the number of eliminations, Victory Royales, and 20-kill games.
The second-place player, FaZe Clan's Dennis "Cloak" Lepore, used an incredibly-aggressive playstyle but still finished nearly 20 points behind iDropz_Bodies in the final standings. Nick "NICKMERCS" Kolcheff, a popular console streamer for 100 Thieves, rounded out the top three with a 159-point showing.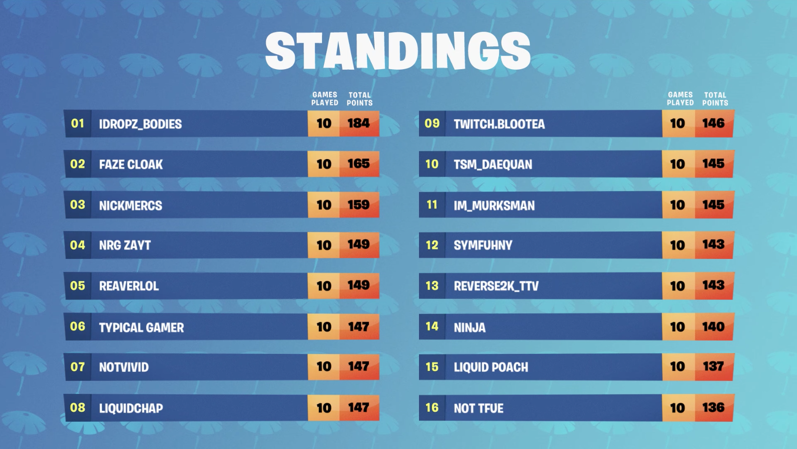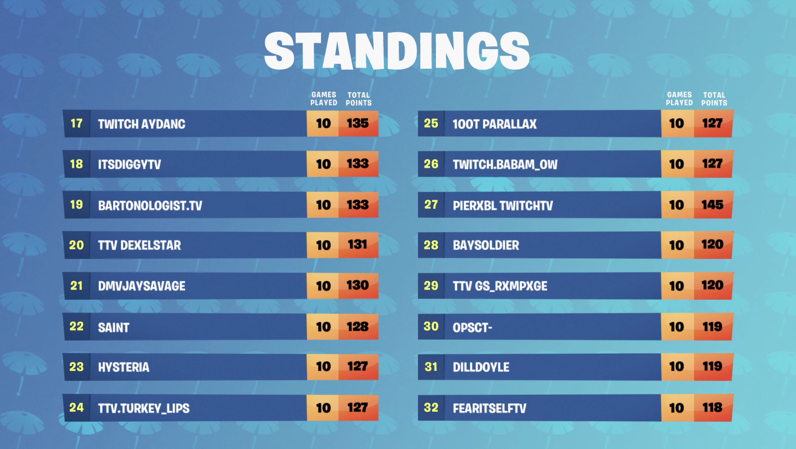 Due to his relatively unknown status and sudden emergence in this week's tournament, some spectators were quick to accuse iDropz_Bodies of hacking or cheating. On console, those who use a keyboard and mouse can have a great advantage over people who play with a controller, so some thought he may have been abusing that strategy.
The Summer Skirmish champion defended himself, however, using several photos of his PlayStation 4 controller, receipt from controller manufacturer Cinch Gaming, and his game replays on PS4 as evidence. And unless Epic Games says anything on the issue, it shouldn't overshadow iDropz_Bodies' incredible gameplay.
Everyone who finished in the top 20 earned a bit of money, and popular streamer Tyler "Ninja" Blevins was one of them. Ninja earned 140 points in his 10 games during the tournament to come in 14th place. Other notable players who finished within the top 20 included Daequan Loco, Turner "Tfue" Tenney, and Andre "TypicalGamer" Rebolo.
Although the competitors are likely tired from today's tense competition, Fortnite fans will get to see more tournament action tomorrow with another Summer Skirmish competition. The event begins at 12pm CT and can be watched on the official Fortnite Twitch channel.