The Battle Pass challenges for week five of season four in Fortnite: Battle Royale have been leaked ahead of schedule.
Fortnite Tracker has once again found out the seven challenges that players will need to prepare for in the upcoming week to earn more stars and rank up their Battle Pass.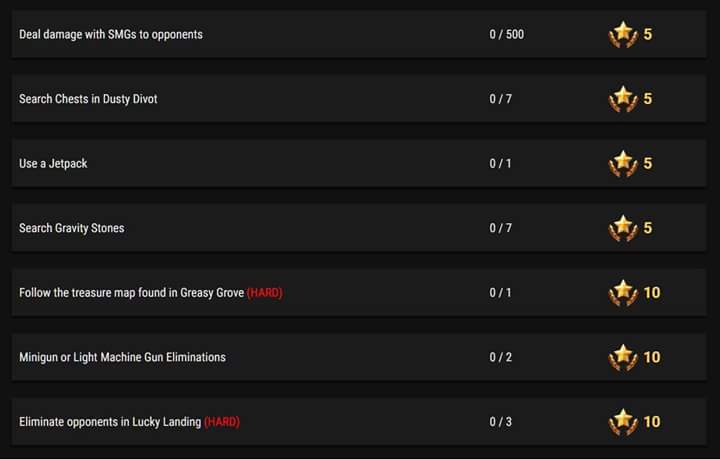 The good news is that these leaked challenges seem much easier than the tasks that players had to complete in week four. The "easy" challenges in week five will include dealing 500 damage with submachine guns, opening seven chests in Dusty Divot, and using seven Gravity Stones. Players will also need to use a jetpack, one of the newest items added to Fortnite, and get two kills with a Minigun or Light Machine Gun.
There will only be two hard challenges in week five—players will need to follow a treasure map found in Greasy Grove and get three kills in Lucky Landing.
Related: The Medic and Intel Backpacks' information and renders have been datamined in Fortnite: Battle Royale
Overall, these challenges should come as a relief to many Fortnite players who experienced daunting tasks like opening chests in Wailing Woods or getting a trap elimination in week four. Battle Pass owners can now prepare for the season four, week five challenges, which will likely to go live on Tuesday, May 27.
About the author