In this day and age, games are live services that are constantly evolving past the point of release, with numerous updates adding features to them so that they're never the same as when they launched.
A great example of this is Fortnite: Battle Royale, which has changed a ton since its initial release in September 2017. New skins are added frequently, sure, but so are new weapons, items, and massive overhauls to the in-game map.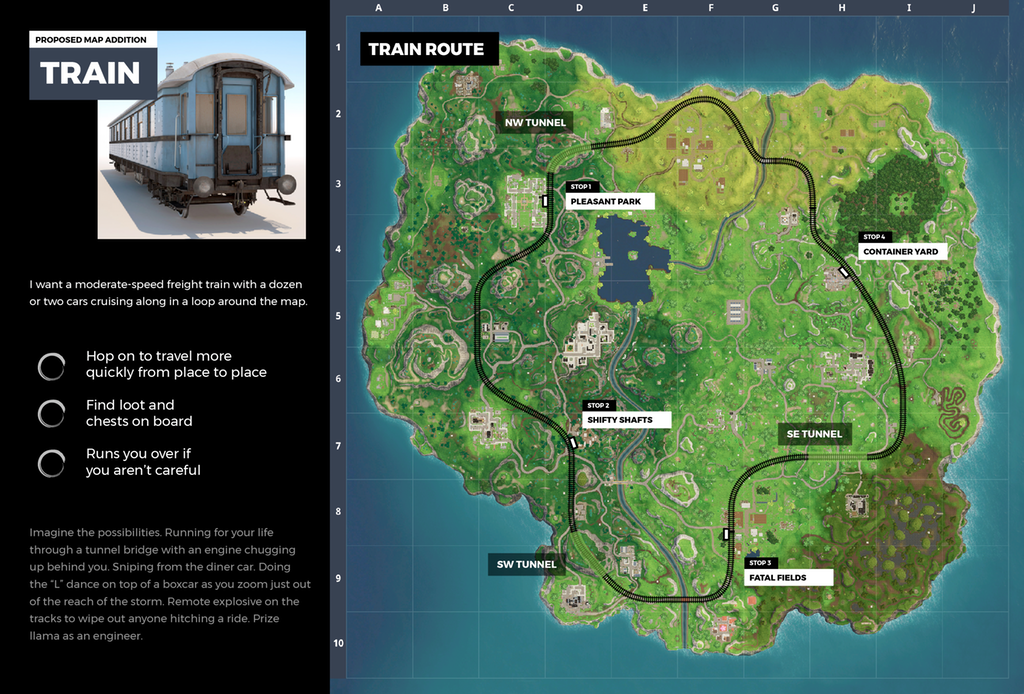 A new concept for another addition to Fortnite is the inclusion of a train route that travels around the map. The above image, made by Reddit user "_The_Paper_" shows off the concept in the game's overhead map.
The concept calls for train tracks that travel around the outer areas of the map, through places like Pleasant Park, Shifty Shafts, and Fatal Fields. It features tunnels where the train can burrow underground, and even a Llama as an engineer in the front car.
The creator envisions many possibilities, such as sniping from the dining car, doing the "L" dance on top of a boxcar, and planting remote explosives on the tracks to trap enemies. There would even be loot on board for players to grab as they travel around the map.
One thing is for certain, though—the Fortnite community is very passionate about the game and it continues to come up with cool concepts like this one.
About the author