NPCs have become a core part of the Fortnite experience. Not only are they essential parts of a season's storyline, but they also found themselves a place in the metagame.
Players can acquire items from NPCs or complete additional missions to unlock other favors. Epic Games introduces new NPCs to the game with each season, and Chapter Three, season three, isn't any different.
Though there will be familiar names from the last season, new NPCs will be the source of attention, especially during the first week of the new season. This is mainly because of quests requiring players to interact with the new NPCs, rewarding players to explore the new in-game elements.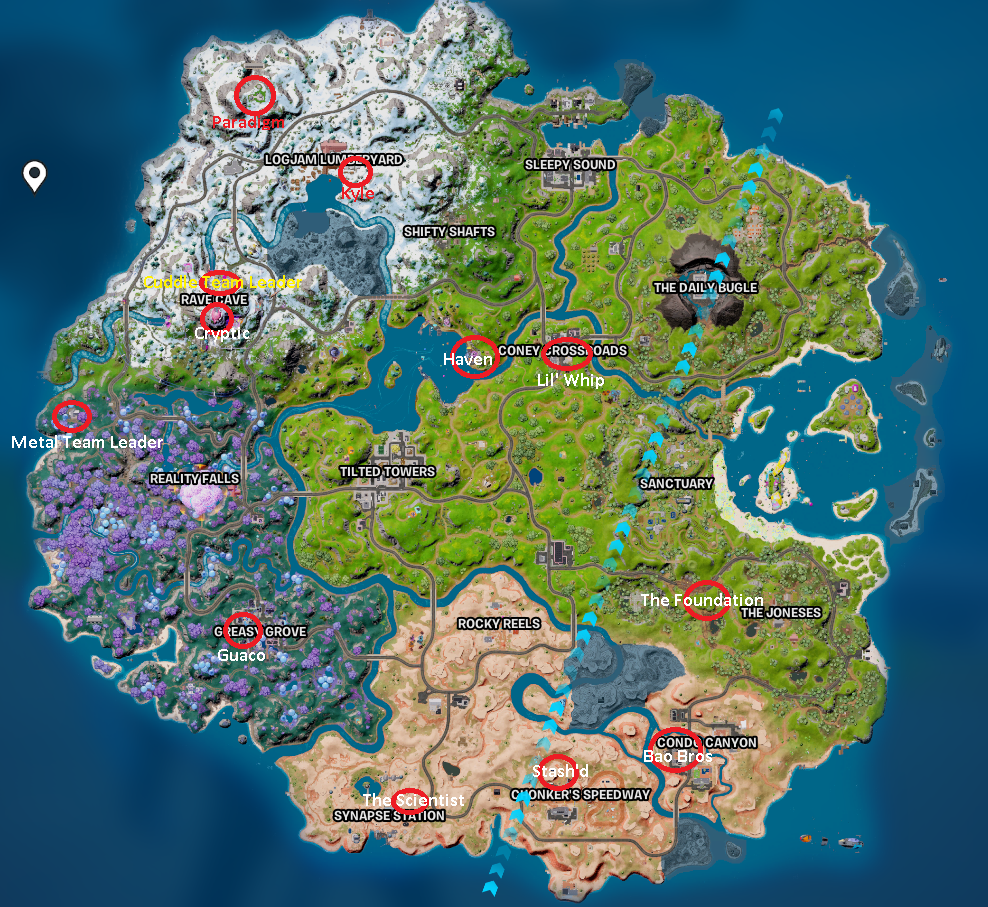 The Chapter three, season three collection book includes the following NPCs, according to data miner iFireMonkey. The map above will be updated with new NPCs as we find them in the game.
Sunbird — The Temple, northeast of The Daily Bugle
Kyle — Located in the eastern part of Logjam Lumberyard
The Visitor — Located in the Large Island on the East of Sanctuary
The Origin — Located in Seven Outpost III, northeast of The Daily Bugle
The Scientist — The Synapse Station, south of Rocky Reels and west of Chonker's Speedway
The Paradigm — Northwest of Logjam Lumberyard
The Foundation — Northwest of The Joneses
Fishstick

— Located in a kitchen at Sleepy Sound

Quackling — Can spawn in Shroom Chalet, northwest of reality falls
Cuddlepool

— Can spawn in Shroom Chalet, northwest of reality falls

Metal Team Leader — Located on the western end of the map
Mullet Marauder

— Can spawn at The Joneses

Rustler — Located at the eastern side of Shifty Shafts
Bunker Jonesy — Can spawn at The Joneses
Ludwig — Can spawn at The Joneses
Jonesy The First — Can spawn at The Joneses
Haven — West of Coney Crossroads
Stash'd — Located inside a garage in Chonkers Speedway
Cuddle Team Leader — Located close to the center of Rave Cave
The Imagined — Located at Seven Outpost V, southwest of Rave Cave
Bao Bros — Located in Condo Canyon
Mancake — Located in Rocky Reels
Guaco — Can be found in Greasy Grove
Lil' Whip — Can be found in Coney Crossroads
Cryptic — Close to the center of Rave Cave
Mitosis — Mitosis will become available in the game later in the season