Valve has decided to completely change the layout of its $1 million Major CS:GO tournaments in a big way, and the ELEAGUE Major: Boston in January is the first event to experience it.
The three-week, 24-team tournament series will now be split into three segments: The New Challengers stage, The New Legends stage, and The New Champions Stage. The dates, however, remain the same, with the New Challengers stage (formerly the Offline Qualifier stage) from Jan. 12 to 15, the New Legends stage (formerly the Major group stage) from Jan. 19 to 22, and the New Champions stage (formerly the Major playoff stage) finally taking place from Jan. 26 to 28.
Related: ELEAGUE to host Boston CS:GO Major in January 2018
The New Challenger, which will take place in Atlanta, Georgia, will pin eight regional Minor champions against eight challengers from the previous major. Misfits, Team Liquid, Team Envy, Space Soldiers, TyLoo, Renegades, AVANGAR, and Quantum Bellator Fire will go up against Challengers Cloud9, FlipSid3 Tactics, G2 Esports, Natus Vincere, Mousesports, Sprout (former PENTA Sports), FaZe Clan, and Vega Squadron in the opening stage of the Boston Major.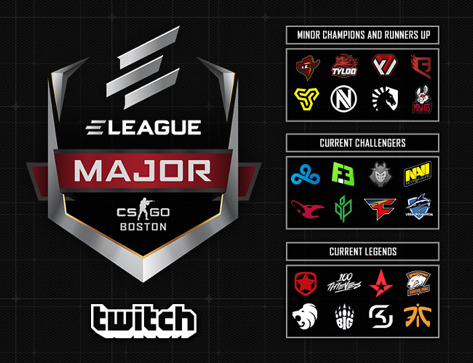 The top eight teams who survive The New Challenger will subsequently compete in The New Legends stage, where Gambit Esports, Astralis, Virtus Pro, Fnatic, SK Gaming, BIG, North, and 100 Thieves (former Immortals) await. Following The New Legends stage, eight of the best teams from the entire Major will be placed in a playoff bracket—hosted in Boston, Massachusetts—to determine the champion of the 12th Major in CS:GO's history.
Along with the format changes, Valve has also added the option for attendees at The New Champions stage to receive in-game drops while they watch the matches in person. Fans will be given an RFID badge that can be linked to their Steam accounts, giving them a chance to receive a valuable case drop much like if they were watching the games at home on stream. The cases will randomly appear in player Steam inventories based on the map being played by the teams in real time. Lucky recipients can then either open those cases for a unique weapon skin or sell the case on the Steam community market for a small profit.
As for the traditional cosmetic Major stickers, Valve will add team and player autograph weapon add-ons for all 24 teams in The New Challengers stage, according to ELEAGUE general manager Christina Alejandre. The latter option would involve adding stickers for 24 teams and 120 players.
In addition to all of the new changes coming to the Major, ELEAGUE will be compiling a documentary series of both live and behind-the-scenes moments in each of the three Major stages. The series can be viewed on TBS for five consecutive Fridays, starting on Feb. 9.
More information on the ELEAGUE Major: Boston can be found on ELEAGUE's website.