Valve has sent a cease and desist order to popular Counter-Strike: Global Offensive skin trading website OPSkins, giving the site two weeks to comply with its demands.
In the past few years, Valve has attempted to crack down on skin gambling and trading in CS:GO. The developer introduced new terms in its Steam Subscriber Agreement in 2016, as well as a seven-day trade cooldown earlier in the year.
While there have been a handful of websites that have disappeared since the new rules were put in place, some skins sites haven't gone away. Popular skins site OPSkins even launched ExpressTrade on June 6, a feature that allows for instant skin trading. The feature "uses Valve intellectual property and violates our Steam Subscriber Agreement," according to Valve in a blog post.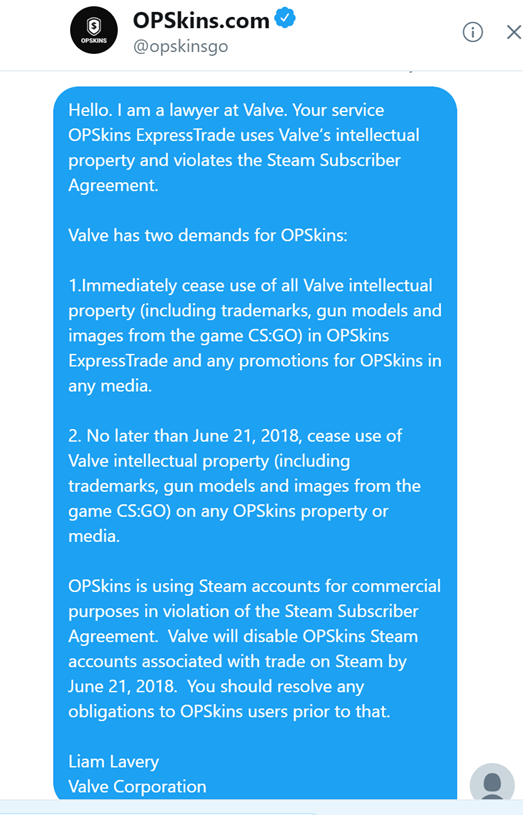 In response to these violations, Valve sent a Twitter direct message to OPSkins that not only notified the site of its wrongdoings, but also demanded that it stop the use of Valve intellectual property before June 21. Valve will also disable OPSkins' Steam accounts, which were used for "commercial purposes in violation of the Steam Subscriber Agreement," according to Valve.
Related: Panorama UI CS:GO strings have arrived on the Steam Translation Server
Skin trading used to be one of the biggest attractions for CS:GO players, but the rabid underage and unregulated gambling made the video game giant begin enforcing in-game trading guidelines.
With trademarks, gun models, and Valve's images out of the question, it's hard to see how OPSkins will survive.
Update June 9 11:07am CT: OPSkins issued an official statement regarding Valve's cease and desist order. "Please be advised that Valve has notified us that they will disable OPSkins Steam accounts associated with trade on Steam by June 21, 2018. OPSkins customers should withdraw their Steam-based items from OPSkins prior to June 21 to avoid any trading restrictions." OPSkins also said that this "does not mean the end of" the site, and talked about the future of the company in its statement.