The stage is finally set for the $300,000 StarSeries Season Five playoffs all thanks to North.
North are the final team headed to the StarSeries quarterfinals after defeating GODSENT in the last best-of-three of the group stage earlier today. The Danes join Natus Vincere and NRG Esports as the final three teams to qualify for the playoffs, finishing with 3-2 Swiss Format records.
Related: Na'Vi and NRG Esports join StarSeries playoffs
Map one, Overpass, was a messy bout between North and GODSENT—it seemed like a tug-of-war between both teams. North approached game point on T side, while the Swedes were trying to claw their way back into the game, but to no avail. North closed out Overpass 16-11.
Nuke had a similar storyline, since the Danes looked sloppy late in the map. Eventually North found their way to a 16-12 scoreline against GODSENT's decent CT side in a fairly average fashion. Philip "aizy" Aistrup also dropped 31 kills in the series closer, while Ludvig "Brollan" Brolin, GODSENT's prodigy, kept up in the fragging department at 28 kills.
5-5 Decider Matches
Natus Vincere vs. AVANGAR (2-0)
Na'Vi won Mirage 16-13
Na'Vi won Inferno 16-12
NRG Esports vs. Renegades (2-0)
NRG won Cache 16-11
NRG won Overpass 16-7
North vs. GODSENT (2-0)
North won Overpass 16-11
North won Nuke 16-12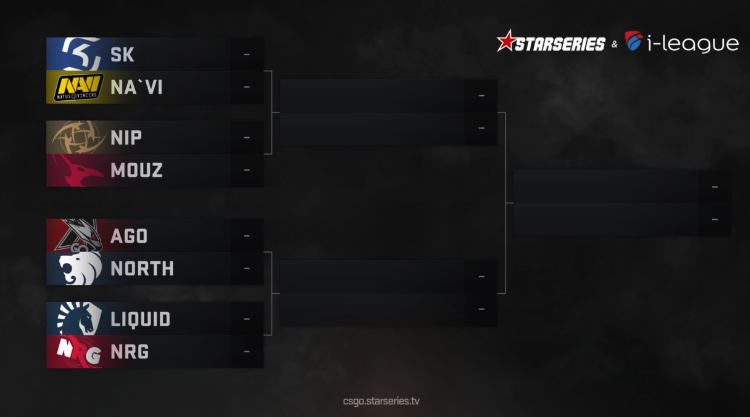 The quarterfinals begin on Saturday, June 2 featuring a classic SK Gaming vs. Na'Vi matchup and a North American derby, which are the headlining games. Counter-Strike fans can expect a weekend full of great gameplay, and it all starts tomorrow at 2am CT.