The stage is set for the FACEIT London major playoffs, and eight teams will be competing for the crown of CS:GO world champion this weekend.

The 13th Valve Major is en route to its climactic conclusion this weekend, with eight of the world's best teams contending for a bigger portion of the $1 million prize pool, the FACEIT London trophy, and the glory of winning the most prestigious event in Counter-Strike.

After two weeks of competition amongst 24 teams, compLexity Gaming, MIBR, BIG, Natus Vincere, Team Liquid, HellRaisers, Astralis, and FaZe Clan are all that remain in this Major cycle. Now it's time to predict who'll be the next Major winner via the Pick-Em challenge.

Related: HellRaisers, FaZe, and MIBR secure the final playoff spots at the FACEIT London Major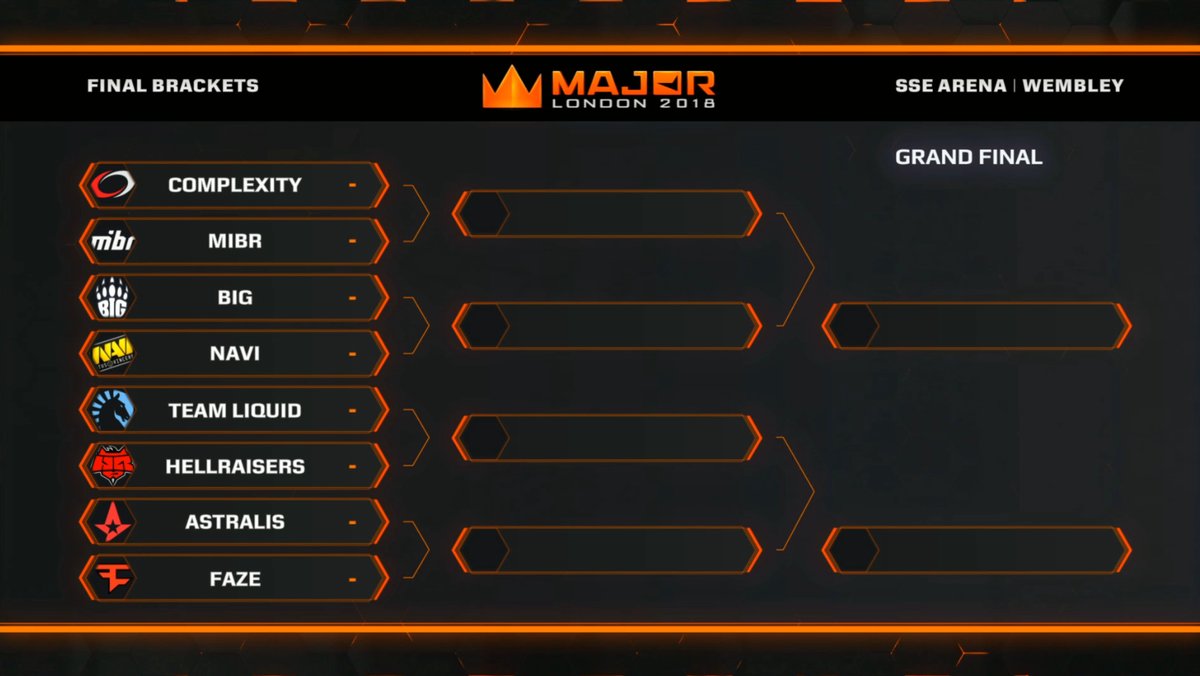 The Pick-Em Challenge is an in-game test of whether you can accurately decide which seven teams will advance to the next stage of the Major, which team will have a 3-0 record, and which team will be eliminated with an 0-3 record. In the playoffs, you must fill out your predictions for the entire bracket before the matches begin, similar to how March Madness works in NCAA Men's Basketball.

To learn more about the Pick-Em, check out Valve's FAQ page, which has everything you need to know about the challenge.

Bracket Side 1

The first day of playoff action will consist of two matchups: coL vs. MIBR and BIG vs. Na'Vi. The logical picks, on paper, for that day would be MIBR and Na'Vi because they're very familiar with the Major atmosphere and the pressure. Every player from MIBR has won a Major (all of whom are formerly from SK Gaming and Cloud9) and Danylo "Zeus" Teslenko's leadership led Gambit Esports to a Major victory at Krakow 2017.

The upset potential, however, is definitely there for coL, who's going up against MIBR, when looking at them historically. Marcelo "coldzera" David said in an HLTV interview he doesn't know too much about them and that he's only played each individual player and not the team as a whole. CoL's Rory "dephh" Jackson also talked to HLTV about the team's deep map pool, so the map veto could make them a huge wild card in the opening and later stages of the bracket.

When looking at the BIG/Na'Vi game, Na'Vi is the clear favorite because they defeated BIG in four maps in the grand final of ESL One Cologne in July. It's also the one Major that Oleksandr "s1mple" Kostyliev is poised to win, and it would solidify him as the best player in the world if he carries the CIS-region powerhouse to a title.

Don't count out BIG entirely, though. With Fatih "gob b" Dayik at the IGL helm and Owen "smooya" Butterfield on the AWP, BIG can do a lot of damage when firing on all cylinders. If BIG is showing good form vs. a crumbling Na'Vi, which has the tendency to tilt, then BIG could upset under the right circumstances.

Dephh and smooya are the only players from the UK left in the tournament, so the home-field advantage could also help out both coL and BIG off the server throughout the remainder of the Major.

Bracket Side 2

The second quarterfinal day will consist of two matches: Liquid vs. HR and Astralis vs. FaZe. Considering the form that Liquid and Astralis showed in the last two Major stages, many fans are expecting them to face off in the second semifinals. Liquid made a huge statement winning Inferno vs. Astralis in overtime in a best-of-one to advance to the playoffs, while Astralis completed their New Legend stage run with a 16-0 scoreline over MIBR, which was the first in Valve Major history.

HellRaisers could potentially take a win off of Liquid in three maps solely off small, incremental mistakes from Liquid, but it's highly unlikely. The CIS region's underdog would need Ozgur "woxic" Eker and Issa "ISSAA" Murad to have legendary games vs. North America's strongest team.

FaZe's chances and outlook vs. Astralis, however, aren't the best right now. They may have reverse swept the New Legends stage with wins over Mousesports, TyLoo, and G2 Esports, but their tactics seemed sloppy and their usual frag contributors didn't have those standout games that make them stars—Ladislav "GuardiaN" Kovac and Havard "rain" Nygaard, specifically. FaZe struggled immensely early on, because their tactics weren't working, so they switched out Finn "karrigan" Andersen as IGL and swapped in Nikola "NiKo" Kovac as a temporary fill.

Bracket Predictions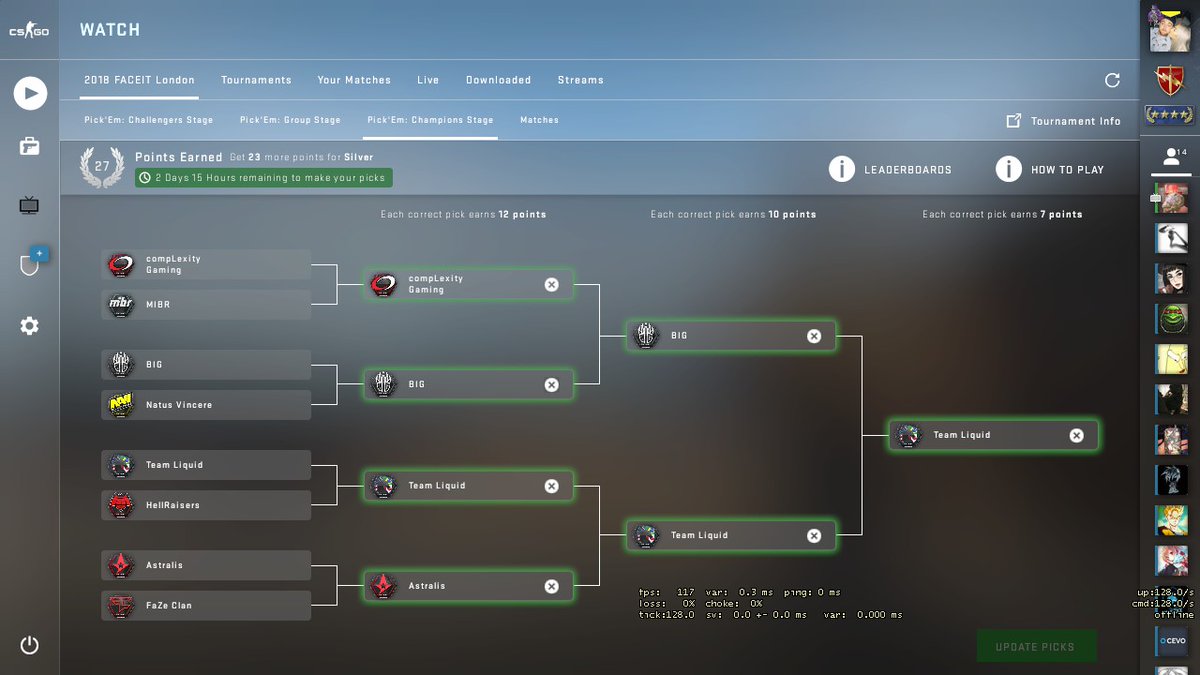 In Short:
Quarterfinal  No. 1: MIBR may have an "off-day," and coL's factor of unpredictability could play into a win vs. MIBR on maps like Inferno and Cache. (2-0)
Quarterfinal No. 2: BIG will likely anti-strat Na'Vi on Na'Vi's potential map picks (Overpass or Inferno) and pull of the upset in the decider, which may be Train (2-1).
Quarterfinal No. 3: Liquid will go to three games with HellRaisers, but may ultimately take two one-sided maps like Mirage, Inferno, and Dust II.
Quarterfinal No. 4: Astralis will absolutely crush FaZe 2-0 on maps like Overpass, Mirage, or Inferno.
Semifinal No. 1: BIG will pull of a tight sweep over coL in two maps, possibly Nuke, Inferno, and/or Cache.
Semifinal No. 2: The Liquid vs. Astralis rematch will most likely close throughout the entire series with three tight scorelines on Mirage, Inferno, and maybe even Dust II.
Grand Final: The finals of any Major is such a high pressure best-of-three that any team could win in a given day. Liquid winning the Major is a based on a hunch.