Eight of the best CS:GO teams in the world played in the BLAST Premier World Final, the last S-tier event of the year, in Copenhagen, Denmark. The tournament ran from Tuesday, Dec. 14, to Sunday, Dec. 19, and saw the eight squads fight for their share of the $1 million prize pool.
The BLAST Premier World Final used a double-elimination bracket, and all matches were best-of-three series. Unlike the Fall Final in November, this tournament wasn't played in front of a live audience because of the rise of coronavirus cases caused by the Omicron variant.
Natus Vincere, the undisputed best CS:GO team in the world, won the BLAST Premier World Final with an impressive run in the competition's lower bracket. The CIS powerhouse secured five wins in a row after losing to Team Liquid in the opening round.
Here are the BLAST Premier World Final's scores, standings, and bracket.
Tournament bracket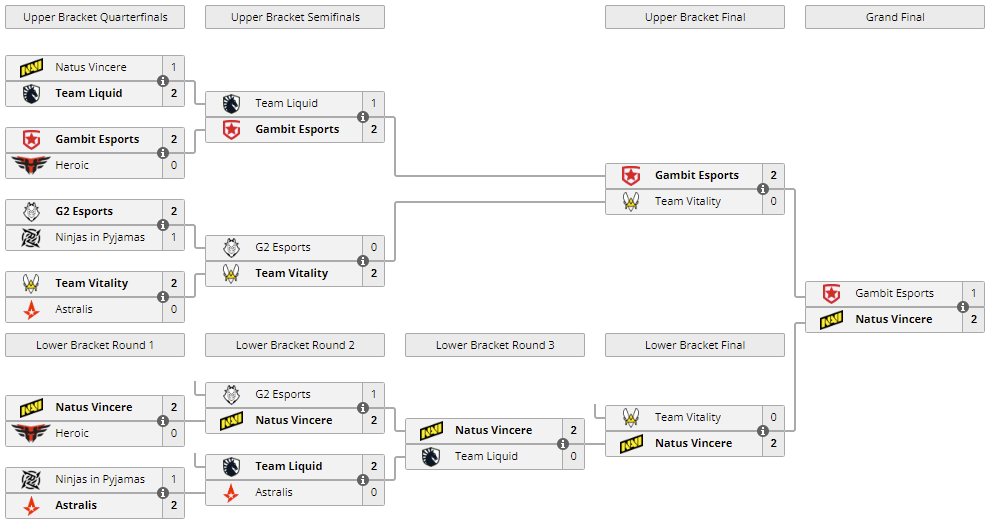 Schedule
All times are susceptible to delays.
Tuesday, Dec. 14
9:30am CT: Liquid 2-1 Na`Vi (Liquid 16-11 Overpass, Na`Vi 16-7 Dust II, Liquid 16-7 Inferno)
12:30pm CT: Gambit 2-0 Heroic (Gambit 16-11 Inferno, Gambit 16-10 Vertigo)
Wednesday, Dec. 15
6:30am CT: G2 2-1 NiP (NiP 16-11 Nuke, G2 16-11 Dust II, G2 16-14 Inferno)
9:30pm CT: Vitality 2-0 Astralis (Vitality 16-4 Nuke, Vitality 16-6 Mirage)
12:30pm CT: Na`Vi 2-0 Heroic (Na`Vi 16-6 Mirage, Na`Vi 19-15 Nuke)
Thursday, Dec. 16
6:30am CT: Astralis 2-1 NiP (Astralis 16-8 Inferno, NiP 16-14 Mirage, Astralis 19-16 Nuke)
9:30pm CT: Gambit 2-1 Liquid (Gambit 16-14 Inferno, Liquid 16-13 Vertigo, Gambit 16-2 Overpass)
12:30pm CT: Vitality 2-0 G2 (Vitality 16-10 Nuke, Vitality 16-13 Mirage)
Friday, Dec. 17
9:30am CT: Na`Vi 2-1 G2 (Na`Vi 16-14 Nuke, G2 22-19 on Inferno, Na`Vi 16-4 Mirage)
12:30pm CT: Liquid 2-0 Astralis (Liquid 16-9 Dust II, Liquid 16-13 Mirage)
Saturday, Dec. 18
9:30am CT: Gambit 2-0 Vitality (Gambit 16-13 Vertigo, Gambit 19-17 Dust II)
12:30pm CT: Na`Vi 2-0 Liquid (Na`Vi 16-10 Dust II, Na`Vi 16-11 Inferno)
Sunday, Dec. 19
7:30am CT: Na`Vi 2-0 Vitality (Na`Vi 16-12 Nuke, Na`Vi 16-5 Dust II)
11:30am CT: Na`Vi 2-1 Gambit (Gambit 16-11 Mirage, Na`Vi 16-11 Ancient, Na`Vi 16-6 Inferno)