The fourth light machine gun to unlock in Call of Duty: Vanguard is a World War II staple.
The Bren LMG was made by Britain in the 1930s and used all the way up until 1992, but it's most known for being the British forces' primary infantry LMG during World War II. It was also later used during the Korean War and the 1982 Falklands War.
In Vanguard, the Bren is one of many options for LMG players to use at launch. It's not traditional in any sense when compared to modern-day LMGs such as an M60 or RPD, so it takes some leveling and some work in the gunsmith to turn it into a worthy weapon.
Here are some suggestions for attachments to strengthen the Bren in Vanguard.
Best Bren loadout in Vanguard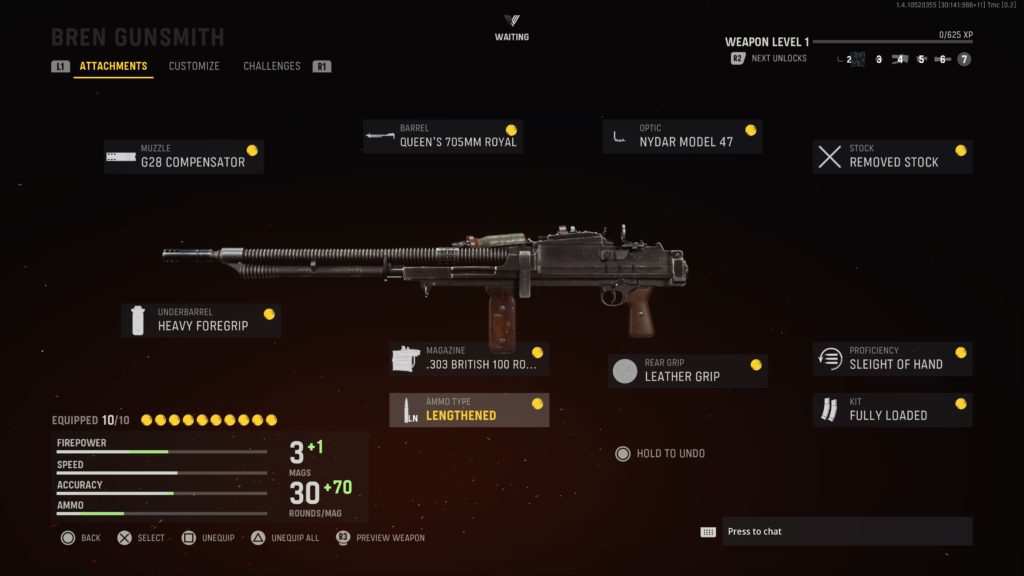 Muzzle: G28 Compensator
Barrel: Queen's 750mm Royal
Optic: Nydar Model 47
Stock: Removed Stock
Underbarrel: Heavy Foregrip
Magazine: .303 British 100 Round Drums
Ammo Type: Lengthened
Rear Grip: Leather Grip
Proficiency: Sleight of Hand
Kit: Defender
The Bren is painfully slow, especially when aiming down sights, so it's important to buff that stat as much as possible. It also has a small mag for a light machine gun with 30 rounds to start off with, so a bigger magazine is a must if you want to use it traditionally as an LMG.
This isn't a weapon to run and gun with, obviously. You can try but will likely get out-paced by basically any other assault rifle or submachine gun in the game. When equipping the Bren, be prepared to hold down sightlines at range and don't be afraid to mount up for some more accuracy.